Bonne Maman's Valentine's Day Box Is Perfect For Jam Lovers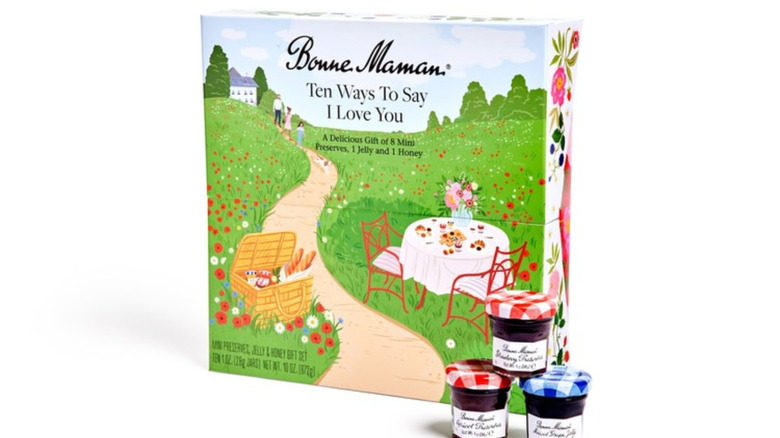 Bonne Maman
Boxes of chocolates, flowers, and teddy bears might be the first thing you think of when it comes to Valentine's Day gifts. But this year, the artisanal jam company Bonne Maman is hoping to change that with the launch of their new Bonne Maman Ten Ways to Say I Love You gift box. Rather than gifting your loved one a traditional heart-shaped box of chocolates or bouquet of a dozen roses, the company is hoping their fans will instead surprise their sweethearts this Valentine's Day with a decorated box filled with sweet preserves and honey.
The Ten Ways to Say I Love You gift box features hand-illustrated drawings of a relaxing outdoor scene, with eight mini jars of sweet, all-natural Bonne Maman preserves, one mini jar of jam, and one mini jar of honey nestled inside. Each box includes Apricot, Cherry, Fig, Grape, Honey, Orange Marmalade, Raspberry, Wild Blueberry, and two jars of Strawberry flavors, according to SheKnows.
Their Valentine Day gift box is for sale exclusively online
The Ten Ways to Say I Love You gift box is currently selling online for just under $25.00. This gift box is web exclusive, which means it can only be ordered online through the Bonne Maman website. For a limited time, Bonne Maman is also offering their customers free shipping on any order of $50.00 or more, which means if you happen to have a few people on your gift list, or you may simply want to snag an extra box for yourself and avoid the delivery fee.
That said, jam, preserves, and honey aren't the only thing Bonne Maman is offering their fans this Valentine's Day. Their other romantic offerings include a smaller, Made for You gift box, which features eight mini jars of preserves and honey in various flavors, as well as gift sets of assorted Bonne Maman loose herbal teas and tea bags, per its website. So fans of this brand who are still on the hunt for unique Valentine's Day gifts might find something sweet they want to share with their loved ones.