TikTok Is Having A Crab Rangoon Moment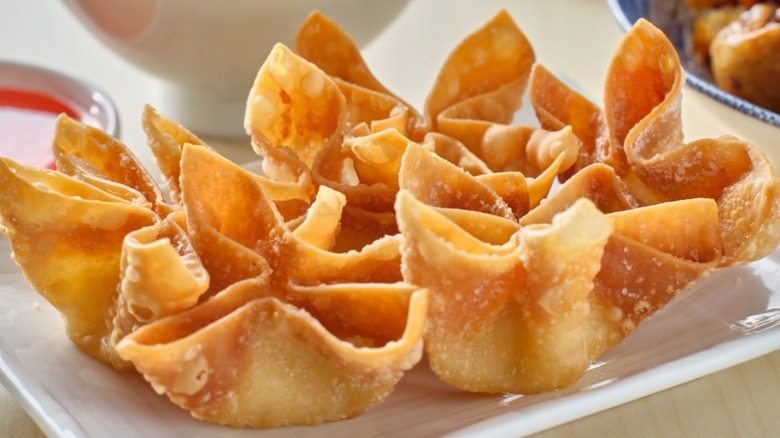 Joshua Resnick/Shutterstock
Crab rangoon is an American Chinese dish that's meant to surprise, delight, and entice. According to Atlas Obscura, this unusual dish is made with cream cheese and small quantities of "imitation crab." The ingredients are wrapped inside a wonton shell and deep-fried, and typically served with a sweet dipping sauce. The dish qualifies as an appetizer and is believed to be highly popular among those who've sampled it.
Redditors have drooled over crab rangoon in the past, marveling over the appetizer with praises of "I LOVE crab rangoons. They are beautiful" and "top ten favorite food hands up, down and all around." Someone else called themselves "a crab rangoon fiend" and said that they found an eatery that switches things up by adding grated parmesan cheese and "thinly sliced scallions as a garnish" with a serving of chili sauce.
Crab rangoons are trending on TikTok, per Today, and one TikTok user's video on the dish was watched an astounding 16 million times before, unfortunately, it was deleted.
TikTok is jumpng on the crab rangoon train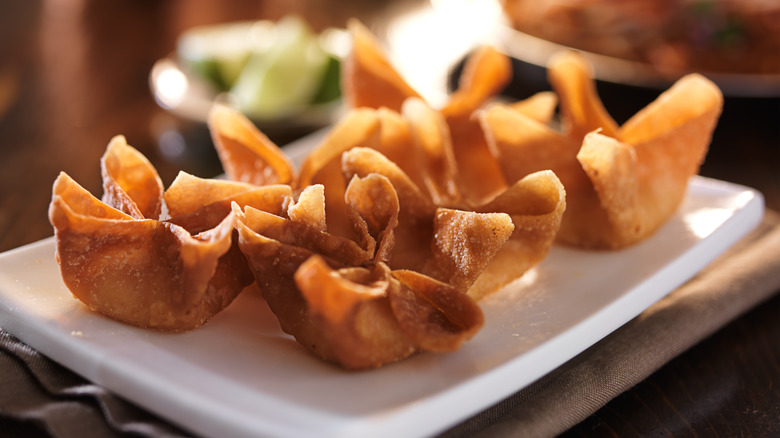 Joshua Resnick/Shutterstock
TikTok user, Gabby Eniclerico posted a video clip that was tempting enough to inspire many others to share video clips of their own, as reported by Today. Eniclerico was shown eating crab rangoon and literally singing its praises, which inspired other TikTokers to follow suit. As per Today, Gabby tasted the dish for the first time back in 2015 and was blown away by the flavors. She thought to herself, "This is the best thing I've ever had in the world."
The TikToker got tired of the dish after eating too many of the that year and only started eating them again in 2020. Gabby never expected the video would go viral and thinks that the content is somewhat calming for many viewers. "I think that people are so intrigued by this because they're so crunchy. They look so appetizing. Whenever I eat them, I always try to get good crunch noises in there; people like that ASMR aspect of the video," she shares.
Crab rangoons continue to trend as more TikTok users upload video clips dedicated to the dish, One TikToker, @Foodswithsoy, received 11.5 million views so far with a whopping 1.5 million likes on a post that shares her mom's traditional crab rangoon recipe. If you're looking for a variety of this recipe, a simple search in TikTok with #crabragoon should suffice.