The Unexpected Way KFC Australia Is Delivering Food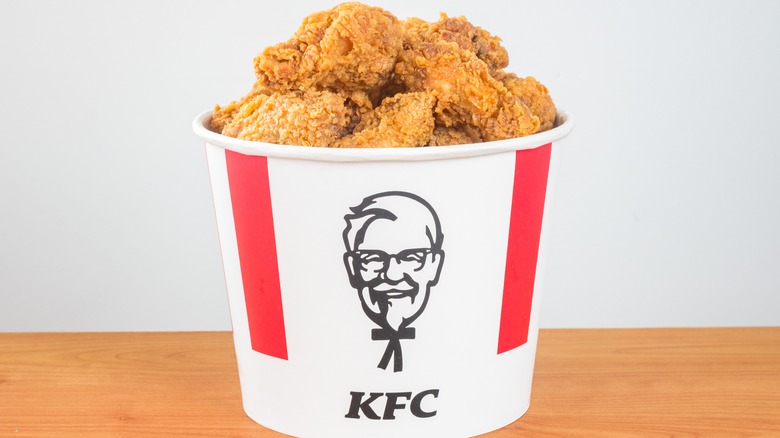 Robson90/Shutterstock
When it comes to delivering food, companies have found some ingenious solutions in recent years that go beyond your typical pizza delivery guy. According to Forbes, some food services have even tapped robots to deliver meals — per the article, one university in Spokane, Washington hired a fleet of the machines to transport campus dining options straight to students. These robots have offered a safe and effective way to deliver food during the pandemic without the risk of spreading COVID. Experts believe that robots even have the potential to take over the entire food delivery market, so we should probably get ready to see more automated machines moving across town soon.
The New York Post additionally reports that restaurants have particularly embraced this new mechanical workforce as robots have helped fill growing job vacancy gaps, and while many of these devices cost more to use than a traditional employee, many brands like Domino's have found them incredibly efficient. While corporate and university campuses see some of the best results when it comes to robotic delivery, KFC Australia found a way to take this style of food transportation to the next level.
The next era of food delivery takes to the skies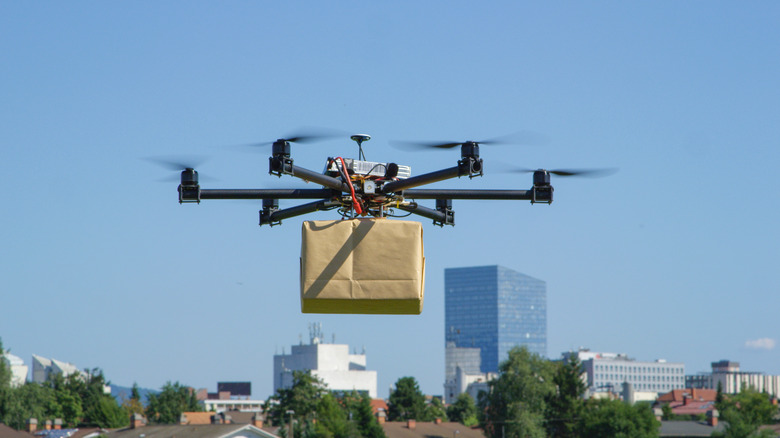 Flystock/Shutterstock
KFC Australia has partnered with the drone firm Wing to take food delivery to the skies, per Verdict Food Service. The fried chicken chain plans to start a "drone delivery pilot project" in the country in an effort to deliver restaurant orders to residents in the suburbs of Queensland. Patrons that order through the restaurant's app will have their food prepared at a nearby KFC, then secured to a drone and flown to their address. The robots will gently lower the order to the ground upon delivery, preventing food from getting too jostled during the delivery process.
The company's executive staff feels especially pleased about this latest technological achievement. "You know the future truly is here when you can get hot, fresh Kentucky Fried Chicken delivered by a drone from the click of a few buttons," the brand's chief marketing officer in Australia Kristi Woolrych said.
The days of deliveries made exclusively by humans may be coming to an end, with this latest KFC achievement showing the potential to usher in a whole new era of food service. And while diners across America may have to wait for some time before drone restaurant deliveries become the norm, expect big changes coming soon.