This Wind-Blown McDonald's Sign Utterly Demolished A Car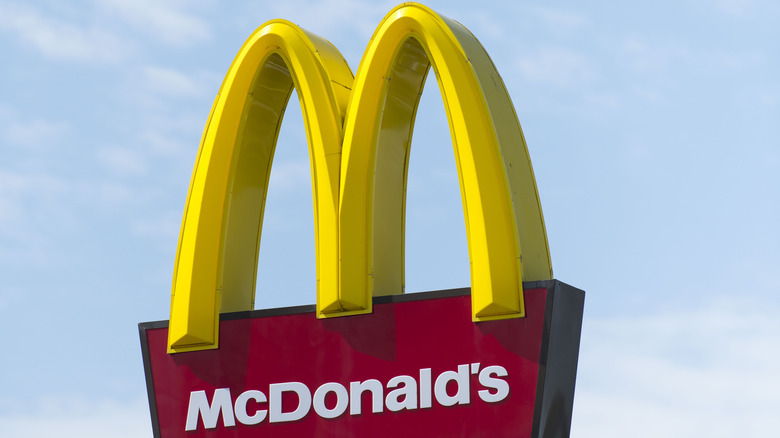 Matthew Horwood/Getty Images
Last month, the popular fast food chain, McDonald's, was in the news for a strange incident that involved a man and a McDonald's sign in Perth, Australia. According to The Daily Mail, a lady spotted a man trying to pull off an unusual (and dangerous) stunt by lying down on top of a McDonald's sign. She recorded the incident and posted the video to TikTok, which unfortunately is no longer available. 
McDonald's and its signs are being talked about once again after it was reported that a McDonald's sign recently fell and damaged a customer's car beyond repair in western Arizona (via Fox 10 Phoenix). Thankfully, no one was in the car when the mishap took place. The sheriff's office released a statement that read, "High winds in Fort Mohave caused this fast food sign at the corner of Highway 95 and Aztec Rd. to blow over and land on a customer's vehicle."
Some think McDonald's need to check their signs more often
As reported by Fox 10 Phoenix, extreme weather in Mohave Country caused the McDonald's sign to come "crashing down onto a car." The Mohave County Sheriff's office shared photos from the scene of the accident on Facebook, which prompted scores of Facebook users to share their thoughts on the incident. Certain folks couldn't resist, posting, what they considered amusing, comments such as "I did not order a McSign" and "curbside service." Another person noted that it seemed like the car was new, while someone else simply lamented, "Some people's luck."
The incident was also widely discussed on Reddit, with one Redditor summing up the entire incident, writing, "Brand new. Didn't even have tags yet. That's a blower but geesh thank goodness no one was in it." Another concerned user suggested that "all McDonald's restaurants need to have their signs inspected for corrosion" and pointed out that the sign may have already been rusted. Someone else agreed and said that they've realized that many McDonald's outlets rarely think about maintaining old signs and added, "The rust is clear, that's negligence right there. Hope the owner of the car gets compensated properly."