Chef Jose Garces On Bobby Flay And Different South American Cuisines - Exclusive Interview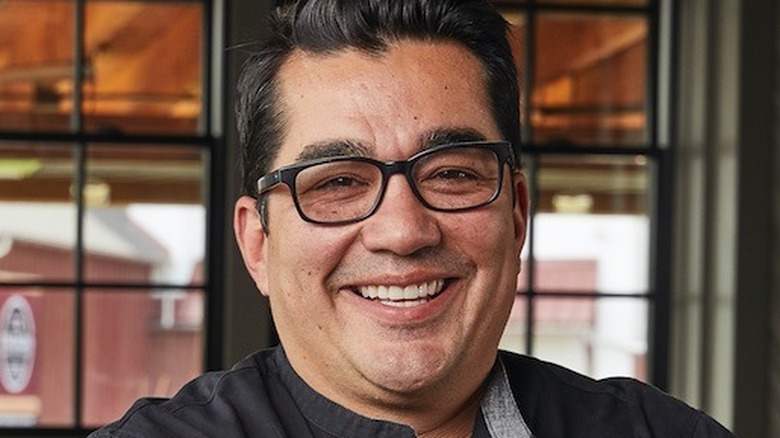 Mike Perisco
Chef Jose Garces knows a thing or two (or 10) about the restaurant business, having opened nearly a dozen restaurants in his career (Main thing to know? The restaurant business is a tough business). He knows a thing or two about South American food — and French, Spanish, and Japanese food, to name a few other cuisines with which the chef is comfortable. He knows a few things about giving back to the local community, having launched the Garces Foundation to support those in the Latin-American immigrant community lacking proper access to health care, education, support with employment, and stable housing. 
Garces knows a lot about what it feels like to beat Bobby Flay, which he did back in 2007. To be fair, during an exclusive Mashed interview, Garces was also forthcoming that Flay had beaten him in a couple of cooking competitions, too, which is really nothing be ashamed of, as losing a cooking battle to Flay is like losing a game of HORSE to Steph Curry. What we learned during the interview is that Garces doesn't know much about slowing down and taking it easy. This is a man who is always adding more onto his plate, such as a recent partnership with Casa Verde that saw the chef develop a line of heat-and-eat plant-based Latin meals.
We talked about the restaurant business, cooking on TV, pizza, why he teaches all chefs working under him about "the salt threshold," and more.
The early days of Chef Jose Garces' cooking career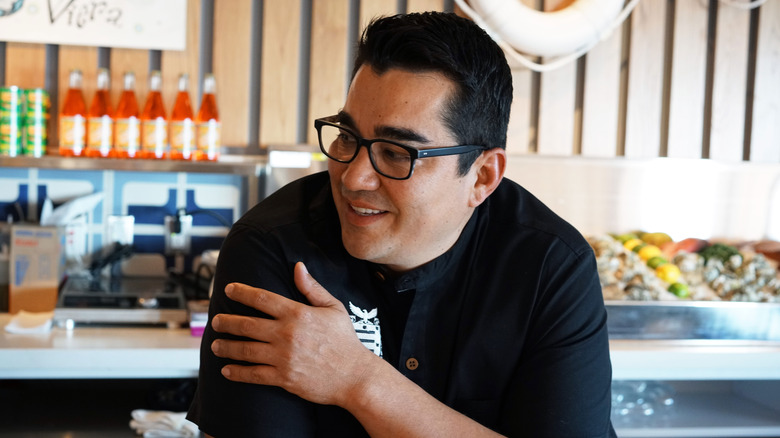 Jose Garces
Did you grow up cooking from a young age or is it something you came to as you reached adulthood or beyond?
I grew up in a Latin American household and both my mom and my grandma were huge influences on me in the home. They both cooked regularly. My grandma came mostly during summer, so I had a big exposure to her cooking. She was a matriarch of our family in terms of the cooking household, so yeah, really at a young age, whether it was cooking empanadas, ceviches, arepas, all these different kinds of "Ecuadorian classics" were a big part of my youth.
Outside of the home, who were some of your early culinary influences as you started to cook more professionally?
When I started cooking school — which was the early '90s, I've been doing this for some time — there were a lot of popular chefs that were out there. Food Network was just starting to take off [with] Mario Batali, Emeril Lagasse, Martha Stewart, even during that time. I grew up in Chicago, so Rick Bayless was a pretty big influence. A friend [and] chef who I ended up working with was Douglas Rodriguez, he was a chef who I looked to in the Latin world. [There were] definitely quite a few professional influences that helped shape my career.
When did you realize that you wanted to make a career of cooking?
I'd gone to a few years of undergrad and was kind of disillusioned with a career path. I wasn't sure where to go. I ended up landing at culinary school in Chicago at Kendall. What drew me to cooking school was the "kitchen brigade." Their rigid discipline around cooking, the white uniform, everybody kind of aligned. I felt like I needed that at that time in my life. I really was looking to find a way to make ends meet, but getting into the kitchen at school, I realized that I had some talent. There was a moment where we were given ingredients, we were asked to cook, we had different projects. Before I knew it, I was outperforming some of my classmates. I was taking projects home. I was cooking for friends. It was during that time at cooking school that I realized, "Wow, I have talent, I have drive, I really enjoy this aspect of it." That's when it happened for me.
Jose Garces talks TV cooking and battling Bobby Flay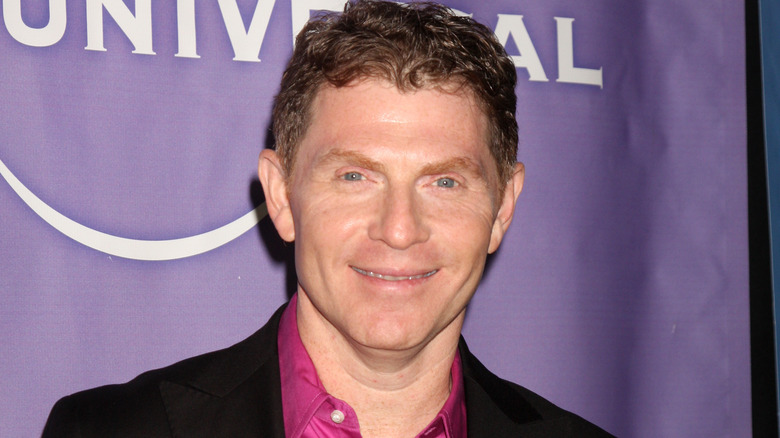 Kathy Hutchins/Shutterstock
What was the hardest part of competing on "Iron Chef"?
The hardest part was the internal pressure that I put on myself. For me, during those years, I realized that I was cooking Latin food mostly, and it was for a huge national audience, and I felt the weight of that responsibility of carrying the culture forward. Each battle to me was like, "Here I come carrying the Latin torch," and the other chef on the other side would want to win and take me down. The hardest part was, I think, more mental than it was physical, carrying that with me on a regular basis.
And what was the most enjoyable part of that experience?
The most enjoyable part was the creativity and working with my team and figuring out how we can create five amazing dishes in under 60 minutes and really do it on a high level. I had several sous chefs along the way that really helped me at several battles when I went into in the kitchen stadium. The creative aspect of it, the actual cooking, the end result was my favorite part of it. 
How did it feel to beat Bobby Flay and what did you cook to do it?
[I beat Bobby] in Battle Melon in "Iron Chef America" in 2007. [We had] several different melon types, varieties like crenshaw melon, different honeydews, some different types of watermelon. It's a challenging ingredient. I think, during that time, we were still very much into molecular gastronomy and using avant-garde techniques. We applied some of those techniques to our cooking and luckily we came out victorious. Bobby's a hell of a cook. I think throughout my career on "Iron Chef," I battled Bobby a few other times and he got the best of me on some other battles as well. He's no slouch. He's really tough to beat, but I certainly enjoyed beating him during that time.
If you were going to challenge him again, what would you hope to cook?
Well, he's known for his Southwestern bold flavors, but he's expanded his cuisine over time. I think we both cook Spanish food, so I'd like to take him on in a Battle España. Let's see who can throw down the best Spanish food.
Talking more generally, what are some of the biggest challenges of cooking on camera?
I would say in general in "Iron Chef," in that format and a competitive format, there's a lot camera men and camera ladies hovering around. There's a lot of cables. You're trying to move pretty quickly, so you [might] have an equipment issue. You're also dealing with flames, sharp knives, a lot of moving parts. Physically, it can be a little bit dangerous. Those are some of the biggest challenges.
Chef Garces on the challenging restaurant business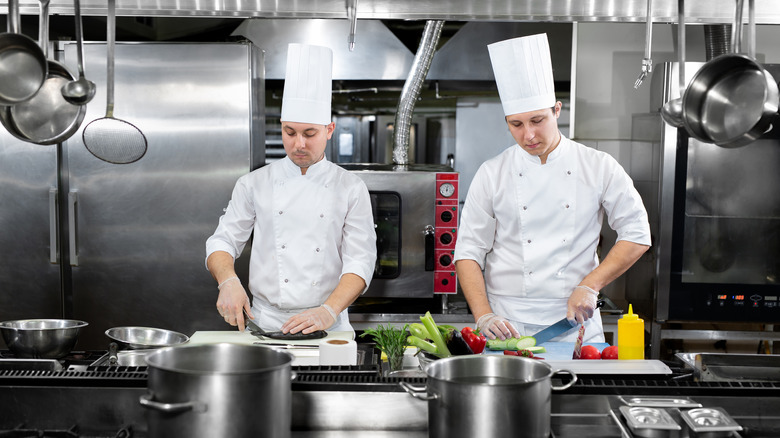 Studio Peace/Shutterstock
What are some of the biggest challenges of running a restaurant, not to mention running multiple restaurants?

That's the hardest thing. That's the hardest thing I do. One of the biggest challenges of running a restaurant is maintaining quality standards in both food and service on an everyday basis. It's also a highly competitive landscape in the restaurant world. You're always competing and evolving your menu, so that's always challenging. That's not easy. You're always keeping things moving forward, so with that initial comment of keeping food standards and hospitality standards up, there's a lot of training that goes into that. A lot of investment in our people, which is really rewarding, but it requires quite a bit of time. I would say those are the biggest challenges, just trying to figure out a way to keep things maintained at a high level.
Why chef Garces partnered with Casa Verde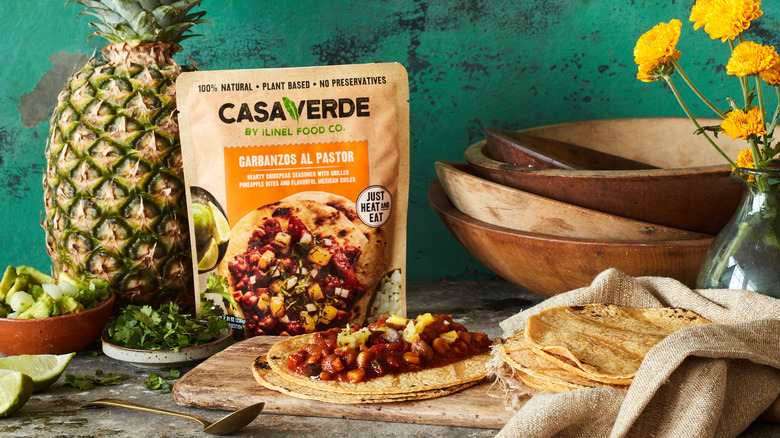 Casa Verde
What was the motivation to partner with Casa Verde and what inspired the specific foods you developed?
The motivation was twofold. One, my daughter Olivia, during the time of development, had become gluten-free and lactose intolerant, so a plant-based diet was one that was really appealing to her and worked for her body. I was already thinking in that mindset and cooking meals for her on a regular basis. There was also this idea after cooking for so many years of the challenge of making plant-based foods taste as delicious as regular meat-based protein foods. The challenge that was bestowed upon me was, "Hey, let's make Latin inspired dishes plant based, but how do you go about that?" 
I think that was one of the biggest challenges, taking these traditional dishes that mostly revolve around meat bases, and converting them into plant-based meals that have the same flavor and texture. That was a fantastic challenge. I looked forward to it as a competitor, as an Iron Chef, as someone who loves to cook and loves a challenge. This was a great challenge to take on.
Chef Garces talks Ecuadorean and South American cooking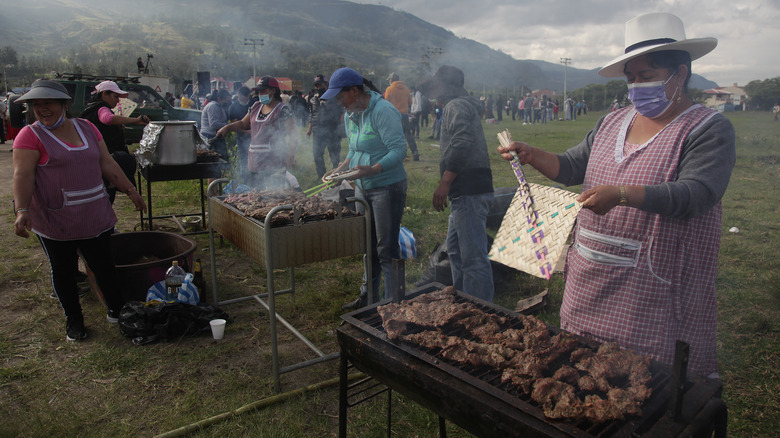 Agencia Press South/Getty Images
What are some things you wish more people knew about Ecuadorian food?
Ecuadorian food ... it's regional. It's not one-dimensional. Depending on [location], they call out the Sierra or La Costa. If you're by the sea, it's a certain way, or if you're on the mountainside, the food's a little different, but the one takeaway is the Ecuadorians really do a great job with plantains and peanuts. Those two ingredients on the coast really, really come through. They're pretty special. They'll make plantain empanadas, they'll be plantains in seafood-based soups. You won't even know it. Call it a secret ingredient from Ecuador.
What are some misconceptions people have about South American cooking in general?
I don't know if there's, in general, misconceptions, but I don't think that there's enough education on it. I don't think that there's enough knowledge about it. When you're talking about South America, it's such a vast continent of different countries that all have their own specialties. Say, if you're in Brazil, you have a certain influence, you have a Portuguese and African influence. If you're in Argentina, you might have some Italian influences. In Peru, you have a Japanese influence, as well. Really, it's such a wide array of different cultures that come together that make fantastic food. I  feel there maybe isn't enough of a spotlight on the continent as a whole and as it relates to cuisine.
The chef talks dishes, favorite ingredient, and the chef he'd love to have cook for him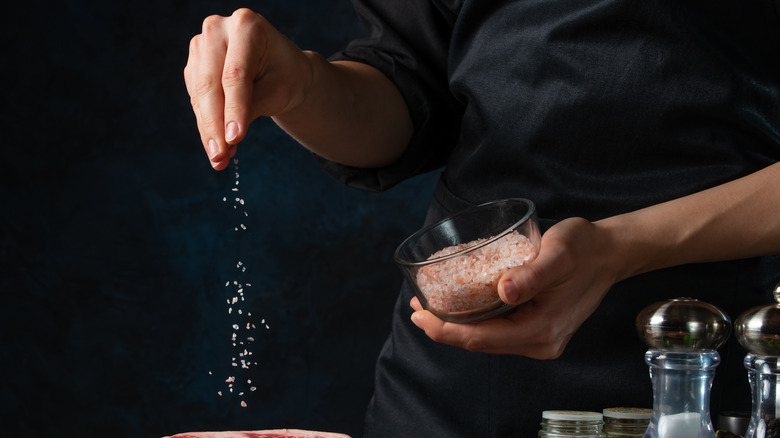 Anton27/Shutterstock
What are a few dishes you wish everyone on earth could try?
I still like the dishes I cook for my kids. I make great arepas. My grandma made them, my mom made them. They are such a versatile element, because you can have them on their own or [with] anything. An arepa is a corn and cheese-filled griddle cake. Usually, in Venezuela, they'll take it and stuff it and fill it with proteins and it'll be almost a sandwich form. I like it as a breakfast element. I serve it with two eggs. It really is a versatile thing. Come have my arepas before it's all well said and done.
Is there one single ingredient that you just can't live without?

I would say salt. I have a philosophy on salt that I teach all of my cooks, which is this thing I call a salt threshold. It's this imaginary line in the seasoning world, and when you hit the salt threshold, meaning you have just enough salt, you hit this perfect balance — it really makes all the food and flavor explode. If you go over it, it's going to be too salty. If you're under that threshold, it might be bland. That salt threshold is a key to my cooking.
Who is a chef that you would love to have cook you a meal?
I would love to have Chef Nobu's food. Chef Nobu is one of my favorite chefs. I've been watching his work for many years. I love his style and his food, to me, is timeless. It transcends all trends and evolutions in food. It's always really good.
Chef Garces talks pizza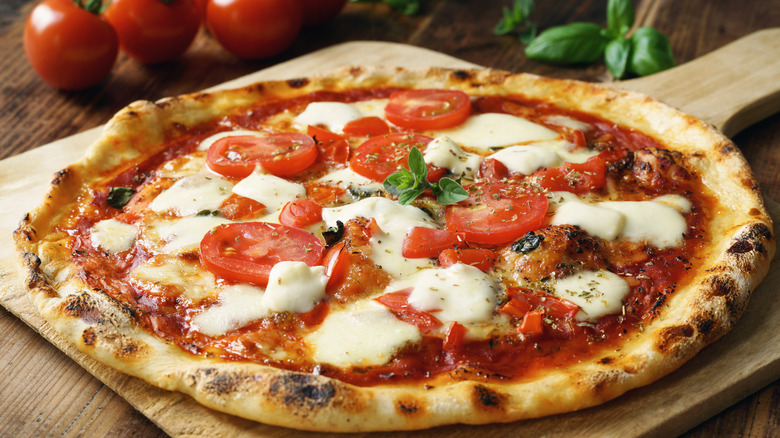 V. Matthiesen/Shutterstock
Do you have any favorite guilty pleasure types of foods?
I just opened a pizza place, and I love pizza, but maybe it's not one of healthiest things — dough, cheese, etc., but I love it, I'm a pizza guy, so I opened a place here in Philadelphia that has three different styles of crust. Growing up in Chicago, I had this tavern-style [pizza], super thin, very crispy. It's called a bar pizza as well. Everyone thinks of Chicago style pizza as deep dish, but it's not. 
The other style that we have there is Chicago pan. It's a little thicker. It's almost like a focaccia. It has a cheese crust. Then, we have Brooklyn style, which is a twice fermented dough. A lot of crumb in the dough crust. You have to come and try it. It's called Hook and Master in Philadelphia.
Check out Chef Jose Garces' website and learn more about Casa Verde's new plant-based food line.