Instagram Is In Love With Duff Goldman's Towering Tiki Cake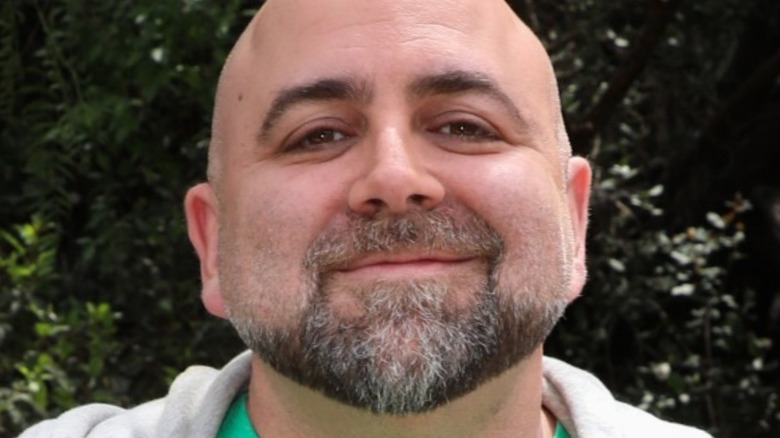 Paul Archuleta/Getty
Duff Goldman is known for creating show-stopping cakes and he has done so countless times over the course of his career. These confectionary masterpieces have awed and impressed folks who have laid eyes on them. According to Food Network, the master baker has whipped up cakes in the shape of teeth, mechanical engines, stacks of cash, and more. Out of all the incredible cakes Goldman has concocted, the chef considers both a life-sized elephant cake and the R2D2 cake delivered to George Lucas as his favorite creations ever (per Parade).
The "Ace of Cakes" star has taken to Instagram to show off his latest cake of the week, as he typically does, and once again, has stunned followers. The baker posted a photo of a multitiered, tiki-themed cake decorated with flowers, tiki heads, and more. This stylish dessert has attracted a ton of attention and followers couldn't wait to jump head-first into the comments and share their thoughts on this iconic cake that could rank among Goldman's best works.
Another Duff Goldman masterpiece to appreciate
The Instagram post galvanized Goldman's fans, at least 7,432 of them so far, and many flooded the comments with gems like "That is a beautiful #SHAG art inspired Tiki cake topped with a replica of the #kahiki supper club restaurant! Wow" and "This cake is everything. It is truly my dream cake." Others chimed in with compliments like "That's awesome" and "This is a stunner!"
Yet even more followed with "Super cool," "Amazing!," and "Love the #SHAG art!" People can't get enough of Goldmans cakes, and we can't blame them. This four-tier cake is complete with tropical flowers, wooden signs, and tiki-style artwork which might make you think of Hawaii just like one Instagram user who shared "This would have been a perfect wedding cake for my husband and I since we had a wedding in Hawaii."
Anyone who counts themself as a tiki fanatic, or who can appreciate good cake, can find something to love in this Goldman creation. His talent continues to captivate fans and we can't wait to see what he comes up with next.