The Real Reason PC Soda Just Recalled Its Lemon And Ginger Flavor
PC soda is certainly not the most popular brand on the market, especially when competing with Coca Cola, Pepsi, and even the Soda Stream. The Canadian-made President's Choice (PC) brand began around 1984 when they released their first products and they now have a variety of soda flavors outside of the norm, including Peach Ginger and Blood Orange. They are not your typical sodas. Then again, they are not as well known as your typical sodas either. But despite that fact, they are not immune to issues typical brands encounter, like being recalled.
For instance, Coca Cola has been recalled for possible contamination in containing metal like bolts and washers. And although PC may not have joined Coca Cola in soda popularity ranking, it has met its match in production issues, with a recent challenge in packaging causing them to have to recall their lemon and ginger flavor.
Walking back PC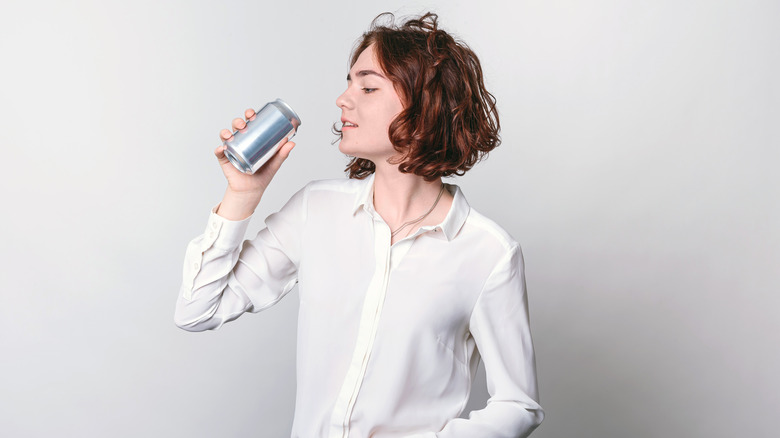 strang/Shutterstock
Despite its ability to remain out of the mainstream, its stream of sodas is having some slight issues. According to Food Safety News, the company has recently had to recall one of its flavors, Lemon & Ginger Sicilian Soda, not because of anything viral, but because of fear of contamination from glass. The recall notice announced by the Canadian Food Inspection Agency notes that the company revealed the possibly contaminated product was sold across Canada.
They warned customers not to drink the products that have been recalled, but instead to make sure to get rid of them or return them to where they were purchased. The label information of the product in question points out that it applies to packs of four 200 ml cans with the UPC code "0 60383 02157 3" and other codes "P 2021 SE 24" and "BB/MA 2023 SE 24." As of the February 5 publication date from Food Safety News, there has not been any complaints of injury from glass, but the Canadian Food Inspection Agency is continuing to look into the cause so that remains the case.