Why McDonald's Japan Is Serving Square Burgers
Banana Productions/Shutterstock
When it comes to fast food items, no dish is more iconic than the classic hamburger. From Burger King to McDonald's, numerous fast food chains revolve around this prototypically American dish. Therein lies the problem. If you're pulling off the highway and have the choice of several cheap, convenient, and arguably tasty burgers, which one do you go with? Does your heart quicken at the thought of chowing down on a Double Meat Whataburger? Or is it a Quarter Pounder with Cheese from the Golden Arches that gets your mouth watering?
Across the United States, many burger-focused fast food giants have similar-sounding menus, giving patrons plenty of chances to indulge in burgers and fries galore. That said, some of these chains have managed to put a unique spin on the simple pairing of beef and bun. Five Guys is famous for its fresh, never frozen beef, for instance, and Wendy's is known for its distinctive square patties. While Wendy's may have unofficially staked their claim on the square-shaped patty, McDonald's has recently begun encroaching on this angular territory by serving up their own sharp-cornered burgers — in Japan.
McDonald's is trying to bring the Big Apple to Japan with two new burgers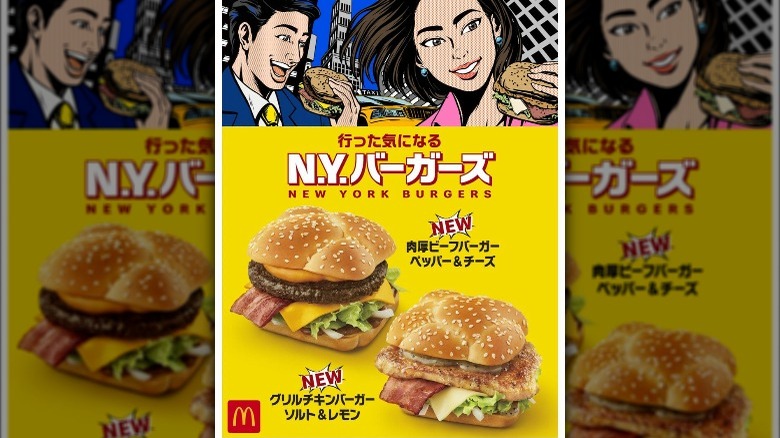 McDonald's Japan
Move aside Baconator, there's a new square-shaped burger in town! According to Japan Today, McDonald's is helping customers scratch their travel itch with two new burgers. The new menu items are called the "Itta Ki Ni Naru N.Y. Burgers." For those who don't speak Japanese, this translates to "I Feel Like I Went to N.Y. Burgers." Featuring chunkier cuts of meat and distinct sauces, these new menu items are meant to help transport local residents from the East to the city that never sleeps.
The first of the two "Americanized" burgers is "The Thick Beef Burger Pepper & Cheese" which includes bacon, lettuce, onion, and "smoky cheddar cheese" atop a beef patty. The burger is finished with a type of "steak sauce" infused with black pepper and cheddar cheese sauce. The second burger on offer is the Grilled Chicken Burger Salt & Lemon, which features lettuce, onion, cheddar cheese, and bacon atop a chicken thigh patty adorned with a salty, lemony roasted garlic sauce.
Wendy's arguably has unofficial ownership over the square patty, but McDonald's isn't completely stealing from the chain — the new hamburger has a round patty, but that round patty is sandwiched between square buns. To complete the presentation, each burger is wrapped in comic book-styled packaging.