How Far Ahead You Should Actually Call To Get A Valentine's Dinner Reservation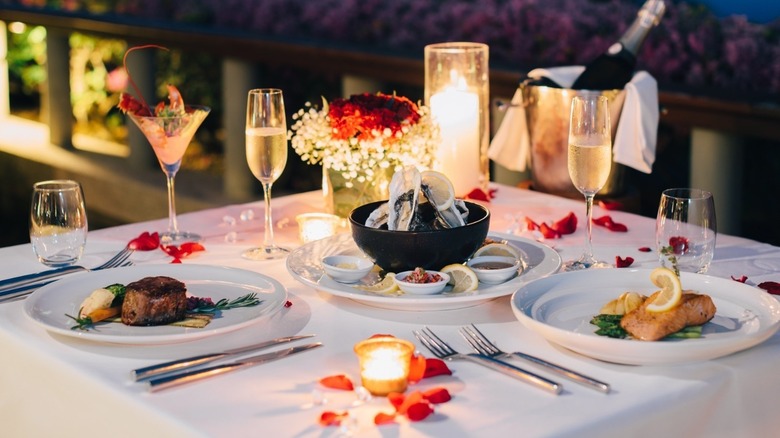 9MOT/Shutterstock
Dining out on Valentine's Day and ensuring that everything goes according to plan can feel like an incredibly stressful activity. Maybe you're not sure where to go, or if you need to make reservations well in advance at your favorite restaurant before all the slots are taken. According to Taste of Home, it's essential to think about reservations as early as you can because many eateries start accepting bookings several weeks or even months before February 14.
One useful tip is to consider opting for an unusual time to eat at the restaurant so that you can spend some quality time with your partner and avoid an uncomfortable crowd at the same time. A Redditor offered an alternative solution that may work for some. They wrote, "Go out the night after Valentine's. What's fun about being packed into a restaurant with a limited menu, long waits for drinks/food and the hurried pace?" They suggested that it's best to stay indoors and have a meal at home instead of trying to squeeze into an overly crowded restaurant. But if you'd rather opt for a little indulgence by dressing up and heading out for a romantic meal, it's important to figure out your plans before it's too late.
You need to plan strategically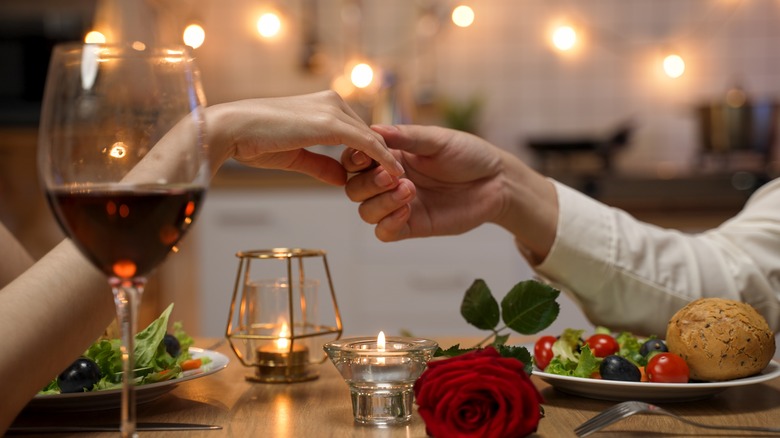 PRPicturesProduction/Shutterstock
As highlighted by Elite Daily, it often comes down to where you live when you're trying to decide when to finalize your Valentine's Day reservations. Of course, it's also possible that you have a place in mind that simply doesn't believe in reservations and asks its customers to wait for their turn. Here's the catch: This can result in an incredibly long wait on special occasions like Valentine's Day. 
Elite Daily says that according to research conducted by a reservation app, Resy, it's likely that you'll find it a lot more difficult to snag a spot in a city like Dallas, where it's estimated that people book a table 23 days before Valentine's Day. Dallas was joined by Nashville (10 days) and Seattle (nine days), followed by cities like Philadelphia, Phoenix, Honolulu, and San Francisco, where it's considered acceptable to make a reservation eight days before February 14. Cities that are relatively more relaxed about bookings include Austin, Chicago, and Orlando, among others: you can get away with calling restaurants four days before your dinner date. In New York, six days is considered to be good enough to make a reservation. When it comes to Valentine's Day, however, be on the safe side. It's best to plan early and call restaurants instead of waiting until the last minute.