Every Restaurant In Billions Ranked Worst To Best
If you want to get a feel for how the high-flying financial world lives, watch "Billions." If you want to get a feel for where to eat in NYC, also, watch "Billions." The show centers around a protagonist — a term used very loosely — who is on a quest to continue to gain power and wealth in the thrilling world of finance. 
Instead of being gimmicky, the show is riveting, with characters who are equal parts lovable and loathsome. If you know the show, you know that NYC is the backdrop, and the cast often highlights some of the best of New York City dining. 
It's glitzy and gritty, but with all the dining referenced in the episodes, we felt it necessary to take a closer look at each dining place featured. Whether you're a die-hard "Billions" fan or have never seen an episode, you'll want to take a peek into where the real world's financiers might dine. We take a look at all the restaurants the cast visits (and references) during Season 5 and rate them from worst to best!
Peter Luger Steakhouse
Once upon a time, Peter Luger's was known as the best steak in town. This Williamsburg, Brooklyn institution was founded in 1887 as Carl Luger's Cafe, Billiards and Bowling Alley. Carl Luger, the nephew of founder Peter Luger, was in charge of the kitchen. The restaurant would eventually grow in popularity and has, at different times, seen varying levels of fame — it has a Michelin star and still sits on some "best of" lists to this day. It even got a shout-out from Chuck and DeGiulio on Episode 2.
Unfortunately, the food, wine and, service have been overshadowed by Peter Luger's towering reputation. In a now-infamous 2019 review by The New York Times, critic Pete Wells said, "The shrimp cocktail has always tasted like cold latex dipped in ketchup and horseradish. The steak sauce has always tasted like the same ketchup and horseradish fortified by corn syrup."
It's not that Peter Luger's is the worst food you'll ever eat. In fact, it's far from it. But for such a New York City institution, it's far more expectation than ecstasy. Wells put it perfectly when he said, "What gnaws at me every time I eat a Luger porterhouse is the realization that it's just another steak and far from the best New York has to offer."
4 Charles Prime Rib
At 4 Charles Prime Rib, there's a complicated reservation system that's handled 30 days out and has no seatings before 11 p.m. If steak at midnight is your thing, you're in luck. However, this Greenwich Village steak joint is dark and sensual and was the perfect backdrop for Chuck and Kate's chat in Episode 1.
There are only extremes for 4 Charles Prime Rib: very bad or very good. "Shrimp scampi is a $24 excuse to dip toasty garlic bread into garlic sauce. You can discard the shrimp, which are cooked to the texture of styrofoam," said Eater. The oysters are a bright spot on the menu, but for $48 for a dozen, what do you expect?
But a lot of the dinner options at 4 Charles Prime Rib are truly just hit or miss, like the burger and fries, which is a dish that should be complementary in quality. The burger is meh, but the fries are outstanding. If wildly inconsistent is your thing, you'll love it here. But you likely don't have to worry about that because it's impossible to get a reservation anyway.
Vallata
Celebrity chef Tom Colicchio opened the restaurant Vallata in 2021. This Italian spot on East 19th Street in New York City was a pop-up that became a permanent space, presumably due to its success. It bills itself as straightforward Italian cooking in an intimate and eclectic space, which sounds promising enough. Colicchio himself serves food to Wags and Chelsea in Wags' office in Episode 10.
The food is good enough, but it has no heart. It's right next door to Colicchio's main restaurant Craft, and instead of having its own personality, Vallata feels a little bit like an afterthought. The restaurant can't quite get the ambiance right. The music is off and the dining room doesn't feel quite right. Said The New York Times, "The only touch that evokes a trattoria is the brown butcher paper on the tables."
But if you're just looking for rustic Italian food, you're in luck. Vallata serves delicious dishes like a Tuscan kale salad and pasta dishes like Bucatini cacio e pepe and Casaarecce with pecorino, walnuts, and thyme.
Union Square Cafe
As one of the culinary kings of New York City, restauranteur Danny Meyer can do no wrong. So when his flagship restaurant, Union Square Cafe, relocated in 2015 thanks to a rent increase (via Eater), eager diners were curious about what the new experience would entail. The original Union Square Cafe, founded in 1985, was on 16th Street and was a wonderful debut from Meyer. Expect dishes like braised duck ragu, ricotta cavatelli, roasted duck breast with brussels sprouts, and blistered grapes and quinoa crumble.
The restaurant, which is mentioned in Episode 2, still holds on to some of that old-school charm. One Yelp reviewer said, "They offer complimentary bread service AND sparkling water (very few restaurants do that)." 
But it's not going to be one of the best meals you've ever had. It might be tasty but far from memorable. We love that Meyer insists on paying his staff a liveable wage, but that means you'll pay around $17 for a bowl of soup.
Una Pizza Napoletana
Una Pizza Napoletana has an interesting backstory. New Jersey native Anthony Mangieri is known as "a pioneer of Neapolitan-style pizza in the United States" (via Una Pizza). He opened the original Una Pizza Napoletana in New Jersey in 1996, then moved it to the East Village in NYC in 2004, and then relocated, yet again, to the West coast in 2010. The Lower East Side location appears to be closed, per Yelp, but according to the pizzeria's Instagram account, it should reopen in winter 2022. It is Axe's pizzeria of choice and is featured in Episodes 3 and 6.
Anthony Mangieri has perhaps done himself a disservice by serving up excellent pizzas over the years. While his pizzas are delicious, as New York Magazine puts it, "Nothing about the puffy, yeasty pies feels revelatory or groundbreaking, especially at $25 a pop." Perhaps everyone is used to how delicious they are, or perhaps the pizza landscape has changed since 1996 when Mangieri was pioneering the Neapolitan-style pizzas. 
Cibao
Tucked away on a quiet corner in the Lower East Side, there's an unassuming restaurant that wows. If platters of beef stew and beans or dishes of chicken and rice sound like a fun time, then Cibao is an easy recommendation. 
It's a casual Dominican spot where Axe and the DA were chatting in Episode 2. You can expect Dominican standards like tostones, fried pork chops, chicken soup, and baked chicken. But the real standout is the Cuban sandwich. It's a delectable balance of ham, shredded pork, cheese, and pickles sitting atop a perfectly crusty roll. Delicious isn't a good enough descriptor for the food at Cibao. It's decadent, soul-warming, hearty, and tastes like it was made by someone who knows what they're doing but also has a lot of stories to tell. Cibao is made with love. The fact that the Cuban is only $7 makes it an even more exciting casual lunch option. 
2nd Ave Deli
Everyone in New York seems to know Katz's Deli, but what if we told you there's another must-try spot that serves up mile-high pastrami sandwiches? At 2nd Ave Deli, there are sandwiches stacked with tender and flavorful pastrami slices. The pastrami is "dry-cured for more than a week in salt, spices and peppercorns, then carefully smoked to perfection," (via 2nd Ave Deli). 
This iconic Jewish deli featured in Episode 8 dates back to 1954. Founder Abe Lebewohl worked his way from Coney Island soda jerk to counter manager and decided to try his hand at the famed Jewish-style foods he'd become more than familiar within New York City. The original location shuttered in 2006, according to Front Page Detectives, but two more locations have since opened. 
At the deli, you can dine on traditional Jewish fare like Gefilte fish, stuffed cabbage, chopped liver, and Matzoh ball soup. A pastrami sandwich will run you $24.95, and while it's not as massive as the other larger-than-life Jewish deli sandwich, it's one of the best bites in NYC.
Red Farm
Let's start off with the basics. Red Farm is good. Very good, in fact. It is on the pricier side, making you wonder if you couldn't get the same quality of food somewhere else for a fraction of the price. But there's no need to even let that thought stew because Red Farm is so good you'll forget all about it. There are actually several locations, and in "Billions," they're at the Upper West Side branch.
You may have seen the Pac Man shrimp dumplings on social media, which are as cute as their name suggests. Warning: They're succulent and perfectly stuffed. Red Farm also serves pastrami egg rolls stuffed with meat from famed Katz's deli. 
Not coming across as gimmicky, instead, Red Farm is wowing you with flavors, sauces, and textures. Some of the mains are just as tasty as the Dim Sum, so if you consider yourself a fan of Dim Sum, RedFarm is a safe (and delicious) bet. 
Mamoun's Falafel
Mamoun's is proud to be New York's oldest falafel restaurant (via Mamoun's). And for good reason — its falafel is out of this world. It has a bright green interior from fresh cilantro and parsley, but the exterior is pleasantly crisp and serves as a fun protective coating for what lies inside. In Episode 8, you may have spotted Ira digging into a falafel sandwich.
The falafel, shawarma, or chicken kebab is available as a sandwich or platter with rice and salad and a pita on the side. It's good, it's hearty, and at around $8 for a falafel plate with rice, it's also perfect for a more casual, budget-friendly meal. There are also sides like pickled veggies, grape leaves, tabbouleh, lentil soup, and baba ghanoush.
We love that Mamoun's offers plenty of vegan options, so it's a great lunch option for groups with a range of dietary preferences. Mamoun's is excellent falafel but we're more impressed that they've managed to last in New York City for nearly 50 years. 
Lilia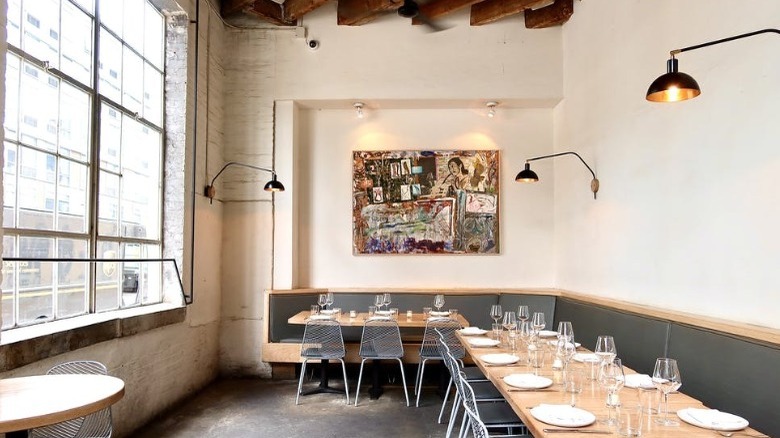 Lilia
Lilia is one of those restaurants that just oozes chic. From the minimalist industrial decor to the lively artwork adorning the walls, it's Instagram friendy and an instant way to feel snazzy. In fact, that's why they featured chef Missy Robins as the one overseeing Mike Prince's conference dinner. (The restaurant is not actually featured in the episode!)
Lilia epitomizes pasta and just how truly exciting it can be. Dishes like pappardelle, porcini, rosemary, and Parmigiano or spaghetti, lemon, pine nuts, and Parmigiano don't sound particularly thrilling. But when you consider that these dishes dance on the line between delicate and powerful, you realize you're in for a treat.
It's no one-trick pony — this Italian spot located in Williamsburg, Brooklyn is a cafe during daytime hours and also turns out fantastic desserts during dinner hours. 
Lilia is unique, delicious, and chic and if you need a special place for friends, family, or date night, look no further. 
Gramercy Tavern
Gramercy Tavern isn't actually featured in Season 5, but instead, longtime head chef Tom Colicchio serves one of his renowned dishes: crab fondue with pea puree (via Amateur Gourmet). The restaurant is a sight to behold — not because it's particularly well-decorated or even provides much ambiance. But after 20 years, Gramercy Tavern is still fantastic. 
You'll see an enchanting dance of sommeliers, servers, and patrons all contributing their part to the buzzy yet cozy scene. Danny Meyer would do nothing less than seasonal dishes. CN Traveler fawned over the Lumache with lobster, chorizo, and peppers. Gramercy Tavern is perfect for those who just want to pop into the front room, also known as the tavern, for a quick drink or for a more austere sit-down meal in the back room. Smoked arctic char with cauliflower and potatoes and roasted duck breast with apples, squash, and shiitake mushrooms are dishes that are executed nearly perfectly each time. 
Sitting down will run you $158 per person for the tasting menu plus whatever drinks you choose, but it is more than worth it.