Cutwater's Super Bowl Ad Embraces The Power Of Laziness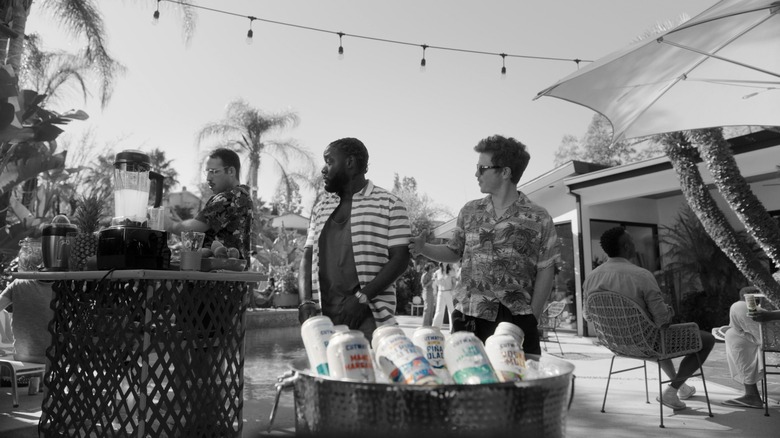 TonelsonProductions/Shutterstock
Cutwater Spirits is launching it's first national Super Bowl commercial in 2022 with an homage to innovators of today and commercials of yesterday (not to be confused with earlier regional commercials of 2021). Described in a press release from the brand, this new promo is "inspired by Apple's 'Here's to the crazy ones' ad is directed by Tom Kuntz (Old Spice, Skittles)." The mostly black and white clip begins by introducing different innovations — or maybe we should say "inventions." Have you tried tenderizing meat with a pressure point massage gun? How about removing snow with a flame thrower?
Cutwater's new commercial honors ideas such as walking your dog on a treadmill or using that robot vacuum to bring you a nice cold beverage. It's all about reaching "better results with less effort." Says Cutwater co-founder and master distiller Yuseff Cherney, "We've never taken ourselves too seriously and that sentiment carries through in our first national Big Game commercial as we celebrate the ingenuity of working smarter, not harder." Continues Cherney, "Since day one, we have been committed to using our own real spirits to make the best bar-quality cocktails available in a can so folks can spend more time doing the things they love!"
Here's to the lazy ones who work smarter
Cutwater Spirits' new promo is set to run through 2022 in an ongoing campaign celebrating this innovation (via Press Release). After the past pandemic years, many have embraced finding bar and restaurant-quality products that can be consumed at home, so canned cocktails do seem timely. With over 20 canned cocktails, there's no shortage of variety and no need to mix it yourself. Responsible drinkers 21 and up can choose from flavors including Pina Colada, Strawberry Margarita, White Russian, and Long Island Iced Tea, to name a few (via Cutwater Spirits).
As Cutwater themselves share on Twitter, "Decisions, decisions. Choosing between our Marg, Mai Tai, and Vodka Mule might be the hardest decision you'll make on game day... Who's your winning pick? ​#HowDoYouCutwater."
So next time you wash the car with the garden sprinklers or cool your beverage with an icicle to avoid walking — re-envision that idea of lazy as instead "ingenious." Cutwater Spirits canned cocktails can be found at retailers nationwide.