Why Bengals Quarterback Joe Burrow Rejected Chad Johnson's Diet Tip
Jamie Squire/Getty Images
Most people would expect athletes to be on strict diets of the healthiest foods available in order to stay in tip-top shape. However, that isn't necessarily the case with all sports, or even all athletes in a given sport. Each and every person is different, right down to their dietary needs. Depending on an athlete's build or position on the field, they might be eating salads, or they might be eating a lot of pasta. Some football players, says Bon Appetit, have to consume a whopping 5,000 calories a day to be in their best form.
According to The Washington Post, intense exercise can lead to cell damage and cause body tissue to become inflamed. With that in mind, athletes have to be careful and diligent about what types of food they consume. Chris Bosh, for example, was a big fan of salads and lean meats like fish while he was playing in the NBA. 
The McDonald's diet doesn't work for every athlete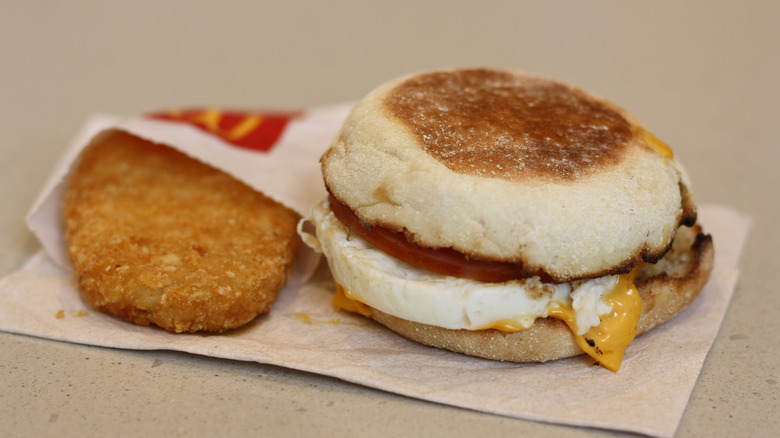 Deutschlandreform/Shutterstock
Over the years, many athletes –- particularly football players -– have sung the praises of McDonald's. In fact, one NFL player, Chad "Ochocinco" Johnson, claimed on Cam Newton's "I am Athlete" podcast that regularly indulging in McDonald's helped him build up a "callus" and avoid injury during the season (via Sports Casting). However, when he tried to pass this tip onto other NFL players, he wasn't exactly well received. After revealing that day one of his meal plan consisted of a visit to McDonald's, where he would order "hotcakes with sausage, sausage and Egg McMuffin, and a large orange juice," a far cry from eating fruits and veggies, Cincinnati Bengals quarterback Joe Burrow responded.
"I need to get with Joe Burrow [and] Odell Beckham this off-season [and] give them a [six-month] meal prep plan that will prevent any further injuries," Johnson tweeted. And, just a short while later, Burrow responded by saying, "Sorry Chad, I can't eat McDonald's every day" (via Twitter).
Getting enough protein is undeniably crucial to our bodies' performance, but there's probably much better ways to get protein than eating McDonald's each day. That Big Mac and large fry also comes with a ton of sodium and empty calories. But you do you, Chad.