Bud Light Is Celebrating The Rams' Super Bowl Win With Customized Bottles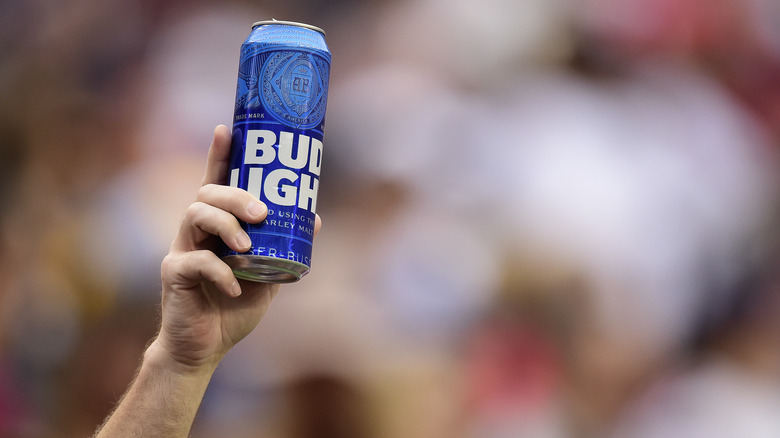 Patrick Mcdermott/Getty Images
At the Super Bowl LVI on February 13, the Los Angeles Rams were able to claim victory over the Cincinnati Bengals with a final score of 23 to 20, per The New York Times. And the win resulted in some very unique memorabilia. The NFL Shop has a ton of jerseys and commemorative helmets sporting the Rams' mascot, and some brands have also joined in on the celebration. Bud Light sold cans of beer emblazoned with the Rams' logo prior to the Super Bowl as a way to show off team spirit, per Saucey.
Now, the beer brand plans to take its team support to the next level. According to Foodbeast, Bud Light plans to offer signature, limited-edition cans of beer that advertise the Rams as the latest Super Bowl champions. The cans, which hit stores on April 4, feature the Roman numerals of the 2022 Super Bowl alongside the Rams' emblem. And while it might look like Budweiser is playing favorites, the beer company has always had a soft spot for this football team.
Bud Light's love of the Los Angeles Rams
Bud Light has found numerous ways to support the Los Angeles Rams over the years. According to CNBC, the beer company rallied around the football team in an L.A.-themed 2016 marketing campaign. And the brand promised to give out free beer to Los Angeles residents if the team won the 2019 Super Bowl, according to NBC Los Angeles. The brand has a habit of marketing toward local pride and has struck up a handful of deals with football teams around the country over the years, offering region-specific perks to devoted fans.
While Bud Light's love of the Rams might not prove unique, it helps make the team's win feel that much more special. Only time will tell if the beer brand will have a new favorite team next season. But for now, Bud Light won't stop celebrating the Rams anytime soon.