Instagram Loved Anne Burrell's Sweet Valentine's Post For Her New Husband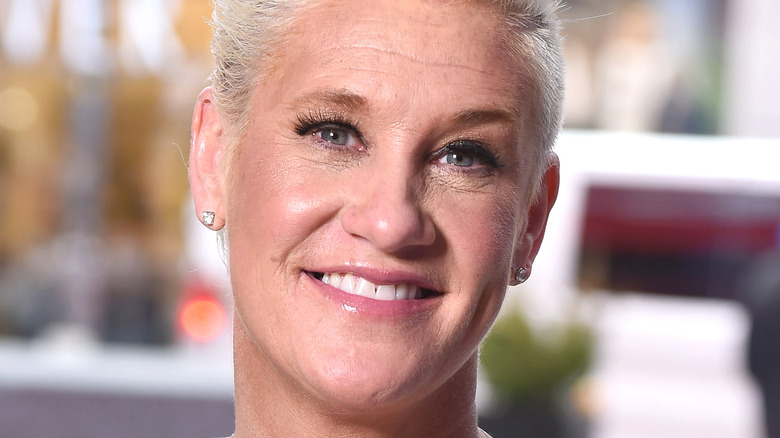 Gary Gershoff/Getty Images
Anne Burrell fans shared in her joy as when she tied the knot. She wasn't searching for a person to spend her life with, she explained to People. But when she found him, everything changed. Her engagement became the talk of Food Town, and Burrell did some of the talking. She gushed excitement in a pre-wedding post on Instagram, calling herself "the luckiest girl in the world."
Burrell met Stuart Claxton on a dating app in 2018. In October 2021, after a long pandemic-induced waiting period, they got married in a barn in Cazenovia, New York. They had a ceremony full of cheese (and not just the edible kind). Instead of walking down the aisle, Burrell rolled in a horse-drawn carriage, according to People magazine. She wore a dress made by famous designer, Carolina Herrera. Burrell's wedding menu, curated over the course of months, included a Buddy Valastro-crafted six-tier wedding cake. But while it was certainly a sight to behold, love was clearly the main course. Now, several months and many Instagram posts later, Burrell celebrated Valentine's Day with another tribute to her husband that might ring a bell.
Anne Burrell's charming valentine
As many people do on the day of love, Anne Burrell took to social media to share a Valentine's Day tribute to her significant other. She posted a wedding photo on Instagram. It featured the bride and groom sealing their love with a kiss. Burrell was in her beautiful white gown while hubby Stuart Claxton wore a black tux and orange sneakers (which a number of commenters loved. The photo caption exclaimed, "The happiest first Valentine's Day to my Prince Charming @stuartclaxton as a married couple!!" Burrell also expressed her ardent love for her husband: "I love you to the moon and back my sweet!!!"
The fairy-tale flavor of the post might feel familiar. A year before her wedding day, Burrell referred to her then-fiance as "Prince Charming" in an Instagram post and declared herself "the luckiest girl in the world!!!" Burrell called Claxton her "Prince Charming" again on the weekend of her wedding and once more proclaimed herself the world's luckiest girl.
Burrell's Instagram fans were smitten with the post. "Love the way you love," wrote a commenter. Another lover of love hoped that all people could experience a profound connection: "Everyone deserves to find their soulmate for their journey through this life." And others simply shared how happy they were that Burrell found a prince who made her feel so lucky.