This Dr Pepper Flavor Went Away For Over A Decade. Now It's Finally Back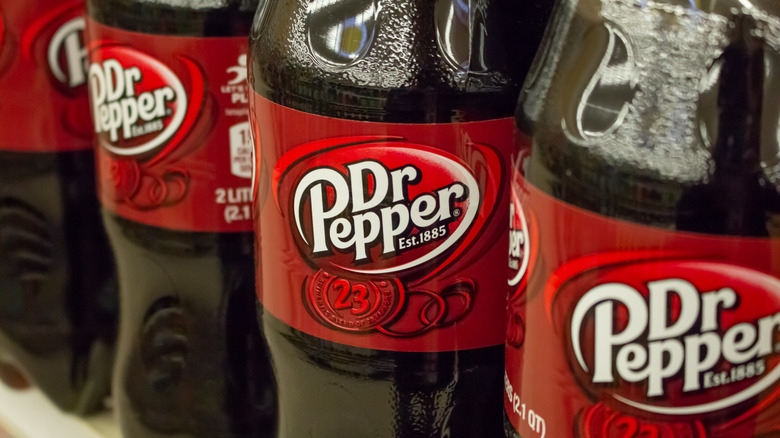 TonelsonProductions/Shutterstock
Dr Pepper was created many years ago thanks to a pharmacist called Charles Alderton in Waco, Texas who often found himself mixing flavored syrups at the pharmacy where he worked. The pharmacist didn't like the conventional fruit soda options that were sold back then and wanted to make something distinctive that stood apart from the rest (via Mental Floss). Alderton finally succeeded in 1885 when he created a "unique drink that customers loved."
Dr Pepper loyalists will confirm that the drink is believed to have a combination of 23 different flavors: per Thrillist, this secret is hidden somewhere in a vault inside the company's headquarters in Plano, Texas. This hasn't discouraged fans who've attempted to guess the flavors and reckon that the drink includes almond, blackberry, amaretto, juniper, lemon, nutmeg, orange, pepper, root beer, raspberry, tomato, vanilla, caramel, clove, licorice, and more.
The company has also experimented with unexpected options such as Dr Pepper Fantastic Chocolate, a drink that made its debut in 2021 and combined "the 23 flavors of classic Dr Pepper soda with chocolate" (via Food Business News). The brand has now brought back an old and unusual flavor after many years but there's a catch: the beverage will not be available in stores (for now).
The Berries & Cream flavor has returned
According to Best Products, Dr Pepper Berries & Cream has made a comeback and yes, it's been a long time. The beverage was launched in 2006 before being discontinued more than a year later. The limited edition purple can promises to treat its fans to "a punch of blueberry and raspberry flavor with a rich creamy vanilla finish," as stated on the Dr Pepper website.
However, not everyone will be lucky enough to taste it: Dr Pepper has declared that if a consumer wants to sip on the drink, they've got to win it by joining the company's Pepper Perks rewards program (which is free) and submitting an entry. The brand states, "We'll notify you when we receive your entry, and notify you again if you're a lucky winner." A disgruntled person wrote on the brand's Instagram page, "So we can't buy it, can only get it buy winning a raffle?" to which the official response was, "Simply sign up for Pepper Perks, and start earning points towards your own Berries and Cream!" Oops. A devoted fan said, "I need a can for my collection, I have the llama can from the summer a few years ago."
Also, a 2006 NBC article noted that the Berries & Cream flavor was meant to evoke a sense of nostalgia and remind customers of "simpler times." And it seemed promising too: an auction on eBay of 50 twelve-packs attracted impressive bids (over $15 for each package).