This Celebrity Alcohol Brand Is Perfect For Breaking Bad Fans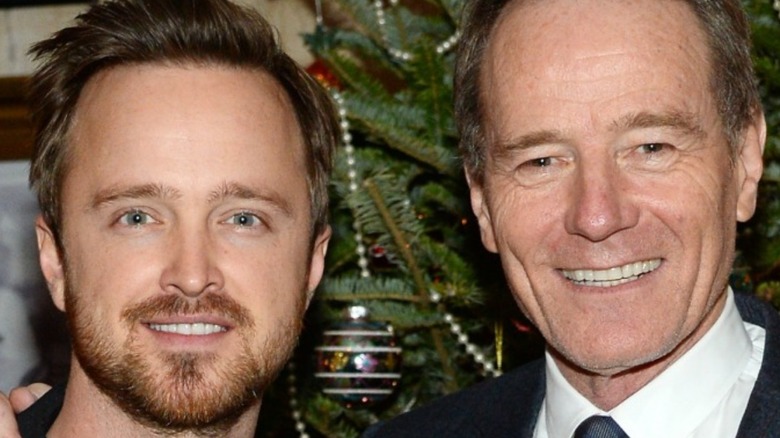 Andrew Toth/Getty
It may not be another sequel like "El Camino," but "Breaking Bad" fans don't have to let go of the joy and camaraderie brought by series leads Bryan Cranston and Aaron Paul just yet. The dynamic pair have started a mezcal brand, and even the photos for this pursuit should make fans of Jesse Pinkman (played by Paul) and Walter White (played by Cranston) happy as the two talented actors travel around to promote their new beverage. According to a release sent to Mashed, "Dos Hombres was born out of a genuine love and appreciation for mezcal and the obscure spirit's complex character."
The origins begin with Paul, whose growing fondness for mezcal was as potent as the stuff itself, winning over former co-star Cranston and leading to their eventual partnership. The "BoJack Horseman" producer shared the news on Instagram in October 2021, writing, "This is a HUGE deal for Bryan and myself." Praising his crew, he added, "Everyone involved has worked tirelessly to make Dos Hombres the best it can be and today we are all celebrating." The standard expression is described as a blend of Espadín agave which is "hand-selected from the hillsides of a small village in Oaxaca," and sells for a suggested retail price of $65, while bottles of the limited-edition Tobala mezcal are listed at $349.
Celebrating mezcal-style with Dos Hombres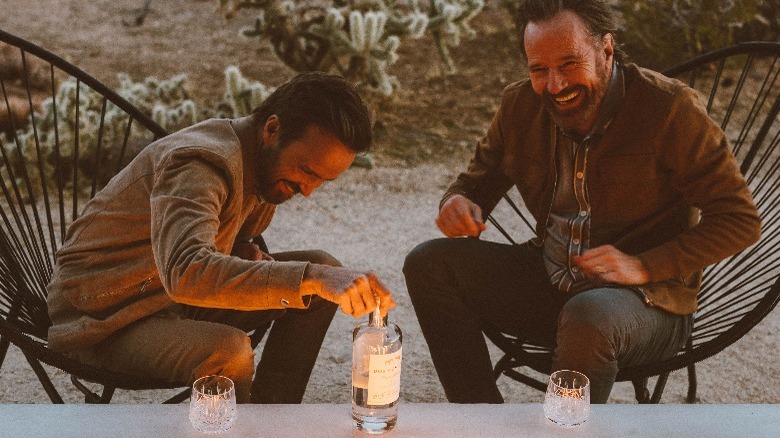 Dos Hombres | Max Barsness
Bryan Cranston is also "over-the-moon" about this new collaboration, sharing his enthusiasm in a post saying, "...it's so exciting because most people have no idea what mezcal is," (via Instagram). For those who aren't familiar, mezcal is made from agave, like tequila, but has a smokier finish (per Wine Enthusiast). Paul and Cranston traveled to the village of San Luis del Rio in Oaxaca and linked up with third-generation mezcal maker Gregorio Velasco, partnering with him for their signature drink. Per promotional materials, the Espadín is described as featuring notes of apple and mango with sapote fruit, and providing a wood and smoke finish. 
And how do the stars and owners enjoy their drinks? "My palate has opened up over the years. I prefer drinking my spirits neat. I love a nice cocktail from time to time, but I am always leaning toward a nice clean spirit neat or on the rocks," said Paul in a June 2020 Vinepair interview. Added Cranston of his own alcohol tastes, "Of course, I love our Dos Hombres neat, but I've taken to a few rums (which surprised me). Still not a Scotch drinker, though."
For those who want to join in toasting (and tasting) the product of these two beloved actors, bottles are available to ship or order by delivery on their website. They're also taking the show on the road. In a January 2022 Instagram post, Cranston shared, "We've been having great fun meeting you this week. Think you can guess which @bevmo_co's we'll be signing bottles at tonight? Follow our stories to find out!"