What You Need To Know About The Frozen Chicken Pot Pie Recall
Check those freezers, people. The latest food recall victims are frozen Creole-style chicken pot pies made by American Cobbler, LLC, per Meat+Poultry. The Homerville, Georgia company issued the recall because of an "undeclared allergen" and "misbranding." Apparently, the pot pie packaging does not say that the product contains soy, a serious allergen for some people. The gaffe was discovered during a recent inspection conducted by the U.S. Department of Agriculture's Food Safety and Inspection Service.
This recall affects 4,272 pounds' worth of the company's chicken pot pies, which were sent to stores in Virginia, Wisconsin, and Georgia. The impacted products, "GREAT AMERICAN Pot Pie Handcrafted Premium Creole Style Chicken Pot Pie," were produced between August 19, 2021 and November 3, 2021. The "best by" dates on the packaging are 02/19/2023 and 05/03/2023, and the pies have an establishment number of P47401 on the packaging, as well as lot codes of either 21231 or 21307.
Consumers can take them back to the store of purchase for a refund, or simply throw them away, according to Provisioner Online. Although no allergic reactions because of the mislabeling have been reported, the company encourages anyone concerned to call a healthcare provider immediately.
Why this food recall is a big deal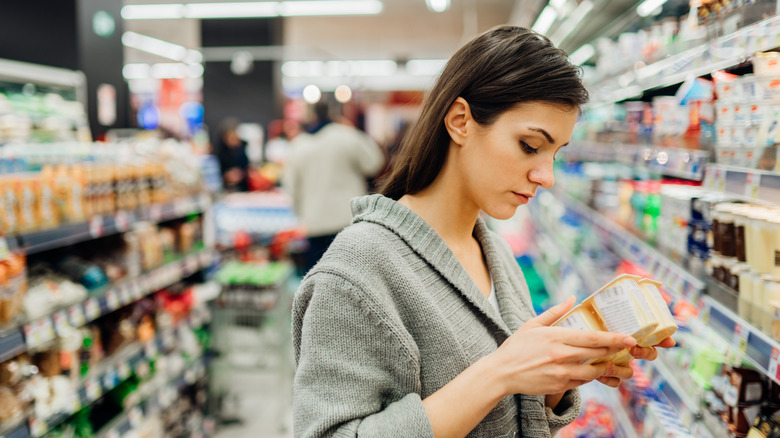 eldar nurkovic/Shutterstock
People who deal with food allergies rely on accurate packaging to keep them safe. Although the vast majority of allergic reactions to soy are pretty mild, there is always potential for severe illness, or even death, according to Mayo Clinic. Unfortunately, soy shows up a lot in commonly eaten products, like baked goods, cereal, and even meat products!
Symptoms of a mild soy allergy can include hives or tingling in or around the mouth, eczema, swelling in the throat, lips, face or really anywhere else, runny nose, wheezing, problems breathing, nausea, vomiting, diarrhea, and so on. A really severe reaction is known as anaphylaxis, and includes rapid pulse, dizziness/loss of consciousness, and trouble breathing. Anyone who shows these symptoms should immediately get medical attention.
American Cobbler's chicken pot pie recall due to mislabeling is one of most common reasons for such an event, says the University of Minnesota Extension. Other common culprits are foodborne pathogen contamination, like E. coli or Salmonella, or if the food has been contaminated by something like metal, glass, or plastic. We'll stick with regular seasonings, like salt and pepper, thank you very much.