The Untold Truth Of Anchor Bar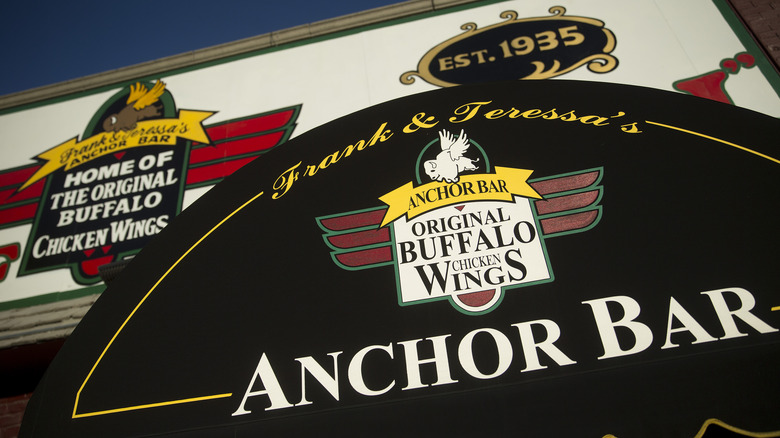 Bloomberg/Getty Images
Buffalo wings, in case you were a little confused, do not actually come from buffaloes. They are not some miniscule, tiny part of the bison, hidden under thick coats of fur and harvested just before football season. They are, in fact, from chicken — and the name refers to their origins in the bar food hotbed of Buffalo, New York.
Unlike most popular foods, Buffalo wings — or just "wings" as they're called in Western New York — can trace their roots back to a single city. And, most likely, to a single restaurant. That restaurant is the Anchor Bar, an otherwise-unassuming sports bar on Buffalo's Main Street that played a major role in American food history. But how did it become synonymous with the Buffalo wing? And what's it been doing in the years since that fateful night in 1964 when one of the owners changed football snacking forever? Read on for the untold truth of Anchor Bar, and learn why it has influenced how we eat.
Anchor Bar started as a waterfront Italian restaurant in 1935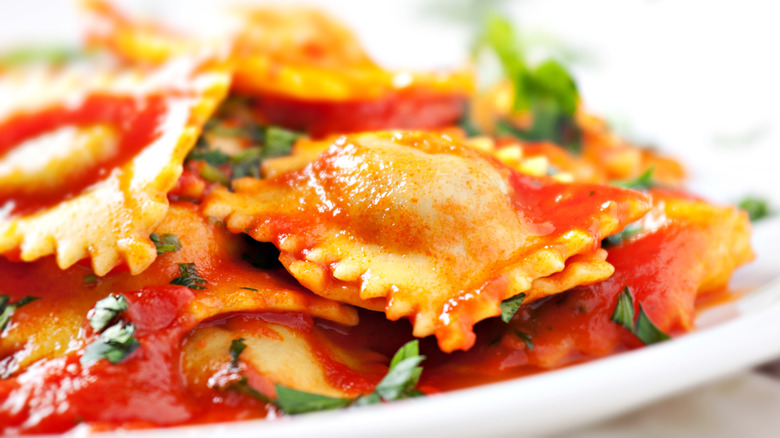 foodstck/Shutterstock
Long before Anchor Bar became the birthplace of the Buffalo wing, it was a simple little Italian restaurant set right along the banks of the Buffalo River, founded by Italian immigrants Frank and Teressa Bellissimo. According to the franchise's president, Mark Dempsey, the restaurant's name — Anchor Bar Franchise Company — came from its waterside locale where boats would literally anchor up to the bar and step in for homestyle Italian cooking. Though Anchor Bar kept its spot on the river for only a decade, the name still stuck.
According to the original menu, provided to Mashed by Dempsey, the original offerings didn't resemble the sports bar fare it serves today. Diners could grab a simple spaghetti napolitan for 25 cents, or go big and drop 60 cents on the chicken cacciatore.
Mrs. Bellissimo developed a reputation for a killer squid marinara and veal scaloppini, according to her 1985 obituary in The New York Times. "'She could take a potato, a carrot, some peas, maybe a little onion sautéed, a little olive oil, throw in some little round meatballs and make you a meatball stew that would be the greatest," her son Dominic Bellissimo told the newspaper.
Its fortunes changed forever when it invented the Buffalo Wing in 1964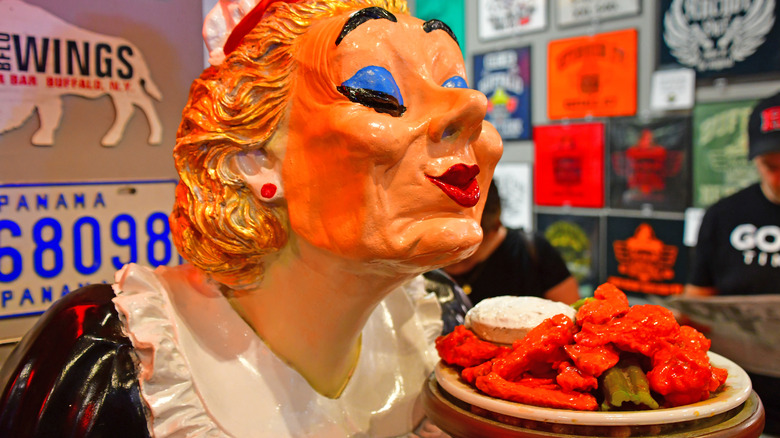 Carlos Gandiaga/Shutterstock
And then came that fabled night in 1964, when Anchor Bar cemented its place in American culinary lore. As legend has it, and Dempsey tells it, Dominic Bellissimo was tending bar late one night when a group of his friends came in after a night of carousing through the wild streets of Buffalo. According to Dominic's recollection of events in Teressa's obituary in The New York Times, he suggested to his father that they make some hours d'oeuvres for the crew. The elder Bellissimo reminded Dominic that it was Friday, and that his Catholic friends wouldn't eat meat.
With that, Teressa, who was working the kitchen, spotted some chicken wings she had been saving for a soup stock. She deep fried them, covered them in hot sauce, and served them with bleu cheese and celery. The boys at the bar devoured the wings, asking if they could come back next week for more. With that, the Buffalo wing was born, an impromptu invention from an old-school Italian mother.
Calvin Trillin documented Anchor Bar in his official history of the wing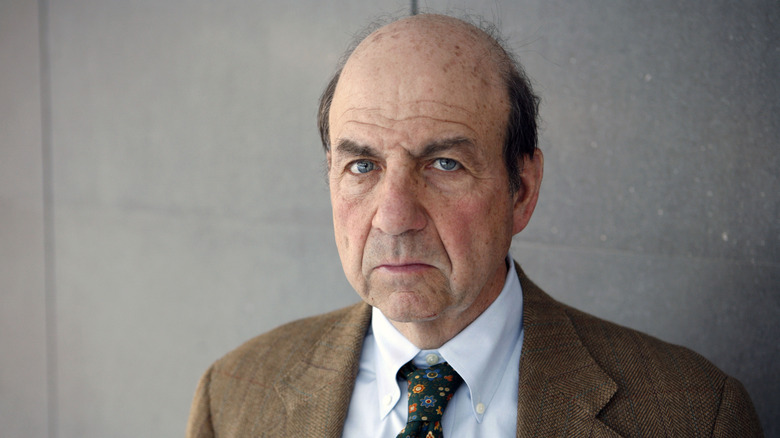 Bloomberg/Getty Images
Of course, it would take some time for the greatness of the Buffalo wing to take off. While the appetizer quickly spread around Buffalo — so much so the mayor proclaimed July 29, 1977 Chicken Wing Day (via WYRK) — its place in the American food repertoire had yet to be secured. But as its popularity rose, noted food satirist Calvin Trillin set out to anthologize its history in a 1980 edition of The New Yorker.
In the story, Trillin interviews Dominic Bellissimo and his father Frank — who was still alive at the time — to try and pinpoint the definitive moment the Buffalo wing was born. To that point it had been a bit of a mystery, according to Trillin. But as Trillin and his friends traversed Nickel City scouring various restaurants, the Buffalo Wing origin story of Teressa Bellissimo and her pepper sauce stroke of genius came up time and again. And though Trillin's story delves far further into how the wing came to be, Anchor Bar plays a major role.
There is, however, some debate about the wing's origin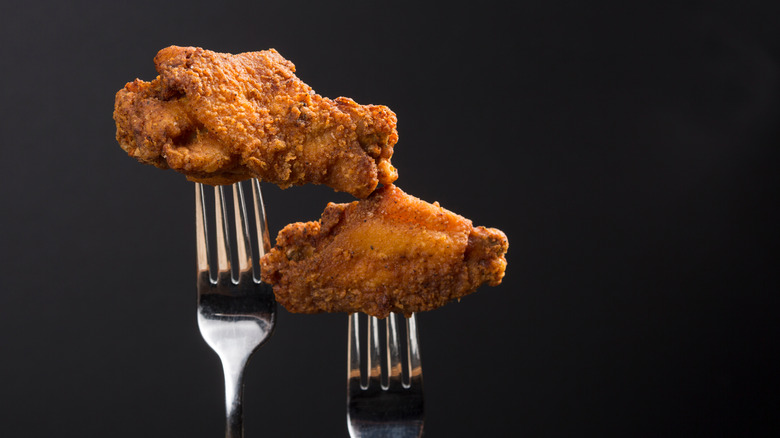 EJ Grubbs/Shutterstock
Trillin's seminal work of wingology is not the final word on the origin of the Buffalo wing. Yes, Anchor Bar may adorn itself in regalia proclaiming it's where the wing was born. But alternate tales exist. In 2021, USA Today ran a feature story about a man named John Young who deep fried and breaded wings on Buffalo's Black East Side as far back as 1960. His Wings N Things offered Young's mombo sauce — a spicy, tangy red-orange mix that's not too far off from the classic wing sauce of today.
Young's wings traced their roots to the fried chicken and soul food of his native Alabama. They sold 10-for-$1, though he left his wings completely intact and did not cut them into flats and drums like Anchor Bar. After the Buffalo race riots of 1967, the shop closed down and Young went out of the chicken business (via Medium.com). In 1996, Young told the Buffalo News, "I am the true inventor of the Buffalo Wing," though he conceded that Anchor Bar was the first place to cut the wings in half and serve them with celery and bleu cheese. 
Anchor Bar was a family-owned business until the early 1990s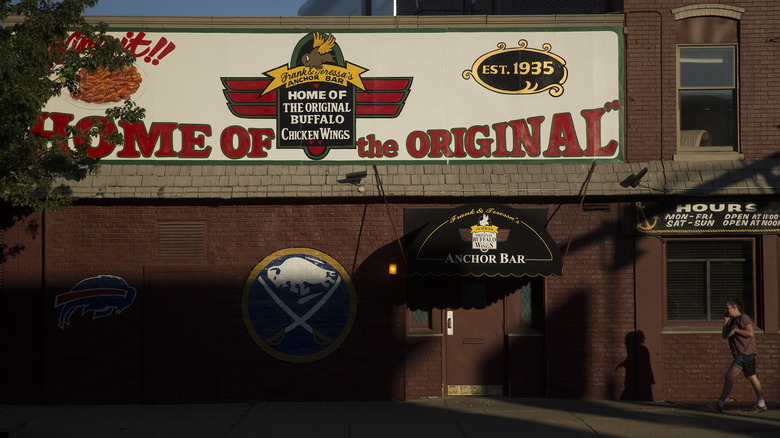 Bloomberg/Getty Images
As Frank and Teressa Bellissimo aged, their son Dominic took over the business and they moved into retirement, according to Anchor Bar Franchise Company President Mark Dempsey. Interestingly, Calvin Trillin's story for The New Yorker cited the elder Bellissimos residing in an apartment over the current Anchor Bar location on Main Street. Dominic ran the operation through the 1980s into the early 1990s.
As Dom got out of the wing game, Anchor Bar was put into the capable hands of longtime employee Ivano Toscani, who saw it through four Super Bowl losses and countless years of Bills irrelevance until 2018. He passed away that year, and Anchor Bar then changed hands to another longtime employee, Marcy Wright. She currently co-owns the company along with Terry Learner. Terry is short for Teressa, because Terry is named after her grandmother. So Anchor Bar still belongs in the Bellissimo bloodline.
Anchor Bar now serves 20 different sauces, and you can get them in grocery stores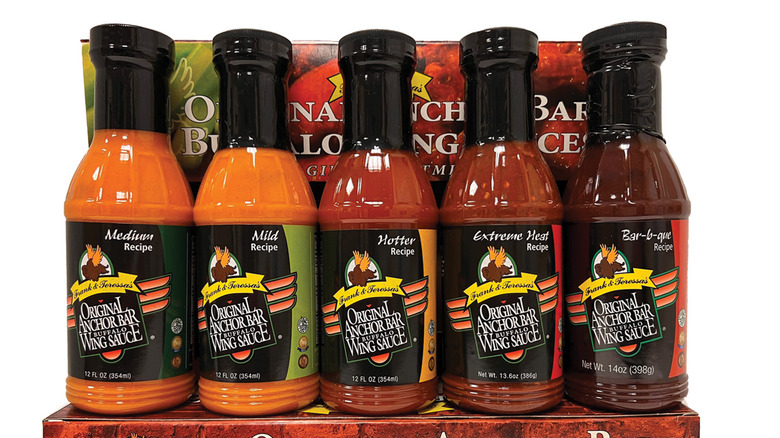 Anchor Bar
Anchor Bar's original wing sauce was a spicy, cayenne-and-garlic concoction that franchise President Mark Dempsey says needed bleu cheese to help soothe the heat. He added that butter was eventually thrown into the mix to make wings more edible for the heat-averse. But for the first couple of decades, Anchor Bar limited its sauce offerings to mild, medium, hot, and Dominic's suicidal sauce (via The New York Times).
But times have changed, and as the wing world offers more options, so does Anchor Bar. The current menu has over 20 different wing flavors to choose from, Dempsey told Mashed, including chipotle barbecue, spicy garlic parmesan, and honey garlic. Never ones to miss a marketing opportunity, Anchor Bar also bottles and sells its sauces, reaching over 4,000 supermarkets across the U.S. and Canada, Dempsey said. It's even sold in Japan (via Buffalo News), though no word on how it pairs with tempura. Eager eaters can also have the stuff shipped to them; mild, barbecue, medium, hotter, and extreme heat flavors are all available online in 12-oz bottles, or gallon sizes if you really hate your stomach lining.
Anchor Bar serves over 2,000 pounds of wings per day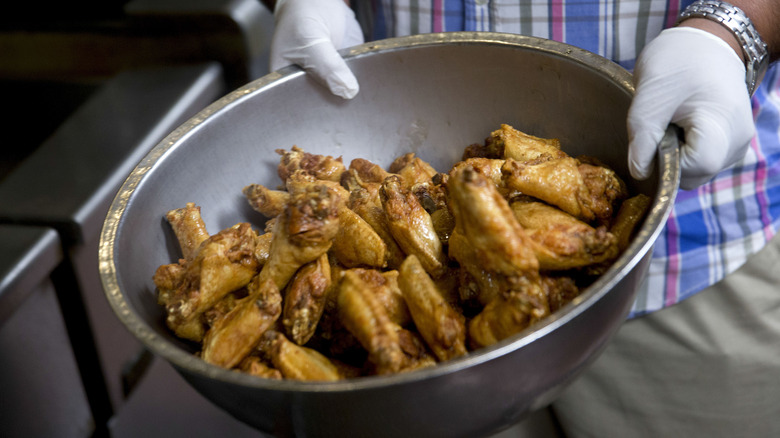 Bloomberg/Getty Images
While it might not be the highest volume wing seller in the world, Anchor Bar is still a legitimate wing destination in America. No trip to Buffalo is complete without getting wings at Anchor Bar (and maybe jumping through a table at a Bills tailgate), and as such it runs some pretty staggering numbers for a simple neighborhood sports bar. According to Anchor Bar Franchise Company President Mark Dempsey, the original location on Main Street goes through a literal ton of wings a day — a staggering 2,000 pounds worth.
Of course, that many wings require a lot of oil, so Anchor Bar also has four 750-gallon tanks of oil set up outside. Two are clean, two are dirty, and Dempsey estimates the restaurant runs through 10 gallons a day. Like a well-trafficked gas station, Anchor Bar has an oil tanker that pulls up a couple of times a month to clean and refill the tanks, ensuring the deep-fried wing train never has to stop moving.
Even though the original wings were served with bleu cheese, ranch outsells it ten to one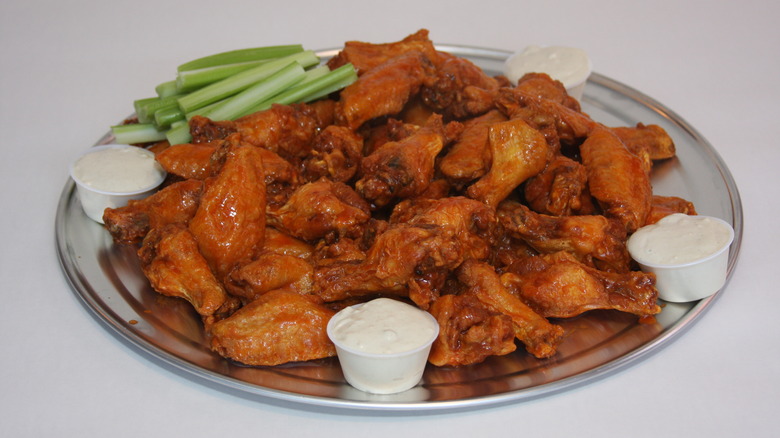 Anchor Bar
The original Anchor Bar wings were served with bleu cheese and celery (via The New York Times). And for a wing purist, there is simply no other way they should be eaten. "To be a real Buffalo wing, they've gotta be deep fried, covered in cayenne pepper sauce, and served with bleu cheese and celery," Drew "The Wing King" Cerza — founder of the Buffalo Wing Festival – told Mashed. "I can't imagine putting anything but syrup on pancakes, and I can't imagine putting anything but bleu cheese on wings."
Western New York traditionalism aside, ranch has vastly overtaken bleu cheese as the Buffalo wing dipping condiment of choice. Now, according to Anchor Bar Franchise Company President Mark Dempsey, Anchor Bar menus outside greater Buffalo proudly announce wings are served with bleu cheese or ranch. And in those locations, ranch dominates.
"We have a lot of restaurants in Texas, Georgia, Maryland, where bleu cheese is out served by ranch maybe ten to one," he told Mashed. "In Western New York, when a server goes up to a table in [Buffalo] they don't even ask, they're just brought out [with bleu cheese]."
Anchor Bar has appeared on countless TV shows, including The Bachelorette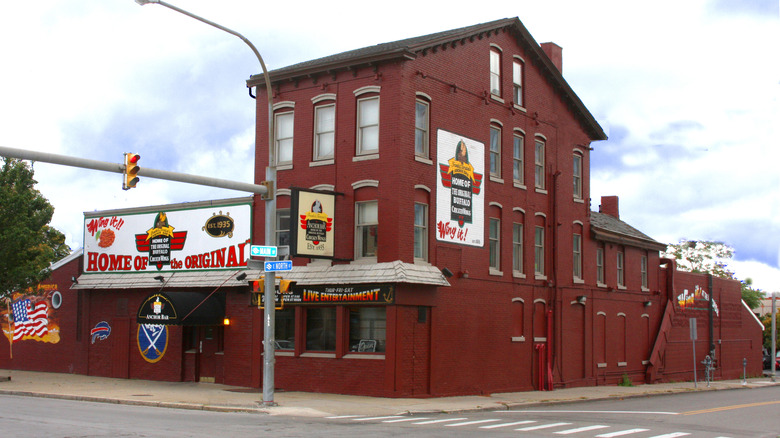 Anchor Bar
Of all the celebrities who've eaten at Anchor Bar, perhaps the most notable is Homer Simpson, who ate wings at an animated Anchor Bar in 2019  (via Buffalo News). But "The Simpsons" was far from the first TV show to set itself inside Anchor Bar's storied walls. During Season 14 of "The Bachelorette," Becca Kufrin traveled to the "hometown" of potential suitor Jason Tartick. And rather than visit Frank Lloyd Wright's Martin House or ponder fine art at the Albright Knox Gallery, they do the one thing everyone assumes they'll do in Buffalo – eat wings at Anchor Bar.
During the segment Becca is asked if she eats wings with bleu cheese or ranch. She correctly replies that she eats them with bleu cheese, and the crowd appropriately goes wild.
According to noted Buffalo food blog Buffalo Eats, Anchor Bar has also appeared on a couple of Bobby Flay vehicles — "Food Wars" and "Throwdown!" — as well as "Taste of America with Mark DeCarlo" and "America's 101 Tastiest Places to Chow Down." Anchor Bar's website also touts appearances on "Dr. Oz," the reboot of "Murphy Brown," and "Burgers, Brew, and Que."
Anchor Bar is part of the official Buffalo Wing Trail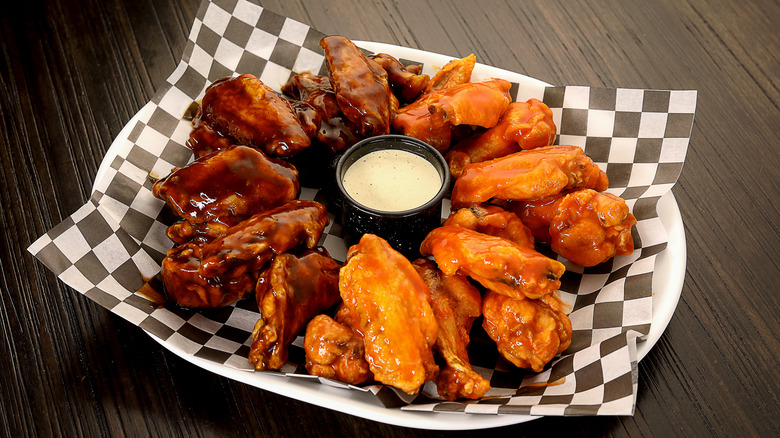 Joraca/Shutterstock
Wings have become so synonymous with the city of Buffalo that in 2017 the city's tourism arm launched the Buffalo Wing Trail, which takes visitors through 14 restaurants around Buffalo and its neighboring cities. Anchor Bar is, of course, a cornerstone of the tour, as no journey to the center of wing world should omit a stop where the whole thing began.
While Anchor Bar is a must-stop, the tour also includes Duff's, and its super-hot "suicide" sauce. Other interesting stops include the dry-rubbed wings at Mammoser's Tavern in Hamburg, a smoky, dryer style of wing that packs some serious heat. Bar Bill Tavern in East Aurora hand paints sauce on each individual wing, and, as co-owner John Crook told Mashed, was where Bills execs took Josh Allen just before the team drafted him in 2018. In South Buffalo, Doc Sullivan's serves a weck wing, a tribute to Buffalo's other noted food contribution, the beef on weck sandwich. These wings are covered in horseradish aioli and caraway seeds, and while not traditional are unlike anything you'll ever try.
Over 750,000 people a year visit the original Anchor Bar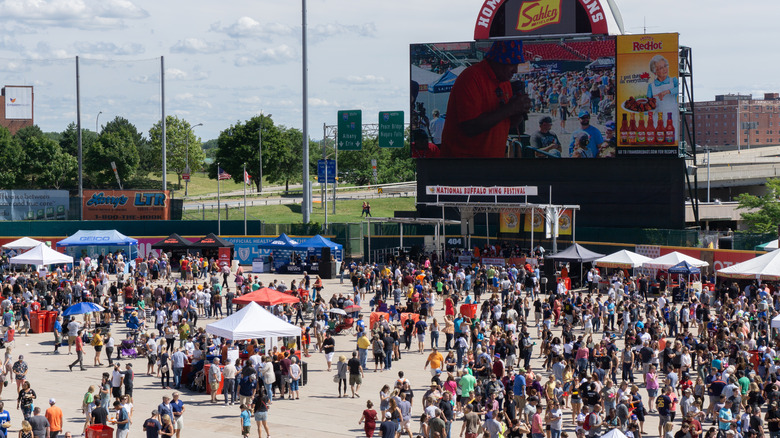 Francis W Naung/Shutterstock
Given its pop culture notoriety and place in American food history, it should surprise absolutely no one that Anchor Bar is one of the biggest draws in Buffalo. According the Anchor Bar Franchise Company President Mark Dempsey, the original location on Main Street draws nearly three quarters of a million people every year, pretty impressive for a restaurant that only holds 280 people at capacity.
Compare that to the city's other most famous attraction — the NFL's Buffalo Bills. Though beloved by the city and the Bills Mafia nationwide, the team draws just over 610,000 fans a year, according to ESPN. That's still a marked sight better than the other big league pro sports team in town, the NHL's Buffalo Sabres. Western New York's pro hockey franchise rated dead last in the NHL in attendance in 2021, according to WYRK, averaging just under 8,000 fans per game.
Anchor Bar won a James Beard Award, among others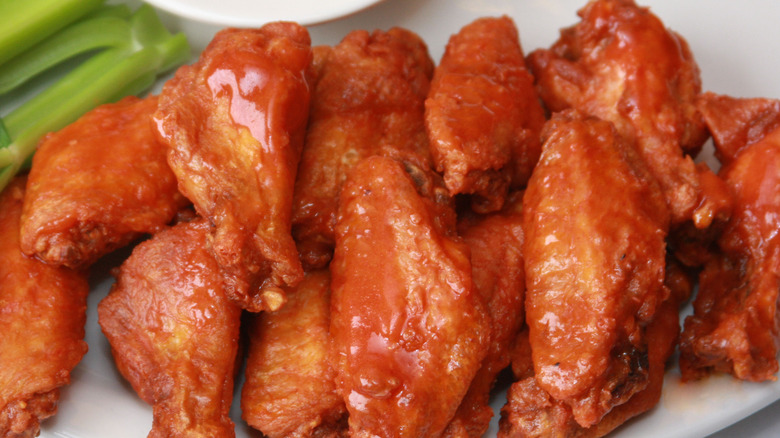 Anchor Bar
The James Beard Foundation Awards are typically associated with hot new chefs serving up inventive cuisine in trendy locales. But the foundation also has a category called American Classics, recognizing "quality food that reflects the character of their communities" (via The James Beard Foundation). In 2003, the award was bestowed upon Anchor Bar, which, if you take the foundation's description literally, might put out food that reflects its community more than any restaurant in America.
But Anchor Bar has gotten far more awards than that. Its original wing sauce was anointed Best of the Best by American Tasting Institute, beating out 1,000 other sauces according to Anchor Bar's website. It has also won six different awards in the National Buffalo Wing Festival's "Hall of Flame," including Best of Show in 2018, Festival Favorite in 2017, and Best Traditional Wings in 2016.
Anchor Bar was voted the #1 restaurant for NFL players to eat at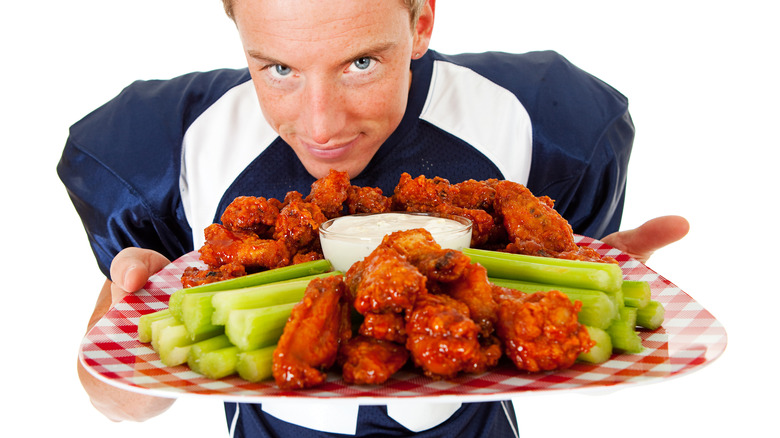 Sean Locke Photography/Shutterstock
Buffalo's two biggest loves — wings and football — make a natural combination. That's why Anchor Bar has grown into a destination restaurant for pro football players, so much so that NFL Magazine ranked it the #1 restaurant for players to eat at in its February 2012 issue. But that's not just some arbitrary media ranking. Hang around Anchor Bar during the NFL season and you're likely to catch more than a few players and coaches, according to Anchor Bar Franchise Company President Mark Dempsey.
"Back in the day, Dan Marino used to bring his offensive line in and devour hundreds of wings the Saturday before a Sunday game," Dempsey told Mashed. "The Vikings were in here during preseason. When the Green Bay Packers came, the trainers and some of their coaching staff came in. It's a frequent stop."
Hungry athletes aren't the only celebs who've made stops at Anchor Bar. Dempsey also cites visits from Britney Spears, the Clintons, John Candy, and even Jerry Mathers — aka the Beaver — who came in to scarf plates of wings.
There are now 14 different Anchor Bar locations, with more on the way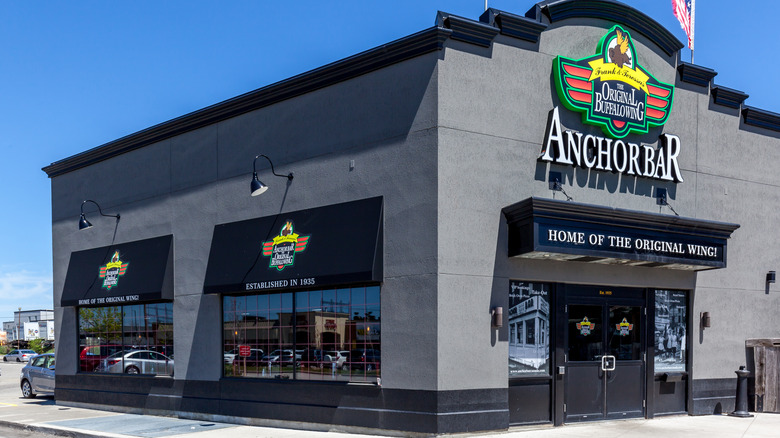 JHVEPhoto/Shutterstock
As many successful restaurants do, Anchor Bar has turned itself into a franchise operation. Though it'd be tough for any of the secondary locations to match the character or cache of the Main Street original, if you want to try the wings that started it all you don't necessarily have to go all the way to Buffalo to find them. The chain now boasts 14 locations, ranging from San Antonio, Texas to Hamilton, Ontario.
The franchising operation began in 2009, and currently has expanded outside New York to Texas, Georgia, Maryland, and Ontario. According to Franchise Company President Mark Dempsey, 2022 will see Anchor Bar's first expansions into Florida and Ohio. Those stores will be in Tampa and Cincinnati — both cities that have seen their local NFL teams reach the Super Bowl in recent years. Possibly a coincidence. Possibly Anchor Bar jumping on the bandwagon.
You can still order Anchor Bar wings delivered anywhere in the U.S.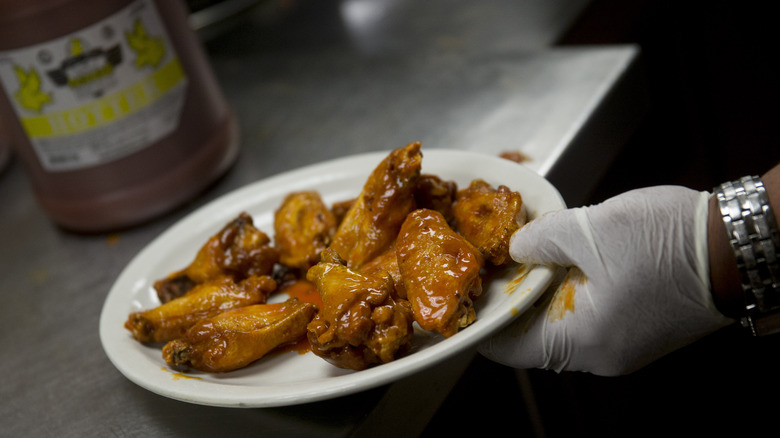 Bloomberg/Getty Images
Ok, so maybe you don't live anywhere near Buffalo and have no plans to cross the country to eat wings. And maybe you perused the list of Anchor Bar's other locations and realized none of those are even remotely close to you either. Well, all is not lost. Thanks to the miracle that is Goldbelly, you can order Anchor Bar's famous wings from pretty much anywhere in America. Dempsey says they've shipped the all the way to Honolulu, which probably made a nice change of pace from spam for whatever lucky family got that delivery.
Of course, getting wings delivered from Buffalo next day isn't cheap. A simple order of 50 wings goes for $122.99, or just under $2.50 a wing. If you believe it's more about the sauce and less about the poultry, you might look into just getting some sauces shipped. A bottle of sauce is less than five bucks, and if you can fry a wing you may just be able to play Teressa Bellissimo at home.