A&W Just Jumped On The Vegan Burger Bandwagon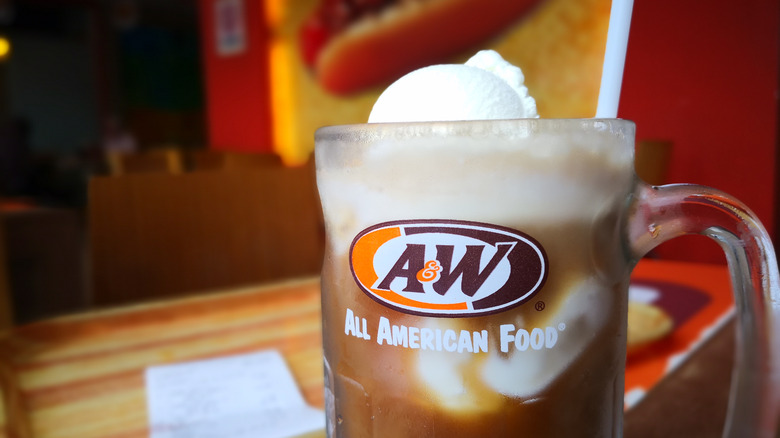 iswannawi/Shutterstock
A&W's new product brings both the heat and the zest at an entirely meat-free price. Burger King is expanding its plant-based offerings and KFC is giving meatless fried chicken a trial run, and it appears A&W decided to give more options to customers who prefer a vegan meal.
A&W may be known for its "all American food," but it actually began prototyping its new vegan product in Canada in 2018. There have been mainly meat and dairy items on its U.S. and Canadian menus, which range from classic Bacon Double Cheese Burger to chicken sandwiches (via A&W). The Canadian menu includes an "All-Canadian Special," which is served for breakfast and features two strips of bacon and two sausage links, along with two eggs. 
Vegan customers were limited to fries and applesauce, which aren't the most sustaining options (via VeggL). The new menu item signals a change that might excite diners who want more plant-based options at the restaurant.
Introducing the Jalapeño and Lime Beyond Burger
The Jalapeño and Lime Beyond Meat Burger is the new product available from A&W, per VegNews. A ton of flavor is packed into this patty, as it is both spicy and citrusy and the Beyond Meat burger comes on a seven-grain bun and layered with spicy vegan jalapeño lime aioli, tomato, lettuce, and red onion. Julia Cutt, the Director of Brand Communications and Digital Marketing of A&W Canada told the publication that the brand believes this product will "satisfy meat-eaters and plant-based lovers alike."
The addition of this new burger adds to the normal Beyond Meat Burger that the chain has offered for a few years, which was very successful in Canadian locations. Now, vegans can enjoy a totally dairy-free menu item without any modifications. According to Green Queen, this new product is available in over 1,000 Canadian locations for a limited time. With the chain's Canadian locations having a past of being so successful in selling its plant-based products, the Jalapeño and Lime Beyond Meat Burger is also expected to do well.