The Useful Kitchen Item Adam Richman Brings On His Travels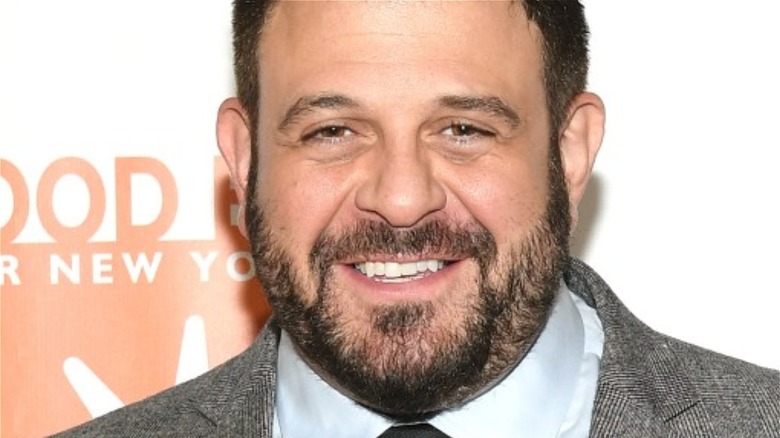 Mike Coppola/Getty
For those of us who don't spend our workday on the road, jet-setting from one TV appearance to another while stopping to eat four-pound Reuben and gallon-sized ice cream sundaes, the first thing that comes to mind probably isn't what kitchen equipment to pack. For the former host of "Man v. Food," Adam Richman, that's apparently an important factor. After making a reputation for testing the limits of the human body by participating in the best and worst food challenges around the country — like the memorable 72-ounce steak and five-pound cheesesteak challenges — Richman hung up his fork and knife in 2012 (via Distractify). 
More recently, Richman has made headlines with his lifestyle change. According to Men's Health, Richman's new eating habits are a far cry from the greasy spoon diner food he used to eat on the show. Richman told Men's Health some of the changes he has made include incorporating more exercise and, with the help of a doctor and nutritionist, a calorie-restricted diet. This new way of eating shunned white flour and starches while favoring healthy proteins, fiber-enriched tea, and shakes, plus a gallon of water per day. A staple of his new diet makes one kitchen appliance a necessity, even while traveling.
Richman always brings a blender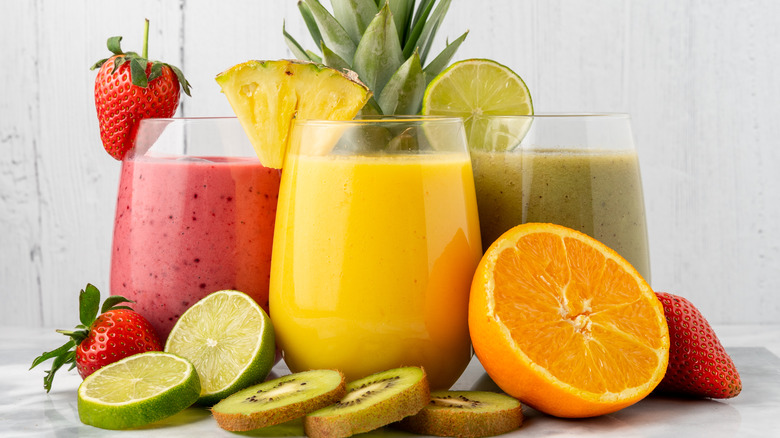 Jack Mankel/Shutterstock
Adam Richman cites smoothies and protein shakes as a major food group in his new lifestyle, and as Delish reports, a blender is a non-negotiable kitchen tool on the road for Richman. According to Delish, being able to stick to his diet and quickly throw together a nourishing smoothie helps to avoid eating whatever is around and convenient. Smoothies are a great choice because they are so customizable. As BBC Good Food reports, smoothies are a great way to up your fruit, vegetable, and fiber intake.
Packing in fruits and veggies can have numerous health benefits, from increasing fiber to meeting the daily recommendations for vitamins and minerals. All of this may promote overall health and weight loss by reducing inflammation, aiding digestion, providing adequate energy and nutrition for the day, and helping reduce the risk of long-term illnesses like hypertension and heart disease (via Healthline). This is clearly different from the 15 dozen oysters Richman once ate while filming the show, but we can see how having a blender ready on the road would be ideal for the smoothie fan.