The Truth About Ree Drummond's Reported Endorsement Of CBD Gummies
Just because something is on the internet doesn't mean it's true. In fact, as a rule of thumb, it might be helpful to take whatever you get from the internet with a grain of salt unless independently verified. A prime example of this comes from a small health and wellness group on Facebook that has posted a misleading advertisement for a brand of sugar-free CBD gummies, claiming they can reverse diabetes. And by diabetes, the ad specifies both types 1 and 2, despite that they involve entirely different disease processes (via Healthline). Not only is there no truth to the claim that CBD can reverse diabetes, per both WebMD and the American Diabetes Association, but there is also no truth to any claim that Ree Drummond endorses this product (via USA Today). 
Yet the video advertisement contains footage suggesting that The Pioneer Woman promotes these CBD gummies. The video does so by juxtaposing Drummond's image with text that states, "Her Gummies Reverse Types 1 & 2," to imply Drummond's affiliation with the product, and otherwise framing the video to look like she participated willingly. The truth is that the Food Network star did not participate in the making or publishing of this video. Moreover, Ree Drummond has not endorsed these or any other CBD gummies — or a bunch of other products that guerilla marketers have falsely associated her with.
Ree Drummond says the internet got it wrong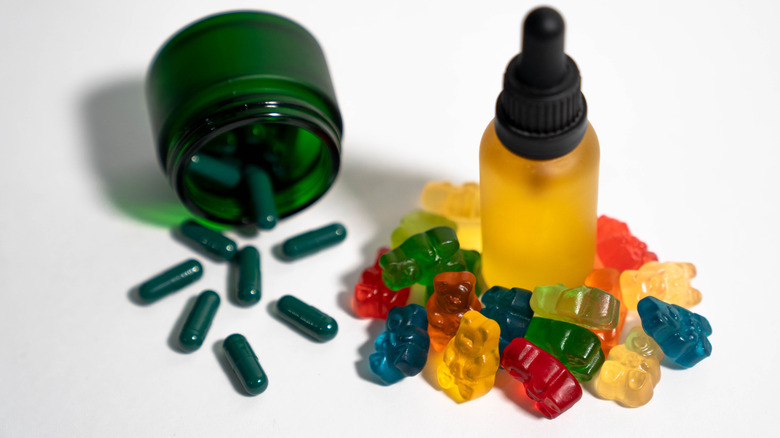 iAmMrBenjamin/Shutterstock
The truth about Ree Drummond's reported endorsement of CBD gummies is that there is nothing true about it whatsoever. On February 7 the Pioneer Woman posted a statement to her Facebook page in response to these rumors. "SO sorry to have to share this again, friends, but unfortunately it's easier than ever for fraudulent companies to advertise on this platform." She goes on to state "I do not endorse, have never endorsed, and will never endorse ""Keto weight loss" products, CBD gummies, CBD oil, or anything in that general category." The celebrity chef posted this, along with a previously released statement from April of 2020, addressing similar false claims.
See what Ree Drummond did there, and so eloquently? She took the opportunity to clarify that she is not involved with CBD edibles, and also confirmed "Any ads for these products that include my name or photo are a scam." It's not entirely clear what "that general category" actually represents for Drummond, however, to the extent she's being vague, she's also casting the widest possible net. 
Ree Drummond wants you to know that if going forward, you see her image or name associated with the advertising or sale of any product of dubious value (because that could easily be the "general category" to which Drummond refers), you should assume that it's fake.