Adam Richman's Favorite Man V. Food Memory Might Not Be What You'd Expect
Slaven Vlasic/Getty
When you spend years hosting a food program in which you travel across the United States to consume food challenges, you may well remember a thing or two. At least, one would hope that Adam Richman fondly remembered something from his 85-episode tenure as the host of "Man v. Food."
And, evidently, Richman has plenty of pleasant memories. That's how he could put the food aside during an interview with Delish, saying "The things I really remember are the fun conversations I had with a chef or something, like learning how to break down a lobster from a real Mainer in Fort Washington." This is actually the same sentiment he shared with Mashed in an exclusive interview, explaining that while it was cool to try decadent dishes, any person could visit a restaurant to do that. 
You don't need a television show to stuff yourself, but having a television show is a great vehicle for meeting people and seeing different places. Perhaps such travels and conversations seem planted the seeds for where Richman's career would take him once he stopped taking on meals of impossibly sized proportions.
Richman's latest may create more fond memories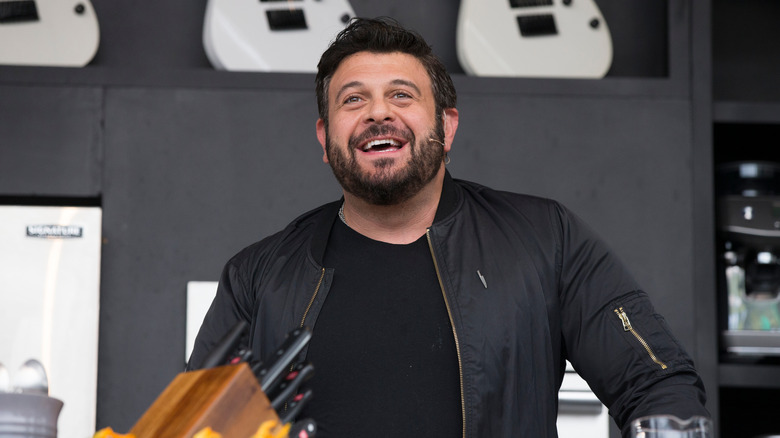 Sterling Munksgard/Shutterstock
While "Man v. Food" laid the foundations for Adam Richman's television career, his latest projects have followed a different model. In 2021, he hosted "Modern Marvels" and "The Food That Built America," which were both made with the History Channel. Talking to The Atlanta Journal-Constitution, he details his role in the programs in a similar manner to learning how to break down lobster. He isn't greeting viewers as an authority on the various topics spotlighted in the episodes. Rather, as he emphasizes, "I am the audience. I am a cypher for you." 
So, he learns how various American foods are made and the history that informed the manufacturing process. Most importantly for him, it moves the camera from just being about the food to the people who make the food that the country enjoys. "It is the most Herculean feat to provide a hot, delicious meal for someone within that time frame they do it," he says while recalling his time at White Castle. So while "Man v. Food" focuses very much on the gratuitous consumption of food, we might now see more of what interested Richman between scarfing sessions.