TikTok Isn't Convinced Trader Joe's Argentinian Shrimp Actually Tastes Like Lobster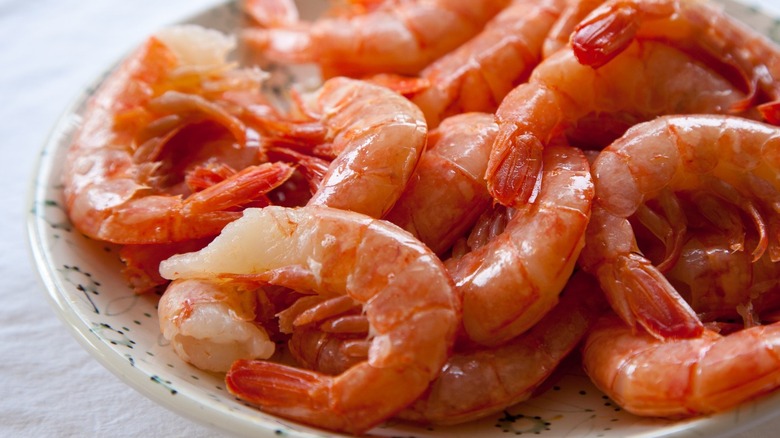 Ivana Lalicki/Shutterstock
A bag of frozen shrimp from Trader Joe's has divided the Internet. Plucked from the ocean in Patagonia, Wild Raw Argentinian Red Shrimp delivers lobster-sized flavor in a shrimpy package, the grocery chain boasts.
These large, red shrimp are meant to taste like its crustacean relative, the lobster, and might be the sweetest shrimp in the world (per Meridian Sea). Trader Joe's sells the shellfish for $10.99 per pound, which includes roughly 20-25 shrimp. Some boast this item is one of the things you need to know about when shopping at the popular grocery store. 
One Food Network contributor says the shrimp are a standby in her kitchen, and she agrees that they have a similar taste and texture to lobster. She explains that the shrimp can be prepared in a variety of recipes. For example, she recommends grilling them on skewers, putting them in a taco, or sautéing them in olive oil and garlic for shrimp scampi.
But, because taste is a subjective and sensory experience, not everyone detects the fancy flavor of lobster, but the overall consensus is that it's a must-try.
TikTok is loving these Trader Joe's shrimps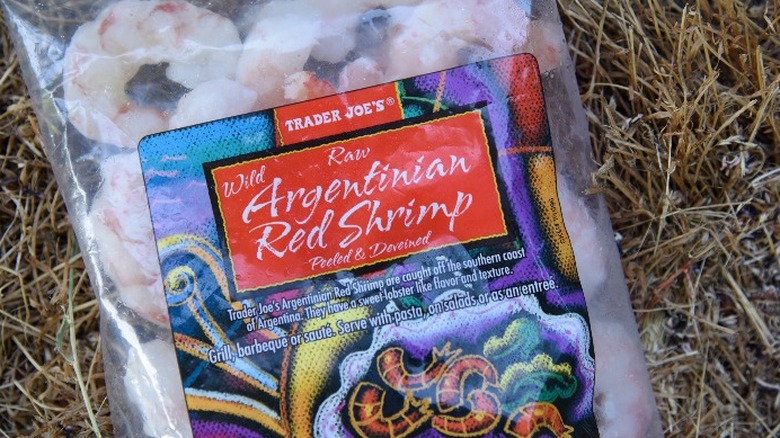 Wild As Light/Shutterstock
TikTok may not be in complete agreement on whether Trader Joe's Wild Raw Argentian Red Shrimp actually tastes like lobster, but that's not a deal-breaker. 
One popular TikTok account, @callmebelly, typically uses the platform to prepare, taste, and review foods, and he was impressed with the shrimp. In a video detailing him cooking, eating, and swooning over these Argentian Red Shrimp, which he poached in butter, garlic, and lemon, he exclaims "Oh my God, my knees are weak." He adds, "This totally does taste like lobster."
Some commenters agreed with the review, sharing "Those shrimps are so good!!!" and "They are a sweeter/meatier shrimp for sure." But other TikTokers who've tried the product enjoyed it, but couldn't see the likeness to lobster. "This doesn't taste like lobster. Anyone who lives in New England will agree," one said. Another piped in, "I've been eating these for a while and I have never thought it tasted like lobster. Why is everyone lying?"
Another TikTok user posted a video about how to make "lobster rolls," substituting this variety of shrimp because it has a similar taste. Although there is some disagreement about what it tastes like, there's no argument that it's delicious and according to some, this shrimp is on its way to becoming one of Trader Joe's food items that has a cult following.