Things Every Pizza Lover Needs, ASAP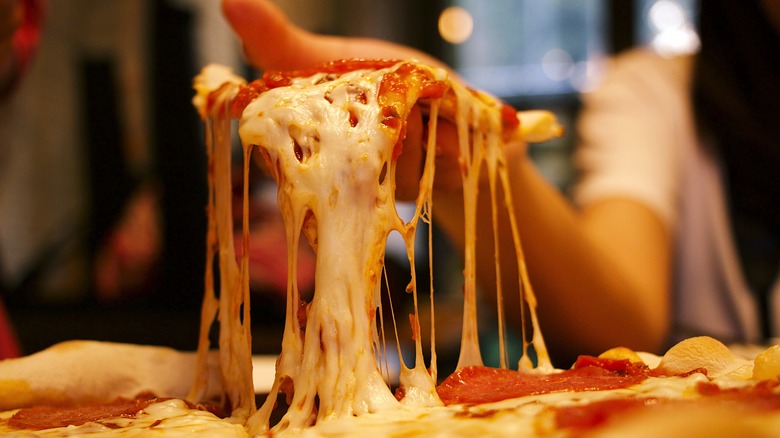 Shutterstock
We may receive a commission on purchases made from links.
Pizza is the ultimate comfort food. But there are pizza lovers, and then there are those who take their love of pizza to the next level. Those extra cheese loving folks have strong opinions on the best slice, know what double zero flour is, and have maybe even been on a pizza bus tour in Milwaukee, New York, or Chicago. This list is made for them. From pizza you can wear to must-have gadgets for savoring pizza at home, read on and make your pizza-loving dreams a reality.
Pizza sweatshirt
The perfect meal deserves the perfect outfit, right? This pullover from Human says it all and is a definite conversation starter. The design can be customized and added to a variety of other looks, so if the sweatshirt isn't your thing, you should think of choosing another style. Because seriously, who doesn't like pizza?
Pizza earrings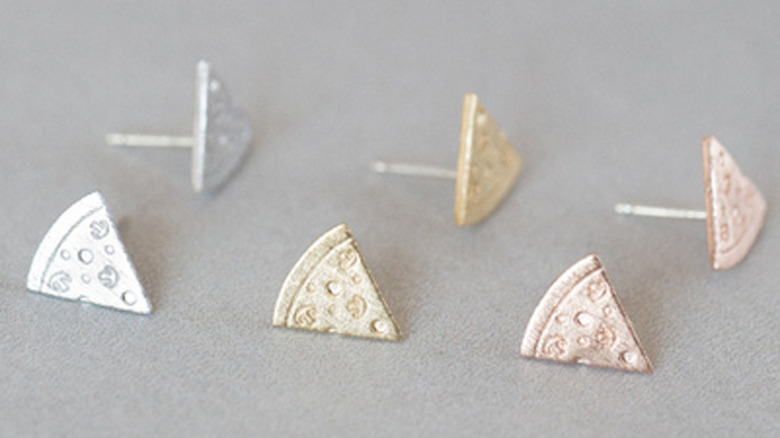 Lovoda
When you want to show off your pizza enthusiasm, but prefer something a little understated, look no further than these earrings from Lovoda. Seriously, how adorable are those itty, bitty mushrooms? Available in silver, gold, or rose gold, they say, "Why yes, I do have good taste when it comes to food and jewelry." 
Pizza scissors
If you've ever been the victim of cheese and toppings falling off your slice before it made it to the plate, this Pizza Scissors Spatula is for you. The combination tool allows you to cut and serve in one simple step. And the best part — no more lost toppings.
Pizza comforter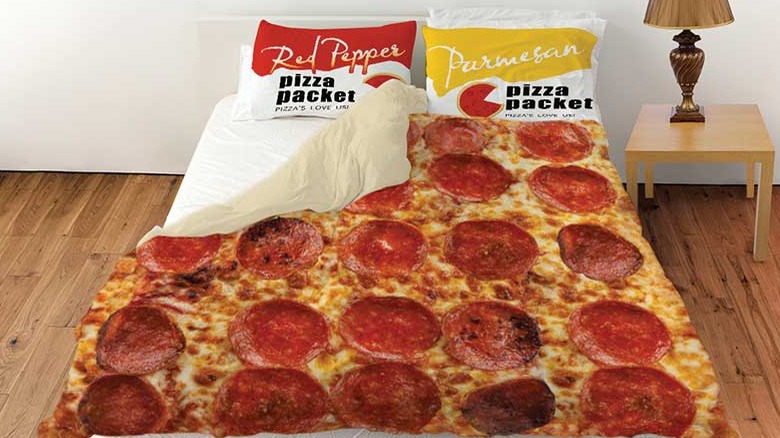 What On Earth
Do you dream about pizza? Do you envision enveloping yourself in a chewy crust, surrounding yourself with pepperoni? Then this pepperoni pizza duvet cover set from What On Earth is here to make all your dreams come true. It's remarkably realistic, and the pillow shams? They're "packets" of red pepper and Parmesan cheese.
Handy pizza stone
If you're more the gourmet type who prefers making their own pies, this pizza stone from Williams-Sonoma was designed just for you. The ceramic stone gets extra hot ensuring that the final product will have a crisp crust. The included stainless steel frame keeps your pizza-eating hands safe while transporting your signature creation.
Pizza socks
Have you ever wished your feet could be as toasty as your last slice of pizza? Wear your love of pizza and make a fashion statement that will land you on the best-taste list with these pizza socks from Urban Outfitters.  Feet have never been so irresistible.  
Pizza Dishes
Do you like cats? Do you love pizza? Then you're going to flip over these pizza cat plates by OrnerGifts. Dinner time could always use a bit more whimsy and the chubby tabby's personality will make you smile, if the cartoon pizza drawings haven't already.
Pizza lights
Does pizza make you light up? If eating pizza increases your happiness, then maybe enjoying a pie while basking in the glow of Kurt Adler's pizza light set will make you even happier. These lights are guaranteed to brighten your day whether they're strung on the porch, in the kitchen, or as an accent to your man cave or she shed. The ten slices of pizza are a bright beacon of flavor signaling you to more pizza and more fun.
Pizza purse
Even Zara is on board with all the pizza love and their pizza crossbody bag is a festive compliment to any outfit. The brightly colored, beaded bag is multi-functional and can be used with or without the shoulder strap — and it's big enough to carry all your pizza money!
Pizza onesie
If you are passing along a love a pizza to your own child or encouraging your best friends' baby, support their love of pizza early with this "Home Slice" onesie by PantaloonRebellion. The onesie is available in three varieties, practically guaranteeing that this baby will be the coolest kid at Gymboree class.  
Gummy pizza
Pizza is so beloved, even candy wants to be like it. It may look like the real thing, but this one-pound gummy pizza pie is as sweet as can be. From the crust to the cheese to the toppings, it's the best of both worlds. Slice it up and share or indulge in it all yourself. Who could blame you?
Pizza glasses
No one's seen tortoise shell quite like this. Frame your face with your one true love...pizza. The Pizza Party sunglasses from Gasoline Glamour are embellished with nine intricately designed pepperoni pizza "p-eyes". They let the world know you're not only on the cutting edge of fashion,  but are always on the lookout for the next big slice.
Pizza mezzaluna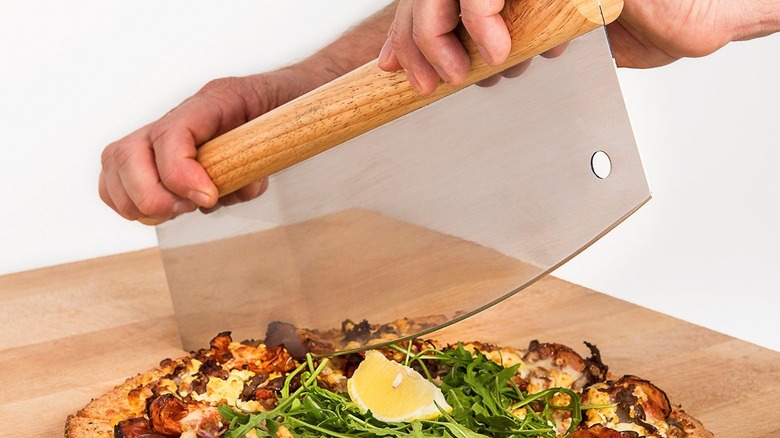 Amazon
Few things scream, "I'm serious about pizza!" like pulling out a 14-inch blade to slice up your piping-hot pizza. The pizza mezzaluna (half moon) from Lorrenzetti is just right for swiftly cutting through pizza, focaccia, and even cookie pizza. The durable stainless steel blade will never rust, ensuring years of perfectly cut pies.
Pizza perfume
If there is one attribute that sets pizza apart from all other foods it's the scent. And thanks to the masterminds at Demeter you can now smell like your favorite food. The tangy mix of cheese, tomato and dough mix together for a complex scent that's irresistible. It's definitely a zesty way to attract a mate.
Pizza Bible
Chef and 12-time world pizza champion Tony Gemignani clearly knows a thing or two about making the ultimate pizza, and now you can have his passion and knowledge right at home. The Pizza Bible is Gemignani's gift to the pizza-loving masses and covers standard pizza recipes like Neapolitan and Chicago, as well as well-known regional varieties including California and St. Louis-style. Your other cookbooks are going to be so jealous.