Oreo Just Hinted At A New Flavor And Fans Can't Stop Guessing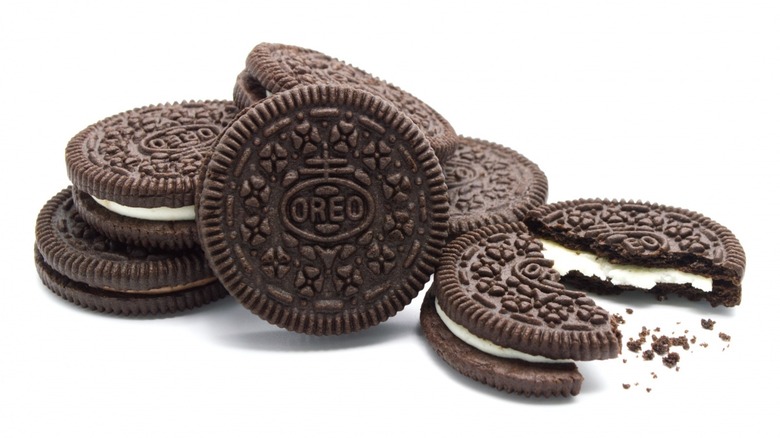 inkanya Anankitrojana/Shutterstock
What's black and white and delicious all over? That's right, its an Oreo! Amongst the legions of cookie brands, almost everyone knows about this popular and iconic sandwich cookie, making this a pretty easy riddle to solve. The humble Oreo has even earned itself the impressive title of world's bestselling cookie, according to a study conducted by Statista. In the year of 2014, Oreo cookie sales ranked up a jaw-dropping 3.28 billion dollars, more than doubling that of any other cookie brand.
Whether you like to twist them, lick them, or dunk them, these creme-filled chocolate wafers have been satisfying cookie cravings for over a century, as noted by Mental Floss. And while the original chocolate and vanilla flavored cookie will always be a classic, Oreo has concocted an assortment of other crowd-pleasing creations over the years. Whether you are a fan of carrot cake, caramel coconut, red velvet, or gingerbread, there are Oreo flavors out there for every sweet tooth and taste bud. The cookie company has just announced that it is adding a new innovative flavor to its collection. But to add some mystery to this debut, the new flavor hasn't been revealed ... yet. Rather, they've given fans a cryptic riddle to decipher.
Oreo's new flavor is reminiscent of a certain beverage
In a recent Instagram post, Oreo teased fans with some big news. "Announcing a new limited-edition OREO Cookie flavor on our TikTok @theoreoofficial tomorrow at 12 pm ET..." To keep Oreo enthusiasts occupied over the next 24 hours, this century-old-institution gave them an exciting puzzle to solve. The answer to this impossible riddle? The brand-new Oreo flavor's name.
"Buzzy, creamy and sweet, this treat is something you typically drink," the Instagram caption hinted. The associated picture linked to the caption is simply a blurry picture of an Oreo box with a bunch of question marks floating around it. The hidden box of Oreos is marked with the work "LIVE," implying that fans will just have to tune in tomorrow to find out what the new flavor really is.
In the meantime, fans are enthusiastically engaging in Oreo's new guessing game in the comments section of the post. "Has to be coffee," one fan predicted, while another wrote "Pina Colada?" Some other theories include root beer float, orange soda, hot chocolate, honey, and cappuccino. Are any of these guesses correct? No one will truly know until the TikTok is unveiled tomorrow at 12 p.m. ET.