The Cookbook Padma Lakshmi Says Is Perfect For Black History Month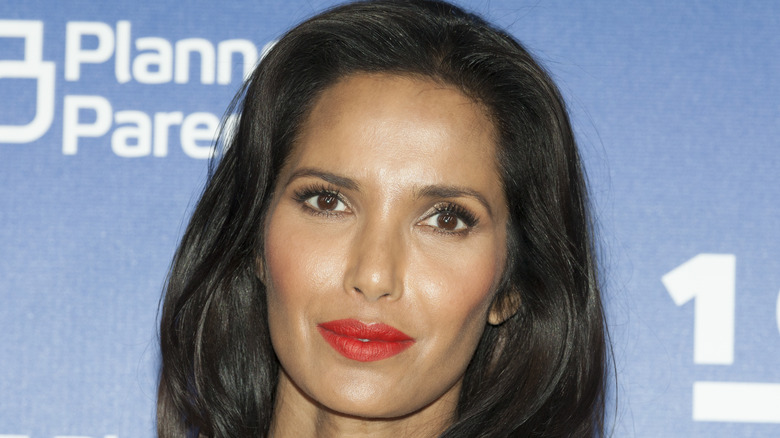 Lev Radin/Shutterstock
If there's one person whose cookbook recommendations you can trust, it's Padma Lakshmi. The "Top Chef" host, former model, author, and chef has so many interesting experiences in the world that one might trust her recommendations on just about anything! Lakshmi has always been vocal about the causes she believes in, like the benefits of a plant-based diet. So it's no surprise that she'd recommend the perfect cookbook to complement Black History Month. 
Having been through her fair share of adversity, including a traumatic car accident in her teen years when she suffered from a fractured hip and shattered right arm, it makes sense that she would post as an ally during Black History Month to share a recommendation that lifts up a Black fellow chef and author. Padma Lakshmi is Asian Indian American and outspoken about supporting other POC in her fields. In the video posted on Instagram, Lakshmi makes the recipe for cornbread muffins from cookbook "Black Food." She also shouts out to friends of hers who contributed to the book: Michael Twitty, Alexander Smalls, Gregory Gourdet, and more. 
Bryant Terry created "Black Food" with help from 100 contributors
"Black Food," curated by Bryant Terry, is a cookbook published by Penguin Random House, and it is comprised of recipes from Black luminaries such as Yewande Komolafe, BJ Dennis, Suzanne Barr, and many others. It also includes art and stories from across the African diaspora. Terry himself is an award-winning chef, with a specialization in vegan recipes. "Black Food" came out last October and has turned many heads in both the publishing and food worlds, with praise coming from Eater, The Wall Street Journal, Food & Wine, and The Washington Post. 
Terry wanted to use the book as an opportunity to uplift the voices of Black women in the food world. Per Bon Appetit, he was inspired by how the women in his family during his childhood used food and cooking to keep their families united and strong — and considered pillars of the community. As Terry grew older, he realized how much racism these women had faced and was blown away by how strong they stayed throughout their experiences. He hopes to use his platform to help people suffering from poverty, malnutrition, and racism. The book is meant to bring his values to readers and help them understand Black cooking traditions. The book has over 100 contributors. If you pick up a copy yourself, you can try your hand at recipes like okra & shrimp purloo or crispy cassava skillet cakes. Yum!