Instagram Is Raining Hearts On Buddy Valastro's Family Photo In South Beach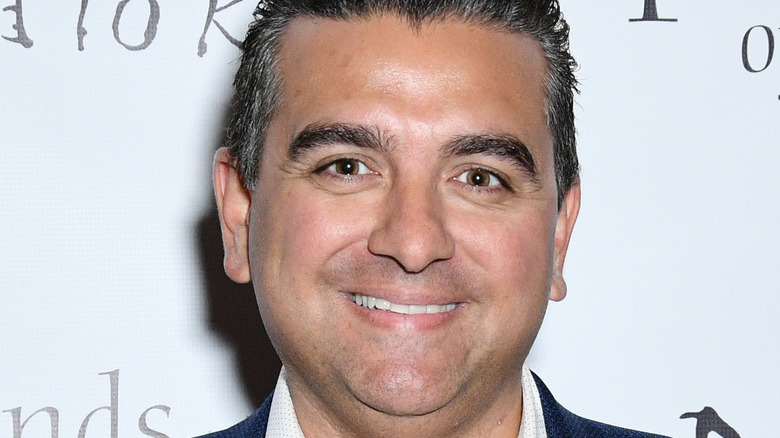 Jared Siskin/Getty Images
Buddy Valastro has become nothing short of a household name since the debut of his TLC-turned-streaming show "Cake Boss" in 2009, which follows the workings of his family-owned, Hoboken, NJ-based business, Carlo's Bakery. Both the baker and his shop, have seen great success in the years since, with the bakery expanding to have 12 locations throughout the United States, while Valastro himself has gone on to appear on several more television programs, including Food Network's "Buddy vs. Duff." However, for Valastro, his biggest achievement isn't his illustrious career. "I have done a lot of good stuff, but my biggest accomplishment is my kids and my family," he claimed in an interview with Life of Dad.
Per The U.S. Sun, Valastro and his wife, Lisa, are parents to four children, Sofia, Bartolo, Marco, and Carlo, with whom the Cake Boss is incredibly close. "My kids are my best friends. I have a special relationship with all of them," he explained (via Life of Dad). Valastro even told People that "extra family time" was the silver lining to the hand injury he suffered in 2020.
Since then, regular gatherings with his wife and all four kids have been a bit more sparse, as his eldest daughter began college at the University of Delaware in August last year. This weekend, however, all six members of the Valastro clan were reunited again in South Beach, Miami, where they snapped an adorable photo together that Instagram has been swooning over.
Fans are swooning over Buddy Valastro's 'gorgeous family'
For Buddy Valastro, running Carlo's Bakery isn't the only thing made better with family; meals are as well. "Dinner is better when you eat together as a family," the 44-year-old captioned a recent Instagram update that was shared to his account on Thursday, February 24. The post also included a photo of the baker and his wife, Lisa, surrounded by all four of their children that was snapped after they enjoyed a "fantastic meal" at the restaurant Prime 112 in Miami Beach, Florida.
Fans of the Italian cake maker were delighted by the sweet snap, as demonstrated by the 87,000-plus likes and the shower of heart emojis it has amassed as of this writing. Some commenters left compliments for the Valastro clan. "What a gorgeous family you have!" Instagram user @astrudbruce wrote, which was echoed by another user that called the group "lovely." A third expressed their disbelief over how grown up the Valastro children are. "Dang-I remember these kids when they were toddlers crazy!! Beautiful family," the Instagrammer said.
For those curious about why the Valastros gathered in Miami rather than Buddy's hometown of Hoboken, New Jersey, it appears they all traveled down south to support the patriarch at the South Beach Wine & Food Festival. Per the SOBEWFF website, the baker was in attendance to host the event's 21st birthday party, for which he and the Carlo's Bakery team made – you guessed it – a massive birthday cake.