Giada De Laurentiis Promoted This Famous Butcher's Salt Blend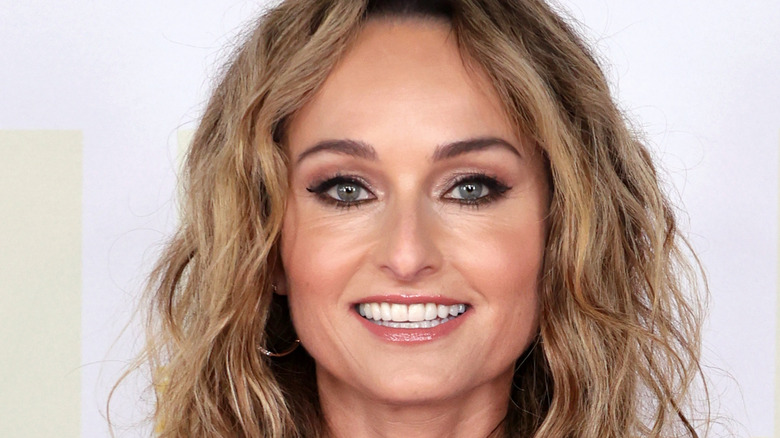 Kevin Winter/Getty Images
One face of it, pinzimonio is an eminently simple recipe. In fact, it is simply that simple. For those who don't know, Taste Atlas describes pinzimonio as an antipasto that consists of cut vegetables and a small bowl of olive oil spiked with vinegar, lemon juice, and seasoning. Some recipes, like one posted by Great Italian Chefs, might toss in chili powder, oregano, ground peppers, and vinegar sans lemon juice. But it's all basic ingredients mixed with olive oil to bring out the flavor of the vegetables.
In a pre-Super Bowl Instagram video post, Giada De Laurentiis shared a version of pinzimonio so simple that it only has two basic ingredients: olive oil and salt. However, as the title of this article suggests, De Laurentiis managed to "elevate" the dish by sprinkling a different type of salt into the olive oil. She prepared her version with cucumbers, tomatoes, radishes, green beans, and carrots. She then dropped in Dario Salt, because in addition to feeding the insatiable needs of content, the video is also an advertisement for the Dario Cecchini Tuscan Salt Blend that is sold on De Laurentiis' website Giadzy Pantry in 1.76-ounce and 7.76-ounce bottles for $10 and $20 respectively.
Known as Dario Cecchini's Profumo del Chianti, the blend allegedly has a flavor likened to "summers in the fields" and "perfume of the woods." As the name implies, it was made by Cecchini. Turns out, that name is associated with more than seasoning.
The butcher behind the salt blend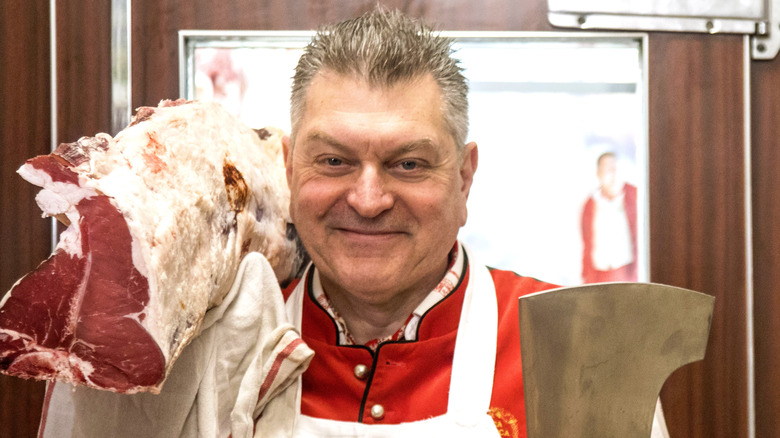 Franco Origlia/Getty Images
Dario Cecchini happens to be lauded as one of the world's best butchers. If the name rings a bell beyond Giada De Laurentiis' Instagram post, it may have something to do with the fact that "Chef's Table," the Netflix documentary series, devoted an episode to him. Cecchini runs his family's 250-year-old butcher shop with the philosophy that every piece of an animal should be valued, including its life. "When an animal is born, we must try to give it the best life possible, and when the animal dies by our hand, we try to respect the gift of the animal," he explained. Such an outlook was in part informed by his previous career as a veterinarian.
As a person who works with meat for a living, Cecchini might be expected to have some experience with flavoring it. Giadzy describes the butcher's salt blend as "a perfect rub for steaks" but recommends it for "virtually any protein" as well as vegetables. It consists of a blend of salt, sage, lavender, thyme, rosemary, laurel, fennel pollen, and juniper. Nina in Chianti explains that the poetic name for the blend comes from how these ingredients capture the Chianti landscape that surrounds Cecchini's shop. Hence, the butcher has described it as "l'essenza della Toscana" ("the Essence of Tuscany").