The Salad Jennifer Aniston Ate Daily While Starring On Friends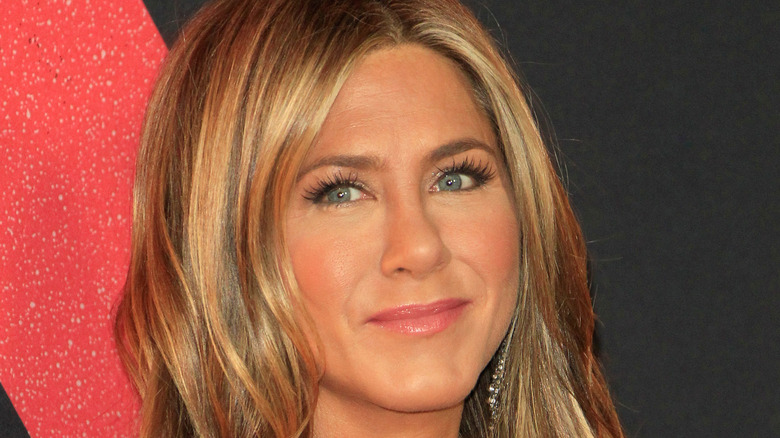 Kathy Hutchins/Shutterstock
Jennifer Aniston's "Friends" salad is going viral on TikTok. Never heard of it? The hearty mix of greens in question is reportedly what Aniston ate every single day for lunch during her decade-long run as Rachel Green on the NBC show. TikToker @themodernnonna shared a tutorial on how to make a rendition of Aniston's famous salad. Per recipe notes from her and Australia's Nine Network, the salad includes: 3 ½ cups cooked bulgur wheat (cooked similarly to rice); 2-3 finely chopped small cucumbers; ½ cup chopped parsley; ½ cup chopped mint; ⅓ cup finely chopped red onion; ½ cup finely chopped pistachios; 1 can chickpeas (for protein); and ½ cup crumbled feta cheese. Aniston is known for eating her salad dry, aka no dressing, according to @themodernnonna, but the social media personality recommends adding lemon juice, olive oil, and salt.
This isn't the first time Aniston's salad has been in the spotlight. In fact, the actress shared details back in December 2020, according to People, when she made a guest appearance on Living Proof's Instagram story. She called it "my perfect salad." However, sometime between 2010 and 2022, Aniston's salad underwent a big change. Speaking with the Los Angeles Times in 2010, co-star Courteney Cox revealed that the infamous salad was actually a fancier version of a Cobb salad, which Aniston "doctored up with turkey bacon and garbanzo beans" and possibly more. Either way, both sound delicious.
Celebrity salads have become a TikTok trend
The Jennifer Aniston, or Rachel Green, or "Friends" salad, is far from the only celebrity salad to get the Hollywood treatment. Truth be told, celebrity salads may be the most sought-after recipes in Tinseltown. The Kardashians are a walking billboard for their go-to salad joint in Los Angeles, Health Nut. As seen on "Keeping Up with the Kardashians," the sisters go wild for the Chinese Chicken salad and the Chef salad (via People). Julia Roberts' summer salad has also received media attention — it was featured on Eat This, Not That!
Whether it be celebrity or restaurant copycat recipes, sharing recipe tutorials has never been easier with TikTok's short video platform. For example, TikToker @thesaladlab is a dedicated account for recreating famous salads, like the salad that fans always see Kourtney Kardashian eating during Poosh meetings. The account has featured salads from Lizzo, Dr. Oz, Reese Witherspoon, Billie Eilish, Ariana Grande, Dua Lipa, and even Michelle Obama. Additionally, restaurant salads from Wolfgang Puck, Ruth's Chris, and Panera have also been made. Sounds like it's only a matter of time before the recipe for your favorite actor, artist, or comedian's salad is recreated for all the world to try.