How Guy Fieri's Love Of Sports Became The Inspiration For Tournament Of Champions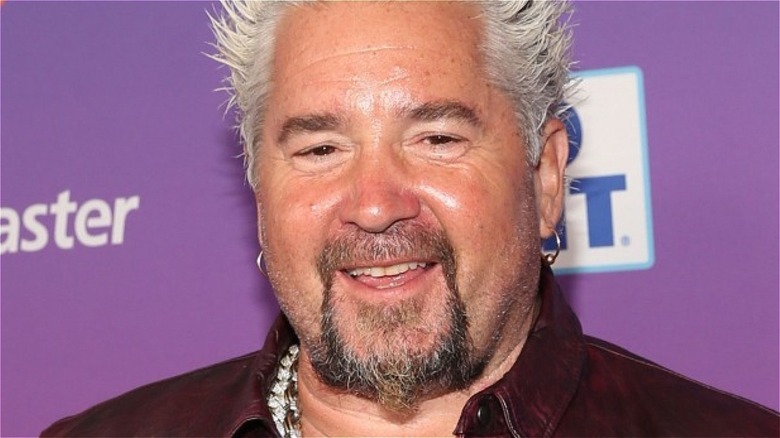 Jesse Grant/Getty
There's no shortage of cooking competitions on the Food Network, but few are as intense as "Tournament of Champions." Hosted by creator Guy Fieri, the weeks-long culinary event kicked off its third season on Sunday, February 27 with an expanded playing field of 32 chefs. They were split into four eight-person brackets, with two representing the West Coast and two representing the East (via Food Network Gossip).
Per Food Network, during the premiere episode, competitors also found out who, within their group, they'd be cooking against for the first round of competition in the "TOC" arena, where the randomizer machine sets the parameters for each cook-off. The first set of head-to-head battles proceeded, ending with four contestants being sent home while the other four moved on to the next round. This style of elimination play will continue weekly until there is only one chef left from each coast, who will then compete in one final head-to-head battle that will ultimately determine "TOC"'s Season 3 champion.
If you're picking up on a few similarities between the premise of "Tournament of Champions" and a few major sporting events, it's no coincidence. During a recent interview with Parade, the cooking competition's spikey-haired creator revealed he is a "huge sports guy" and even admitted that his love for athletic competitions was a source of inspiration for "TOC."
Sports aren't the only thing that inspired Guy Fieri's hit cooking competition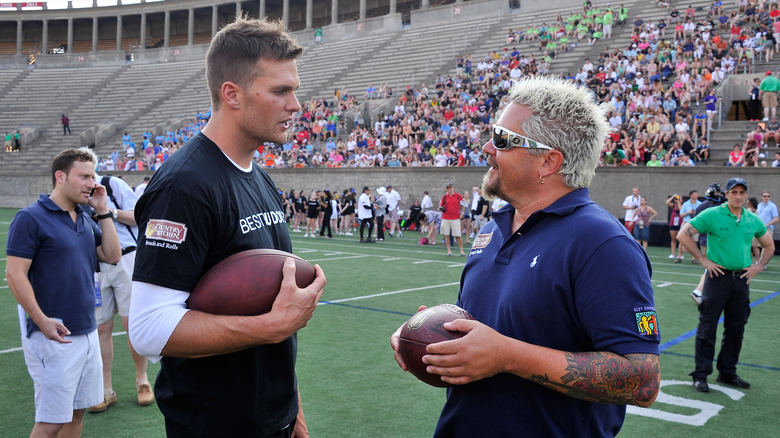 Stephen Lovekin/Getty Images
Guy Fieri's affinity for sports might not get as much on-screen attention as his love for a good plate of food, but his passion for one of America's favorite past times has always been there. During football season, the Mayor of Flavortown can be found cheering on his favorite team, the Raiders, for whom he shared his love in a 2015 video posted on the team's website. GQ reports that Fieri is also a supporter of the Golden State Warriors, and in 2014, the chef had the honor of throwing out the first pitch for a Cincinnati Reds baseball game (via MLB.com).
With a life that almost seems to revolve as much around sports as it does food, it's no wonder the celebrity chef eventually melded those two passions together when creating "Tournament of Champions." "I kept bringing this [to the Food Network]. I said, 'Hey, listen, bracket-style competition would be huge.' Win one, move on. Lose one, you're done. There's nothing not to like and it can be done in volume," Fieri explained to Parade.
While sporting events like March Madness very much provided inspiration for the cooking competition's bracket-style set-up, Fieri also pointed to another driving force behind the creation of the show: his desire to bring more attention to his talented foodie friends. "And not just as chefs, but as people and as competitors," he said.