Instagrams Is Divided Over Trader Joe's Cheese Enchiladas
Trader Joe's is known to have a wide variety of quick and easy-to-prepare frozen foods that are definitely worth the money. And while many of the popular, tried-and-true items have become longtime staples of Trader Joe's shelves, that doesn't mean they don't try to reinvent and improve some of their products every once in a while. The grocery store has recently repackaged and relaunched its brand of frozen cheese enchiladas, and it's generating some buzz online.
The blog, Freezer Meal Frenzy, pointed out that the new version of cheese enchiladas has fewer calories than the original, at just 460 calories per serving compared to 580, but are still flavorful, stuffed full of gooey cheese, and can be easily prepared in both the microwave or the oven. The popular Instagram account @mrs_traderjoes agrees that this new and improved bag is tasty, giving the item a 7/10 rating. "This is a great option if you're looking for something quick and easy! These enchiladas are pretty basic but I add habanero sauce to it. There was a good amount of cheese and sauce, which I enjoyed!" the user explained, adding "This isn't my first frozen meal pick but it works when I need something fast."
Some Trader Joe's shoppers prefer the old version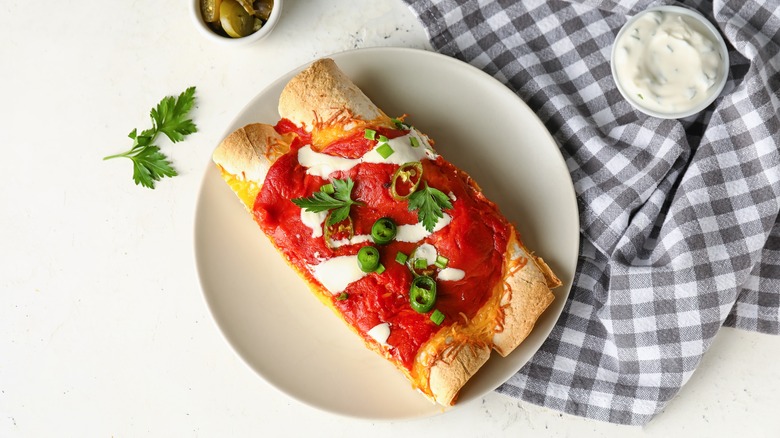 Pixel-Shot/Shutterstock
Many Instagram followers seemed to agree with giving these enchiladas an overall positive review. "I always microwave as well! i love these with some extra cheese and salsa on top," one user commented on the post, while another raved, "This is probably my favorite frozen entree at tjs and I'm very picky. Love them!" 
However, quite a few others felt these cheese enchiladas deserved a much lower rating than a 7/10. Some followers prefer the older version, while others simply disliked the flavor. "This new recipe is not good! I don't know if they changed vendors or what, but I really don't like them. The old ones were so good!" one lamented, while another disappointed shopper said they "have tried them but will not purchase again." 
Even the original reviewer, @mrs_traderjoes conceded that the product "definitely doesn't compare to authentic enchiladas, but it's convenient!" So if you are looking for the flavor of real, authentic Mexican food, you might want to look elsewhere, or even attempt your own chicken enchilada recipe, but if you simply want something quick, convenient, and cheesy, then these new Trader Joe's cheese enchiladas might fit the bill.