How Trisha Yearwood Helped Launch Matthew McConaughey's Acting Career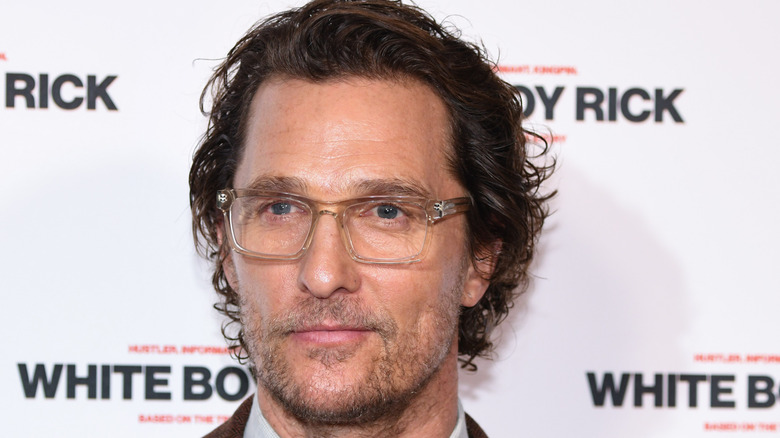 Featureflash Photo Agency/Shutterstock
Every celebrity has a "big break" story. For Mason Ramsey, it was when a video of him yodeling at a Walmart went viral (now he's yodeling and making sandwiches at a Subway). "Long Shot" actress Charlize Theron's big break story involves an out-of-state check, creepy pay-by-the-hour hotel, and an accidental run-in with talent agent John Crosby (via Casting Frontier). Suffice to say, no one knows when their big break is going to happen. But, there's something to be said about celebrities who return the favor later on in their career, and no one knows that better than country music legend Trisha Yearwood.
Before she was the face of country music, Yearwood was working for award-winning actress and TV producer Mary Tyler Moore at the latter's record company, MTM Records (via Taste of Country). Holding a position at MTM Records was a powerful place to be, especially for an aspiring artist like Yearwood. There, she did more of the business and background work, which allowed her to learn the ropes of the music and entertainment industry. However, she also had access to MTM's recording studio, and so she began putting down demos. It wasn't too long until MCA was knocking on her door with a contract. A few years later, just when her career was beginning to really take off, she helped launch someone else's big break: Matthew McConaughey.
They didn't meet until 30 years later
It's hard to imagine a time when Matthew McConaughey wasn't on the big screen throwing out an, "Alright, alright, alright," with his signature Texas drawl. But such a time did exist.
In the early '90s, McConaughey was attending the University of Texas when he got the call (from a pager!) asking if he could come down for a music video audition. Little did he know, it was to play the douchey love interest in Trisha Yearwood's new single "Walkaway Joe." "I was trying to get odd jobs in front of the camera when I could, and I got cast in that music video to play Joe," he told Kelly Clarkson during a virtual appearance on her daytime talk show. McConaughey also dropped a major bombshell: He never actually met Yearwood on set. It turns out, they did their filming in different states (McConaughey in Texas, Yearwood in Tennessee), and everything was spliced together in the studio. It wasn't until 30 years later, on "The Ellen DeGeneres Show," that the two finally met for the first time.
"I always tell everybody that this was one of your first things that you did, and that I basically gave you a career, and now you're way more famous than me," Yearwood laughed on air. McConaughey recalled that it was the first "yes" he had gotten for a bigger project; he was zero for 18 on auditions up until that point. McConaughey is now a Golden Globe winner and Academy Award-winning actor (via IMDb).