Instagram Is Raining Hearts On Marcus Samuelsson's Family Photo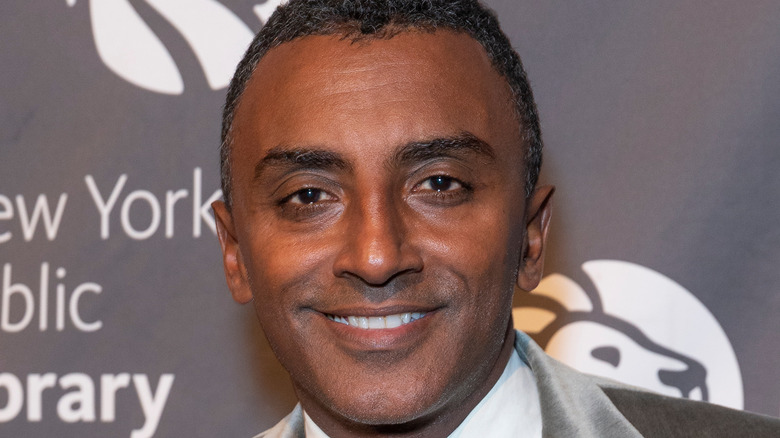 lev radin/Shutterstock
Marcus Samuelsson is likely a familiar face for fans of reality food television. He's one of the judges on the Food Network show "Chopped," he's competed on "Iron Chef," and he's a co-host and head judge on the Peacock show "Top Chef Family Style." He's also an award-winning restaurateur, known for his New York restaurant Red Rooster Harlem. But behind the scenes, he's not just a chef and television superstar. He's got a lot more in common with the contestants on "Top Chef Family Style" than one might expect.
That's because Samuelsson is totally a family man. He's dad to 5-year-old Zion Mandela, and in January, Samuelsson's wife Maya Haile welcomed a new baby into the world, who they named Grace Ethiopia Samuelsson (via People). In a recent Instagram post, Samuelsson shared a picture of himself, Maya, and baby Grace together. His fans seemed to adore what they saw.
Fans were congratulatory
The picture of Samuelsson, wearing a boldly patterned white and black sweater and orange corduroy newsboy cap as he holds Grace in her swaddle along with wife Maya, has gathered more than 14,000 likes so far. Food world celebrities like Leah Cohen from "Top Chef" and "Guy's Tournament of Champions" and actor Debi Mazar left heart emojis in the comments, and regular folks had positive things to say, too.
"Just so joyful to see this," one fan said. "Nice to take a moment from all the terrible things happening and just gaze upon a pretty baby," wrote another. This isn't Samuelsson's first post about Grace that made his audience happy. His post announcing her birth had a whopping 76,000+ likes, and posts of Samuelsson's son Zion have also been popular. Grace is just a newborn, but fans can likely look forward to more Instagram posts of the newest member of the Samuelsson family to come.