TikTok Had Doubts About This Al Fresco 'Breakfast In Bed' Situation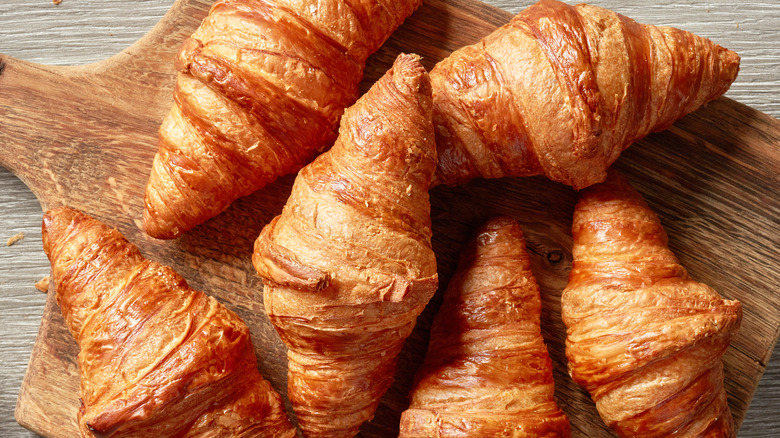 MaraZe/Shutterstock
Breakfast in bed is one of those sneaky joys in life akin to getting a free drink at a bar or a box of chicken nuggets with an extra one tucked inside. Whether it's something simple like a couple of fresh pastries or as comprehensive as a plate piled with fat and grease, breakfast in bed mysteriously makes food taste better.
Taking that to a whole different level is the experience provided by Chalet al Foss Alp Resort in Italy. One of the dining options provided by the luxury location is the Foss Breakfast, which the hotel's website depicts as being a hearty and varied breakfast served in a heated bed in the snow.
The curious creation has certainly grabbed the attention of social media, which discovered the fancy dining treat after a video was uploaded to TikTok by @epic.stays. But although the original idea has been met with interest by some, many TikTok viewers are far from impressed with the practicalities of the chilly breakfast.
TikTok viewers have been mocking the snowy breakfast
The viral TikTok video (that has gained an impressive 6.4 million views) shows a hotel guest tucked into an enormous outside bed surrounded by snow with a lengthy platter of coffee, fruit, and pastries in front of them. Although uploader @epic.stays clarifies that heated blankets are provided, TikTok commentators aren't impressed with the idea.
Questioning the enjoyment of breakfast in the cold, one TikTok viewer makes clear "if it ain't tropical, I ain't going", while another jokes: "When you paid for breakfast in bed but don't check out on time." Many replies note that time surely won't be on the side of anyone trying the breakfast because much of the food would likely go cold quickly.
Despite cynics claiming they would be mortified by the al fresco breakfast (and believing the video's aesthetics mask the chilly reality), some TikTok users have been supporting the intriguing meal. One comment describes the sensation as being like a dream, while another suggests it is essential to their life. Perhaps finding a compromise, one viewer says the experience would be vastly improved if breakfast was simply served in a glass room with an amazing view.