Driver Crashes Through Starbucks Wall In Scary Accident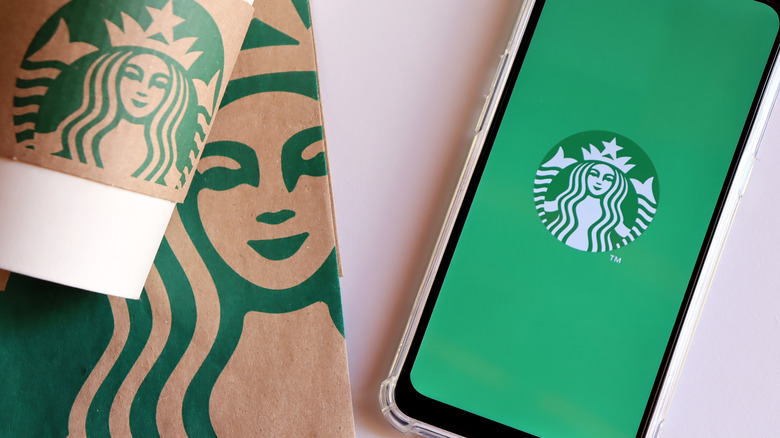 Brenda Rocha - Blossom/Shutterstock
There's a sign in front of the Starbucks on the corner of 13th Street and Minnesota in Sioux Falls, South Dakota. It stands more prominently than even the Starbucks signage on the building. It says "Drive-Thru," and that's exactly what one driver did on the afternoon of March 5, 2022. Except, rather than staying in the actual drive-thru lane, the person drove straight through one of the exterior walls of the building, with the car coming to a stop inside, as only its tail lights were visible from the exterior. In fact, the taillights were actually "inside the building," an eyewitness by the name of Tom Allstot told KELOLAND News.
Allstot is a resident or Sioux Falls, and was driving by when he came upon the scene. "I immediately knew it was a car that went through the side of the wall, and that's when I ran to the front door to see if I could be of assistance to those inside." As you can see from the photo below, there is now a car-sized hole in the Starbucks location on the side of the building that sits just beside the intersection. Details on the crash are unfolding as the investigation continues. In the meantime, here's everything we know about this scary incident that sent multiple people to the hospital with injuries, per Dakota News Now.
Just when you thought it was safe to sit in your local Starbucks again
It's not every day that a driver crashes through the wall of a Starbucks, but when something like this happens seemingly out of nowhere, it's plenty scary. According to Dakota News Now, the crash occurred around 12:30 p.m. on Saturday, March 5 in Sioux Falls, South Dakota. A 2014 Jeep Grand Cherokee had been driving northbound on Minnesota Avenue when, as it approached the intersection of Minnesota and 13th Street, it suddenly veered off the road and into the south wall of the building before coming to a stop.
Eyewitness Tom Allstot, an army veteran, pulled his own car over and did what he could to offer assistance. Allstot told KELOLAND News that he observed a victim pinned precariously under debris from the crash. However, it appears that none of the injuries resulting from the accident have been life-threatening. Both car occupants, including the driver (a 65-year-old man) and his passenger (a 71-year old woman) were wearing seat belts, and both were taken by ambulance to a nearby hospital with non-life-threatening injuries. There were seven people inside the building, including a minor and a Starbucks employee, all of whom were also taken to the hospital with non-life-threatening injuries. 
Investigators believe that the driver suffered some sort of "medical issue" that caused him to lose control of the Jeep, and "neither drugs nor alcohol were factors," per Dakota News Now. No criminal charges have been filed, but the investigation is ongoing.