Vegan Shepherd's Pie Recipe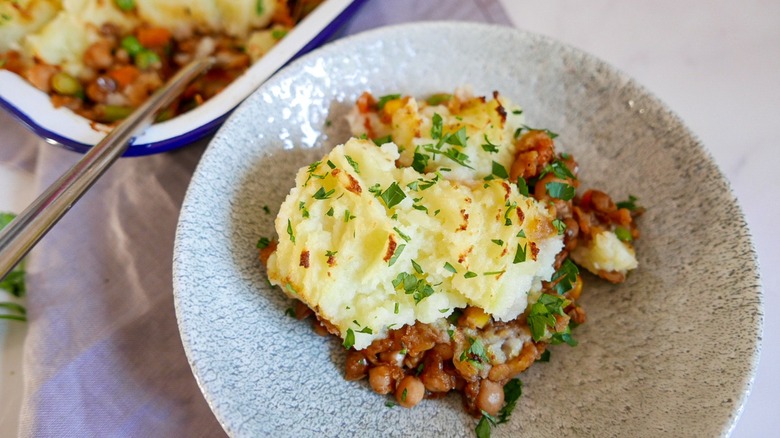 Ting Dalton/Mashed
The shepherd's pie is a classic British dish whose ingredients may tend to confuse people, at least here in the U.S. For one thing, we tend to think of a pie as having a crust, while this dish has no bottom crust and used mashed potatoes for a top layer. What's more, a true shepherd's pie, as its name might indicate, is always made with mutton or lamb (shepherd = one who herds sheep, after all), but many American recipes call for using ground beef, instead. Technically, such a potato-topped beef dish should be known as a cottage pie.
We do not know what the proper food term would be for a dish that is made with neither lamb nor beef, but for the sake of simplicity, we're just going to go on calling this meat-free dish a vegan shepherd's pie. "This is such a comforting and delicious dish and even better it's easy to make," recipe developer Ting Dalton describes, adding that it's also "healthy and a great alternative to a meat and vegetarian version." Loaded with plant-based protein and plenty of savory goodness, this vegan shepherd's pie may just become your new favorite!
Gather the ingredients for vegan shepherd's pie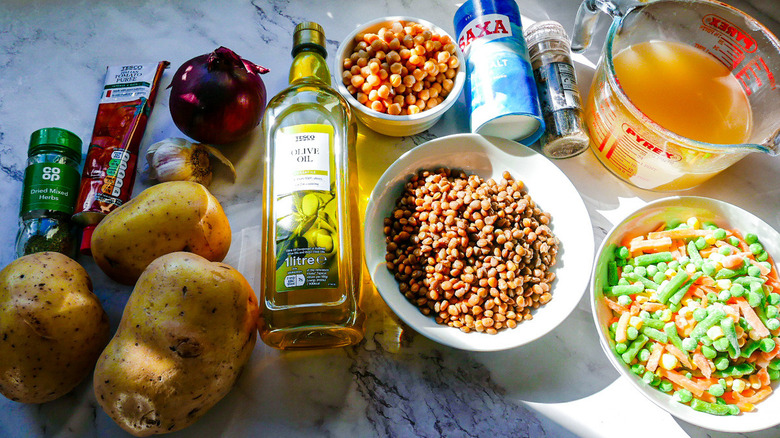 Ting Dalton/Mashed
For the topping you will need some potatoes — any kind will do, as long as you have enough mashed potatoes to cover the veggie filling. You'll also need a fair amount of olive oil. The filling is made with a red onion, some garlic, green lentils, chickpeas, and mixed frozen veggies. For the sauce, you'll need tomato paste, vegetable broth, and Italian seasoning.
A note on the lentils: Dalton uses canned ones, but canned green lentils aren't so common in some supermarkets. You may need to cook your lentils yourself, or else substitute a different type of legume. "If you don't have lentils or chickpeas, you can use other [legumes] including butter beans or borlotti beans," Dalton says.
Make the mashed potatoes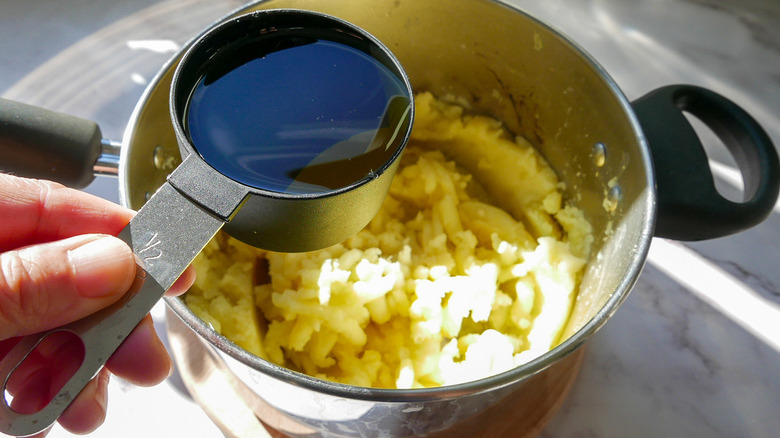 Ting Dalton/Mashed
Boil a large pot of water. While it's heating up, you can peel (or not, depending on preference) your potatoes and chop them into large chunks. Cook the potatoes until they are soft enough to mash, something Dalton expects will take about 10 minutes. Once the potatoes are cooked, drain them, mash them, stir in the olive oil, then season them to taste with salt and pepper. Set them to one side while you tend to the vegetable filling.
Make the vegetable filling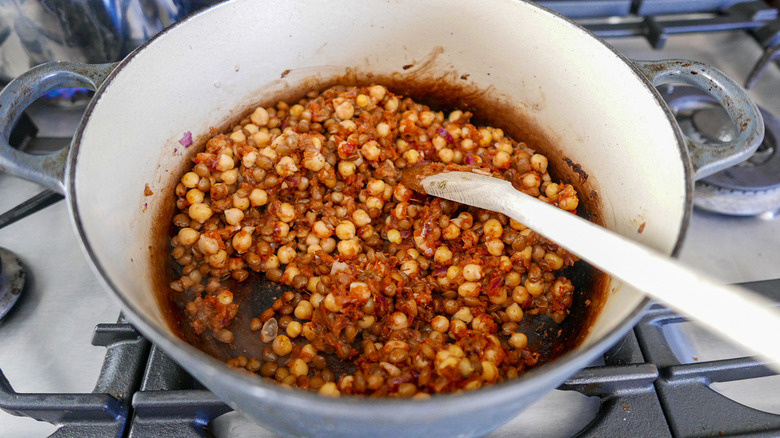 Ting Dalton/Mashed
If you don't mind multi-tasking, you may feel free to start your veggie filling while the potatoes are cooking. You should also preheat the oven at some point, too, to 320 F. The filling itself just takes a few minutes to get started, but it needs to be simmered for quite a while, so you may actually want to hold off on the oven-preheating until halfway through the cooking time.
Heat a drizzle of oil in a pan, then sauté the onions and garlic for about five minutes until they start to soften. Alternately, you may wish to wait to add the garlic about a minute before the onions are done to be sure it doesn't overcook. Stir in the lentils, chickpeas, Italian seasoning, tomato paste, and broth, then season the filling to taste with salt and pepper. Turn the heat down to low and simmer the filling for 20 to 25 minutes until it thickens up a bit. If it's slow to thicken, Dalton says a "still runny" filling can be thickened by mixing 2 teaspoons of cornstarch with 2 tablespoons of water, then stirring this into the contents of the pan.
Assemble and bake the pie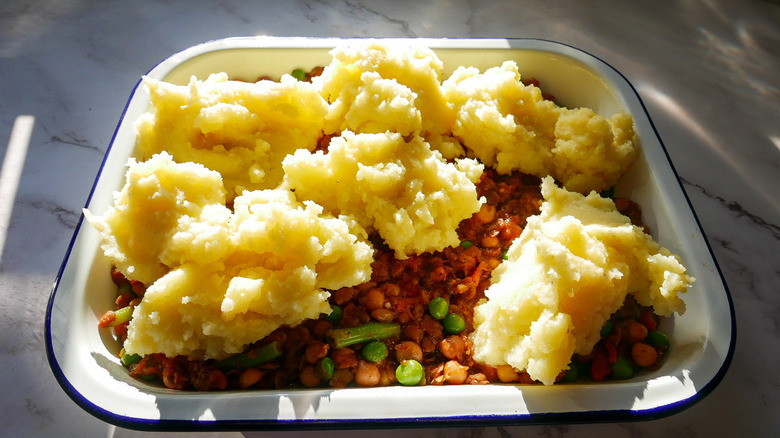 Ting Dalton/Mashed
Once your vegetable filling is done, pour it into a baking pan and spread it out until it covers the bottom. Top the filling with heaps of mashed potato, then smooth these heaps out to form a smooth top "crust." Put the baking pan onto a baking sheet in case of overflow, then place the sheet into the oven and bake the pie for 25 minutes. How will you know when it's done? Dalton says it's ready to come out of the oven when "the top is crispy and brown."
This pie, she tells us, can be made ahead of time. Cook the potatoes and the filling, assemble the pie, and then, she says, "You can refrigerate [it] the day before and then bake [it] in the oven for 30 minutes." She also says that leftovers can be refrigerated and reheated in the microwave. Any leftover pie can be frozen, as well.
Vegan Shepherd's Pie Recipe
If you love shepherd's pie, be sure to give this nourishing, plant-based vegan rendition a spin.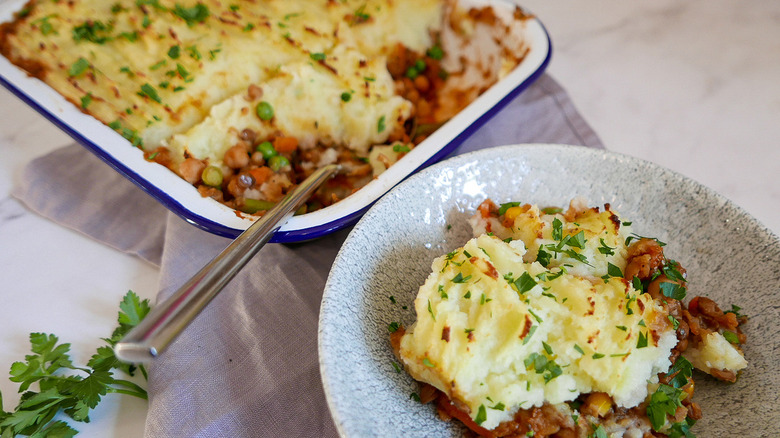 Ingredients
4 large potatoes, peeled and chopped
½ cup olive oil
1 red onion, finely chopped
3 cloves garlic, finely chopped
1 ½ cup cooked green lentils, drained
1 ½ cups canned chickpeas, drained
3 tablespoons tomato paste
2 cups vegetable broth
2 teaspoons Italian seasoning
2 cups mixed frozen vegetables
Directions
Preheat the oven to 325 F.
Bring a large pot of water to a boil and add the potatoes. Cook the potatoes for about 10 minutes, until they are soft.
Drain the potatoes and add them to a pan. Mash the potatoes until they are fairly smooth, then stir in the olive oil. Season the potatoes with salt and pepper and set them aside.
Heat a drizzle of olive oil in a heavy skillet on medium heat, and sauté the onions and garlic for about 5 minutes until they begin to soften.
Stir the lentils, chickpeas, seasoning, and tomato paste into the onions and garlic. Mix in the vegetable broth and season to taste with salt and pepper.
Turn down the heat and let the vegetable mixture simmer for 20 to 25 minutes, until the sauce thickens.
Put the vegetable mixture in a baking pan. Top the vegetables with the mashed potatoes, smoothing them down to make the top "crust."
Put a sheet pan under the baking pan to catch any drippings. Bake the pie for 25 minutes until the top is crispy and brown.
Serve your vegan shepherd's pie.
Nutrition
| | |
| --- | --- |
| Calories per Serving | 916 |
| Total Fat | 29.9 g |
| Saturated Fat | 4.1 g |
| Trans Fat | 0.0 g |
| Cholesterol | 0.0 mg |
| | |
| --- | --- |
| Total Carbohydrates | 135.7 g |
| Dietary Fiber | 22.5 g |
| Total Sugars | 9.5 g |
| Sodium | 283.9 mg |
| Protein | 31.8 g |