The Truth About Fabrizio Villalpando From The Julia Child Challenge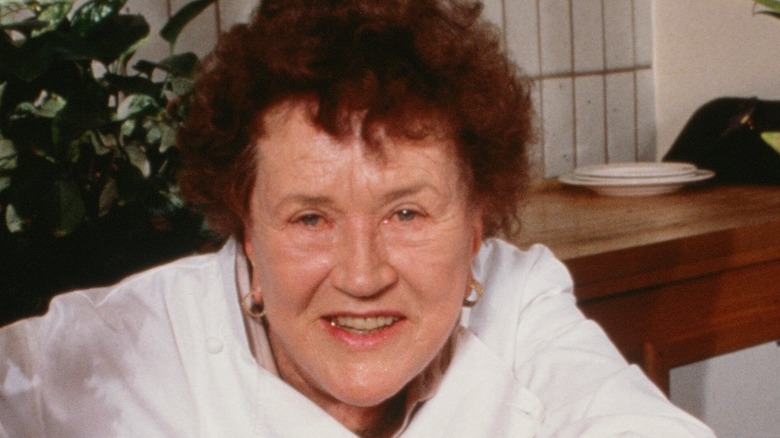 George Rose/Getty Images
The Food Networks' "The Julia Child Challenge" will feature eight home cooks who will compete against each other in several cooking challenges in a bid to win the top prize — a cooking course for three months at the prestigious Le Cordon Bleu. According to the Food Network, all the contestants are massive fans of the iconic Julia Child, who began her culinary education at Le Cordon Bleu in 1950. 
The participants will be seen talking about their memories of the chef while using ingredients that were favored by Child herself to prepare impressive dishes on the show. One of the contestants, Fabrizio Villalpando, is a Mexican-American food enthusiast from Los Angeles, California. According to a post on his Instagram account @theemoodyfoody, Villalpando found the competition "fun, challenging and inspiring" and never thought that he would get the opportunity to be a part of a reality competition TV show. In the same post, he also shares his cooking experience, which may come as a bit of a surprise.
Fabrizio Villalpando is new to cooking
Fabrizio Villalpando is relatively new to cooking. In fact, he shares on Instagram is a self-taught chef who only started getting creative in the kitchen when the pandemic hit. But in just a short time, Villalpando has come a long way and regularly shares tasty recipes with his many fans on social media. He was even a guest on The Drew Barry More Show earlier this year and cooked chilaquiles for viewers.
In an Instagram post from last week, the home cook spoke about his family's immigrant background while preparing salsa Asada. Villalpando revealed that his dad left the family's shoe business in Mexico to start a new life in the United States after his older sister was born. Things were difficult and he picked vegetables for a living when he first moved to Southern California. The family eventually shifted their base to Oregon, Portland where Villalpando was born.
After high school, Villalpando decided to not attend college and worked as an actor and a painter, living in a van and relying on the money he saved from working at Starbucks and Chipotle. Villalpando has come a long way since then, from being homeless to being on TV. To learn more about the aspiring chef, you can watch him on "The Julia Child Challenge" starting March 14 on the Food Network and discovery+.