Here's Where You Can Find Patrick Schwarzenegger's Blaze Pizza Locations
Founded in 2011 by husband-wife duo Rick and Elise Wetzel (of the Wetzel Pretzels), Quick Service Restaurants reports, Blaze Pizza is at the forefront of a pizza revolution. The fast-casual restaurant chain, known for making pizzas extremely quickly, has become one of the "fastest-growing concepts" with nearly 400 locations in the United States, according to Restaurant Business Online.
So, what makes Blaze so successful? Similar to Chipotle, Blaze allows customers to personalize their pizza via an assembly line before they're baked in around 180 seconds, per its website. Blaze assures its ingredients are without chemicals, additives, nitrites, artificial colors, and artificial preservatives. The chain also was the first to offer cauliflower and keto crusts, according to a press release, for those with dietary needs. Pizza lovers can choose any amount of cheeses (eight options), meats (six options), and veggies from Blaze's menu until their heart and stomach are content. The type of pizza sauce, and post-oven toppings and sauces, are also up to the customer.
Celebrities also want a piece of the action: LeBron James is an investor, and Patrick Schwarzenegger owns a location too.
His first solo business venture is in Los Angeles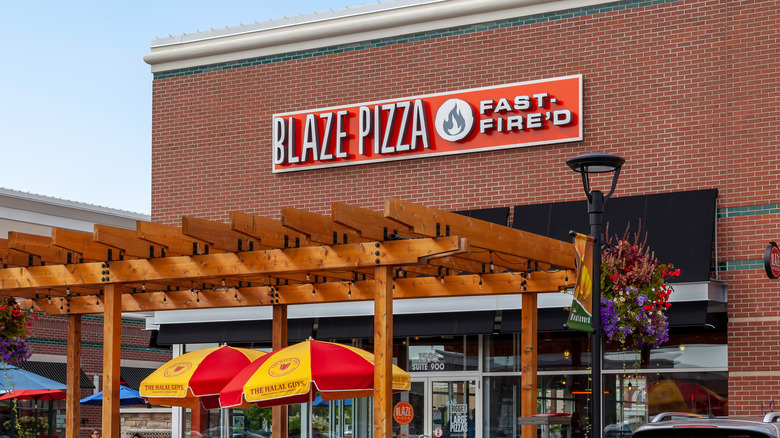 JHVEPhoto/Shutterstock
According to People, Patrick Schwarzenegger — the celebrity child of actor and former California governor Arnold Schwarzenegger and author Maria Shriver — opened his own Blaze Pizza restaurant in 2014 when he was just 20 years old. His store is located at the LA Farmers Market, per the market's online directory, adjacent to the famous The Grove mall. According to LA Tourist, both outdoor venues are located the corner of Third and Fairfax, though completely separate. Makes for both a stellar and confusing retail address, clearly!
Despite his upbringing by parents with well-off financial means, Schwarzenegger reportedly franchised the store on his own dime without his family's help — apart from savvy business advice and their love and support, of course. "We went around and did a raise of capital," he told People. "It's been my responsibility to oversee everything. I'm the owner, founder, pizza maker, pizza lover and anything else you want to throw on in there." 
Schwarzenegger's entrepreneurial spirit paid off. In November 2016, JustJared reported that the young businessman was expanding his Blaze portfolio with a new location inside Crypto.com Arena (previously known as the Staples Center). Schwarzenegger documented the moment on Twitter, writing, "So cool to see @BlazePizza now open in @STAPLESCenter." Despite the arena's rebrand, Blaze is still there, and based on Schwarzenegger's LinkedIn page, he's still the owner, too.