The Truth About Bill Borman From The Julia Child Challenge
"The Julia Child Challenge" is set to release its first episode on March 14 on the Food Network and Discovery Plus. According to Variety, celebrity chef Antonia Lofaso will be a part of the show as a judge and will be accompanied by a "rotating panel of guest judges" who will have to pick a winner among eight home cooks. The show is a fitting tribute to legendary cooking icon Julia Child and the competitors will have to do justice to the chef's recipes in numerous cooking challenges. 
Whoever wins the show will get a chance to further polish their skills with a three-month, all-expense-paid culinary course at Le Cordon Bleu in Paris, France, where Child studied. The show will include heartwarming stories and anecdotes from the contestants who will be seen talking about their love for Child and the impact she's had on their lives.
One of the participants is an entrepreneur from New York, Bill Borman, who expressed gratitude for the opportunity in an Instagram post writing, "It's a great honor to have taken part in Food Network's love letter to the master herself."
Bill Borman adores everything French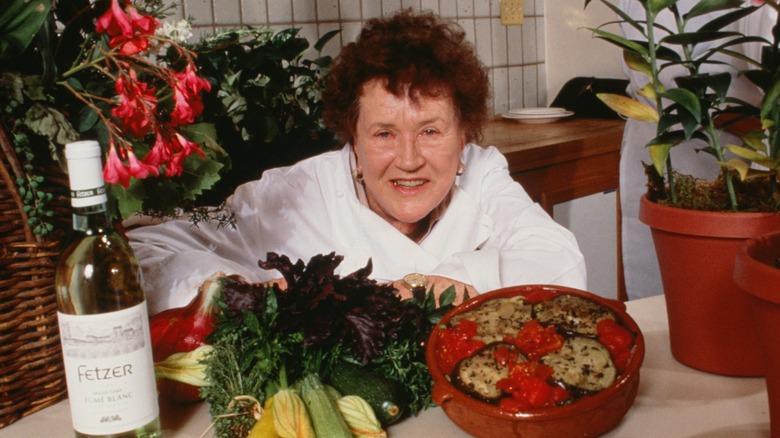 George Rose/Getty Images
Bill Borman posted to Instagram that he would often catch reruns of Julia Child's show, "The French Chef," as a kid but "really came to appreciate Julia" when he was gifted one of her books, "The Way to Cook" after graduating from college. He offered more details and wrote, "Her French Onion Soup recipe (the first I tried) was a revelation in its simplicity and depth of flavor. I was hooked!"
Per the Food Network, Bill Borman loves all things French and thinks that "food is an expression of love." He was blown away by French cuisine and wine when he visited Paris several years ago and decided to start a cookware business called Piggy Kitchen with his husband, Richard Thomas, after getting his hands on vintage copper pots at a flea market in France. A description on the brand's website reads "Our offering of curated vintage tabletop, beautiful cookware, and French-inspired pantry items is an unapologetic celebration of all that a life of gathering and cooking has to offer."
Perhaps his experience in Paris and passion for all things French will give Borman an edge over the other competitors. Only time will tell.