Duff Goldman's Appearance On The Masked Singer Shocked Instagram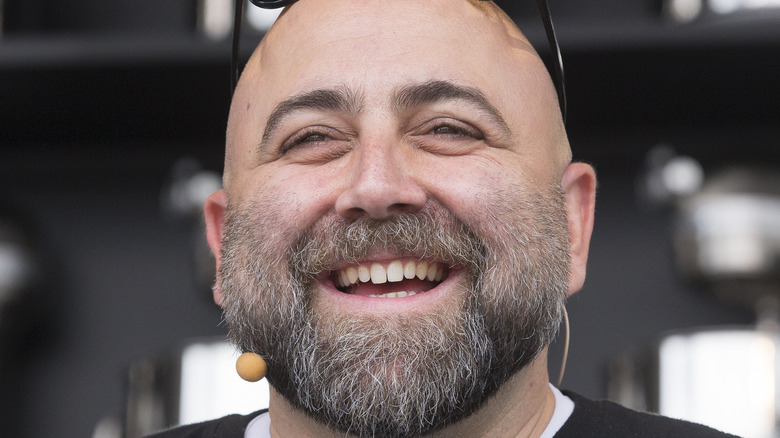 Sterling Munksgard/Shutterstock
Celebrity pastry chef and Food Network personality Duff Goldman is best known for his epic cake-decorating skills — who could forget the "Ace of Cakes" episode where he delivered a Betty White cake to the iconic Betty White herself? — but he certainly doesn't keep his other passions under wraps. Before serving as the execute chef of Charm City Cakes, Goldman cut his bass-playing teeth in several emo-punk bands with names like Big Mama Cotton Crotch, soihadto, Danger Ice, and Two-Day Romance (via Los Angeles Magazine). According to Goldman, making cakes and playing music aren't so different. "Kitchens and bands are just groups of talented sociopathic individuals all trying to coexist and work towards a common goal," he said. "If one guy isn't doing their job, then the whole group is affected." Goldman went on to head up LA's top "chef-led alternative cover band" Foie Grock alongside James Beard-nominated chef Bruce Kalman. 
With Goldman's charisma and aptitude for performing in mind, it might not come as a shock that he was among the latest guests on Fox's popular reality singing show "The Masked Singer," wherein celebs belt out tunes in mascot-sized disguises before a panel of celebrity judges. Goldman gave quite the performance, and his big reveal on Instagram yesterday had fans freaking out. 
McTerrier is Duff Goldman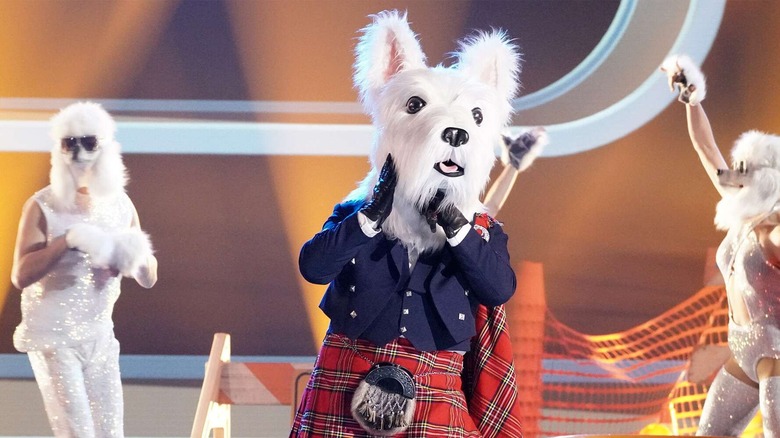 Michael Becker/Fox
Donning a kilt, a cropped navy two-piece blazer, and an enormous fluffy white terrier (ahem, "McTerrier") mask, Goldman laid down an objectively skillful drum solo before taking a little tumble off the platform and gracefully redeeming himself by diving into a rendition of Loverboy's "Working for the Weekend." Goldman credits his energetic performance to the anonymity of his getup. "I put on this outfit and I [knew I was] singing for millions of people and I totally didn't care. It was incredible," he said. Nearly everyone who commented on Goldman's Instagram post was equally excited about the performance. "AMAZEBALLS," wrote Food Network host Ali Khan. "Just when I thought you couldn't get any cooler," chimed Netflix cake wizard Molly Robbins. "Oh my goodness!! I hated that you were voted off tonight!! You were amazing!! #McTerrier ROCKS!!" added another user. 
Even though the Charm City Cakes baker got the boot, he didn't seem to have any regrets. "I started making cakes because I wanted to be a rock star, and I still make cakes because I'm trying to be a rock star," Goldman admitted on Instagram. Thanks to his primetime spotlight on "The Masked Singer," we'd say Goldman is one step closer to that goal. He called the appearance "an absolute dream come true."