How A Cookbook Led To Padma Lakshmi's Own TV Show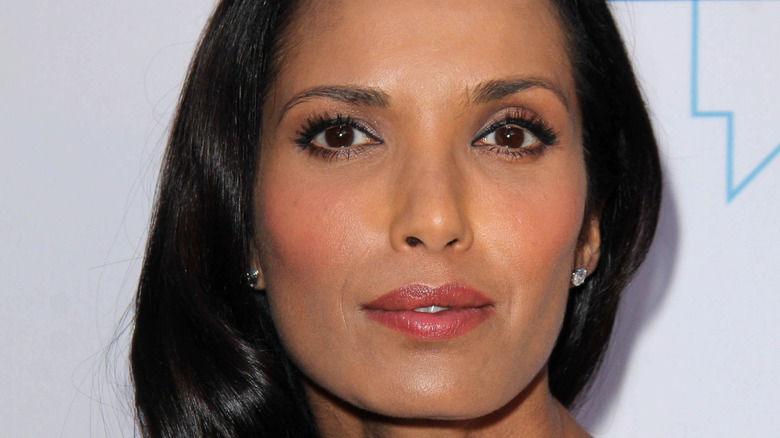 Kathy Hutchins/Shutterstock
Today, Padma Lakshmi may be most well known as the host of Bravo's Emmy Award and James Beard-winning culinary competition, "Top Chef." Now on its 19th season, the former model, actress, cookbook author, and TV host has been at the popular show's helm since season 2. It's not the first TV show that Lakshmi has hosted, though how she ended up being a TV host has a lot to do with all of her prior, and rather diverse, careers.
Lakshmi started her career as a model. Discovered by a modeling scout in Madrid while she was studying abroad her senior year in college, Lakshmi would eventually catch the eye of legendary fashion photographer Helmut Lang, and work for major designers like Armani, Ralph Lauren, and Versace, while splitting her time between Milan and Paris. Modeling eventually led to small acting jobs, including a part in the Italian miniseries, "Caraibi," where Lakshmi had to gain 30 pounds for her role. It was this role that led Lakshmi to write a cookbook.
Padma Lakshmi wrote a cookbook based on her experience losing weight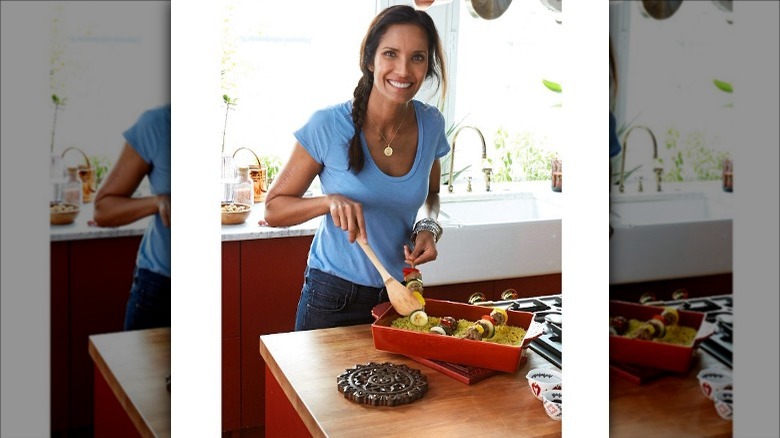 Instagram
After filming "Caraibi," Lakshmi went back to modeling, though she had to lose those extra pounds that she gained for the role, she explained to Bustle. She started playing around with different recipes to make them healthier by cutting out calories and fat, taking inspiration from the different foods she was able to sample while traveling the world as a model. That formed the basis of her first cookbook, "Easy Exotic: A Model's Low-Fat Recipes from Around the World." There was definitely interest in the book since everyone wanted to know what models ate to stay slim, but "Easy Exotic" surprised everyone by also winning "Best First Book" at the Gourmand World Cookbook awards in 1999 (via Food52).
Lakshmi would end up promoting "Easy Exotic" on the Food Network while on her book tour, which led to the Food Network asking her to join the cast of "Melting Pot," where different chefs would promote different cuisines from around the world, according to Food52. Lakshmi ended up hosting her own segment on the show, called "Padma's Passport," where she established her credentials as a food expert. The show only lasted one season, but Lakshmi would later appear in other food-related shows like "Planet Food," before joining "Top Chef" in 2006. And the rest is culinary TV history.