Applebee's Just Joined The Plant-Based Bandwagon With New Burger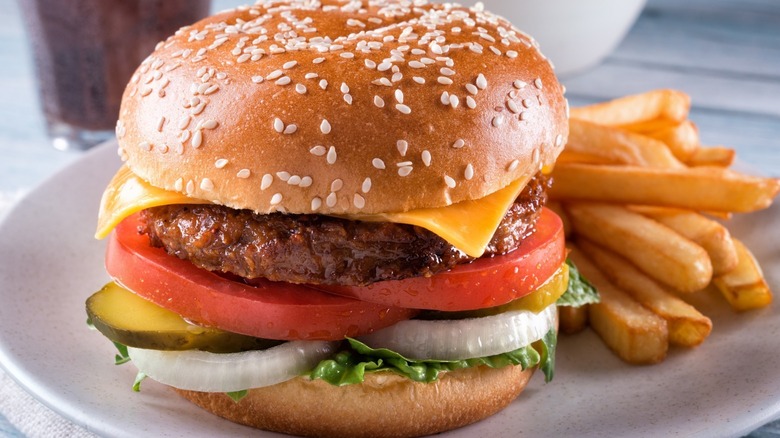 Foodio/Shutterstock
More and more restaurants are jumping on the plant-based bandwagon by offering all kinds of new menu items. Forks Over Knives defines "plant-based" as a diet that favors plant-derived food sources and is without animal-derived products such as meat, dairy, and eggs. There are countless benefits to a plant-based diet, like lower blood pressure, cardiovascular benefits, and aid in the prevention of type 2 diabetes and weight gain, according to Everyday Health. Not to mention the environmental benefits like a reduction in greenhouse gas emissions and decreased water consumption, as opposed to traditional animal-derived protein sources, reports Physicians Committee.
Because of this, it's easy to see why plant-based eating is gaining in popularity across the country. And while some may think plant-based food can only be bland salads or specialty food available at specific stores or restaurants, nothing could be further from the truth. Now more than ever, delicious plant-based options are available at super popular chains that can be found across the country like Qdoba, The Cheesecake Factory, and even Burger King (via Veggl).
An Impossible burger has been added to the menu at Applebee's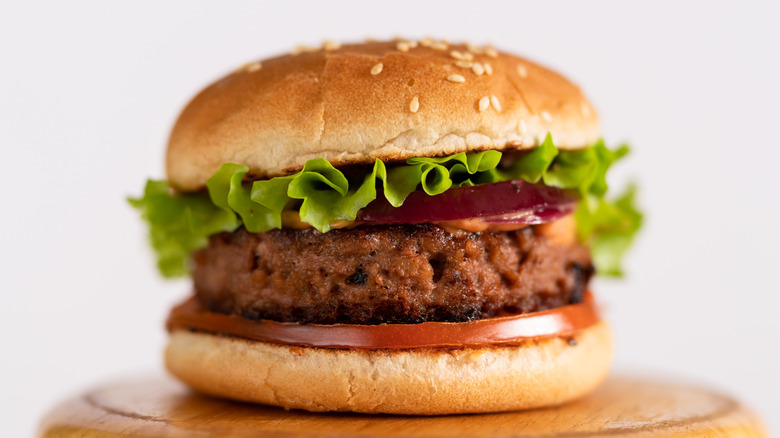 Yevhenii Kondratiuk/Shutterstock
Recently, the bar and grill chain Applebee's joined the list of restaurants offering an Impossible burger on their menu. Those familiar with the Impossible brand know their burgers are made from soy and potato protein, coconut and sunflower oils, and of course, the ingredient responsible for that meaty flavor: heme (via Impossible Foods). According to the Impossible Foods website, the heme in these burgers is made from fermented yeast, which gives it that classic beefy umami flavor.
As Chew Boom reported, the Impossible burger comes with the standard lettuce, tomato, onion, and pickles, plus American cheese on a brioche bun. It's important to note that while the patty itself and the vegetable toppings are vegan and plant-based, the cheese and bun are not. So people adhering to those diets will want to order it without those items. If you want something a little jazzier, Business Wire reports that you can swap an Impossible patty onto any of the other burgers on the menu.