This Famously Hard-To-Reach Island Restaurant Is Coming To Greenland
KOKS has managed to earn two Michelin Stars while operating on the Faroe Islands, an archipelago that lies between Norway and Iceland. But now, they're moving. Instead of the Faroe Islands, KOKS will be located in Greenland. "Is it a crazy move?" Johannes Jensen asked Euronews Culture. "I don't think it's a crazy move!" This is despite the fact that the climate would only allow KOKS to operate during the 100 days between mid-June and mid-September. Jensen went on to explain that it was the uniqueness of the Greenlandic berries, seafood, and meat that drew their attention.
The other reason, as KOKS' head chef Poul Andrias Ziska told Bloomberg, was that the Faroe Islands was meant as a temporary starting point. So when Greenland's Board of Tourism reached out, it became clear that they should go to Greenland. Like Jensen, the possibilities of using the fauna of Greenland attract Ziska, who will join the restaurant in its move. "I've had musk ox a few times," he said, "and it's so so good, so I want to work with that. And reindeer. Maybe even polar bear." That is, maybe before adding, "Of course, we're not going to cook with any animal that's endangered."
Even with the endangered animal handicap, it seems likely that the restaurant that managed to attract Michelin stars in a typically out-of-the-way location is well-suited for the challenge.
Greenland is becoming a popular destination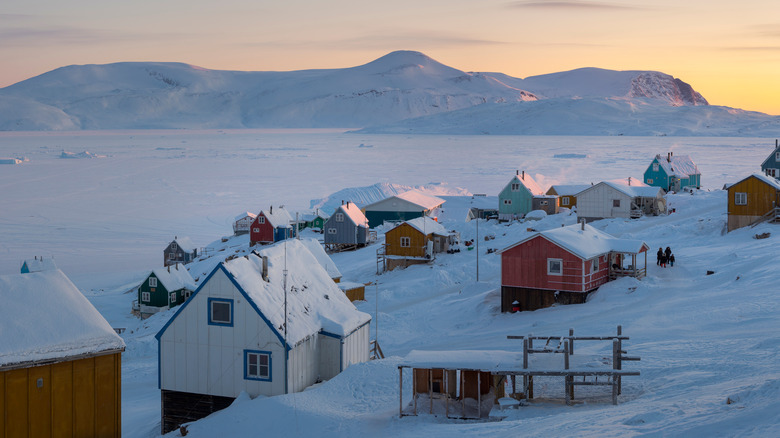 Danita Delimont/Shutterstock
When laying out the vision for KOKS Greenland, Johannes Jensen pictured neither the usual Michelin clientele nor necessarily a local establishment. "The guests eating at KOKS Greenland will be foodies, and other people who have a high interest in gastronomy," he told Euronews Culture. KOKS Greenland will be an international foodie destination.
This is happening when the island is also drawing the attention of travelers and sportspeople in general. National Geographic noted in January that Greenland had become a bucket-list-worthy addition for extreme sports. "A lot of people want to come here and experience one of the world's last unexplored places," Nick Nielsen, the owner of the Greenlandic tourism company Inuk Expedition, explained.
This has raised some conversation about how people can indulge in the fantasy of doing extreme sports in an "untouched" land while keeping the culture of the locals intact. That is a problem, which will unfold. However, it looks like extreme foodies will follow where bicyclists have blazed ahead.