The Unusual Way One McDonald's Customer Protested Russian Closures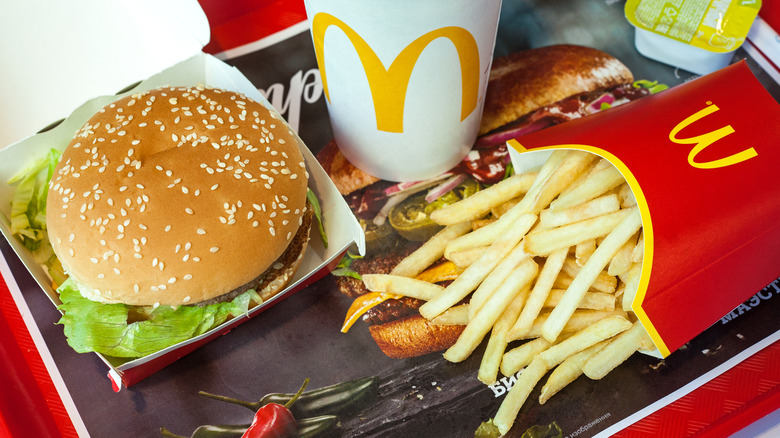 8th.creator/Shutterstock
The Russian invasion of Ukraine has hit the world hard and Russia's takeover effort has been deemed wildly unpopular around the world, as it has been denounced by most countries and even by some of Russia's own citizens (per Washington Post).
To that end, a number of companies have partly or fully pulled operations from Russia, both in an effort to show solidarity with Ukraine, but also in an attempt to cripple the Russian economy. This "economic war," dubbed by The New York Times, includes companies like Starbucks, Goldman Sachs, Uniqlo, and JP Morgan Chase. Even the streaming service Netflix has stopped services in Russia (per CBS News).
Last week, hamburger juggernaut McDonald's made headlines around the world when the chain announced that it would be temporarily closing all 850 stores in Russia while the war rages. However, according to Daily Mail, six days after the announcement Russian McDonald's stores remain open, and some customers are resorting to desperate measures to keep it that way.
How one Russian McDonald's customer is fighting back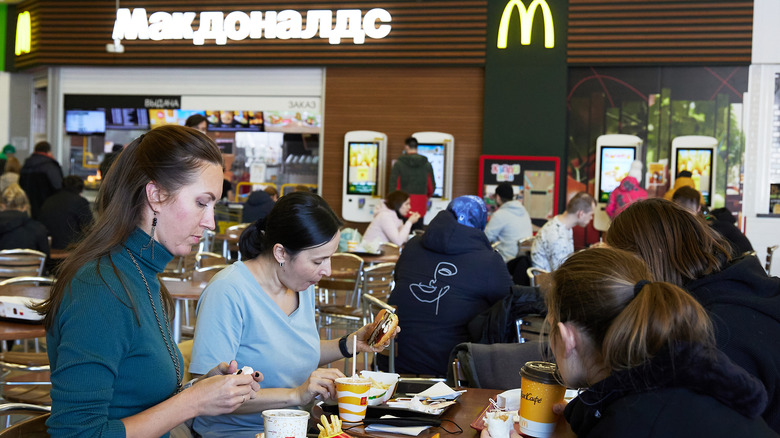 Oleg Nikishin/Getty Images
One Russian McDonald's customer is so desperate to maintain access to the chain's menu that he physically chained himself to the door of one branch in Moscow just before the location was set to shut its doors for an undetermined time. Dubbed a "superfan," pianist Luka Safronov's shouted, "Closing down is an act of hostility against me and my fellow citizens!" Other patrons streamed past him to get their last combo meals for who knows how long, reports Mirror.
Unfortunately for Safronov, his effort was futile as he was eventually "dragged away" by police (per New York Post). McDonald's might be losing upwards of $50 million each month after closing doors in Russia, and the chain is staying mum about when, or if, its hundreds of Russian branches will reopen. CEO Chris Kempckinski said that the war has caused supply chain disruptions and other "operational impacts." He also added that the company will "closely monitor the humanitarian situation."