Sam's Club's Peeps Variety Pack Is Bursting With Spring Pastels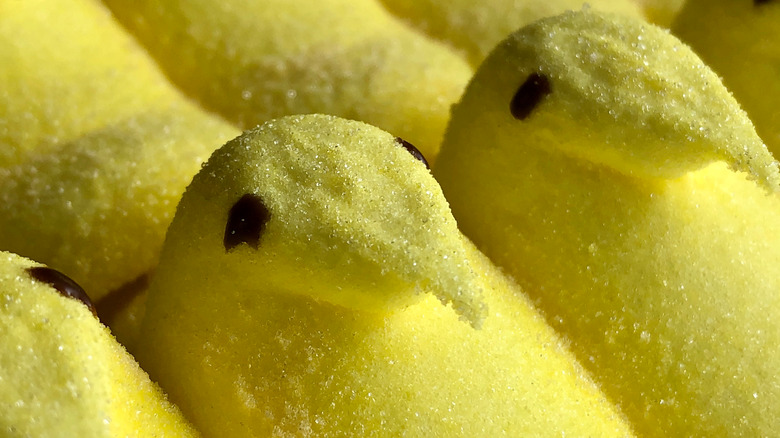 JLMcAnally/Shutterstock
With spring, birds begin their northwards migration. Apparently, this includes Peeps, the iconic Easter candy. This year, the flock of Peeps has grown even larger. They have collaborated with Sally Hansen to introduce Peep-themed nail polish which covers the pink, yellow, blue, and purple we associate with Peeps, as well as the white of their marshmallow interior. 
That's not all, though. Reader's Digest writes that Peeps will also appear in new flavors. Now there are the Donut Coffee Shop-themed Peeps as well as ones filled with caramel mocha. There are sparkly Wild Berry Bunny Peeps, Tropical Burst Peeps, and strawberry chicks dipped in chocolate. They even threw in a cotton candy flavored Peep popsicle. 
It makes sense, as Peeps has carved itself a niche as an iconic Easter candy. So, in the build up to the holiday that fuels its sales, the company needs to take full advantage of the cultish devotion some give it. After that, there's a long year waiting before the birds flock again. Luckily for Peeps fanatics, the latest variety pack is available at Sam's Club, and it's bursting with assortment.
Sam's Club has more Peeps for less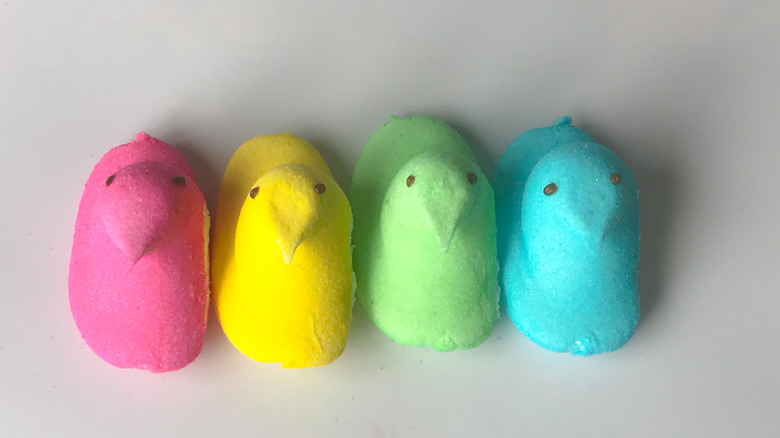 Anna Altenburger/Shutterstock
This year, you can get your fill of the bird-shaped marshmallows in a variety pack sold in Sam's Club. According to Totally the Bomb, the variety pack contains a whopping six different Peep products — and they're not all marshmallows. Each box contains two bags of jelly bean Peeps as well as one box each of pink Peeps, blue Peeps, purple Peeps, and yellow Peeps. All this can be purchased for $11.98, which breaks down to about $2 per pack.
For those without a Sam's Club membership, or for fans who want even more extreme Peep action, Peeps has launched the My Peeps option. My Peeps lets you create your own dream marshmallow-chocolate combo and have it shipped right to your door. While supplies last, you can choose a pink, blue, or yellow Peep that can be dipped in milk, dark, or white chocolate and coated with sweet bits, including sprinkles, pretzels, or cookie bits. These are understandably a bit more expensive than the Sam's Club option, coming out at $29.95 for 12 Peeps. But what price can you put on creating the Peep of your dreams?