Panda Express Kung Pao Chicken: What To Know Before Ordering
Depending on who you ask, the kung pao chicken at Panda Express is a top favorite on the menu. The chain has earned a fan following around the globe for its American Chinese cuisine, which features dishes like orange chicken, broccoli beef, honey walnut shrimp, and the aforementioned kung pao chicken. For those who enjoy their meals with a little bit of a kick, this Sichuan-inspired entree is a spicy lover's dream.
It's unclear when kung pao chicken made its Panda Express debut — perhaps it's been there since day one. But its popularity has certainly inspired the creation of other spicy dishes like the Sichuan hot chicken, which was a limited-edition menu item back in 2019, according to Nation's Restaurant News. Kung pao chicken has a memorable flavor profile thanks to its combination of punch-packing ingredients, like soy sauce, chili peppers, and peanuts. Here's everything you need to know before adding it to your Panda Express bowl or plate meal.
What is Panda Express' kung pao chicken?
On its website, Panda Express describes its kung pao chicken as a "Szechwan-inspired dish with chicken, peanuts and vegetables, finished with chili peppers." The term Szechwan references Sichuan, one of the largest provinces in southwestern China. Sichuan is known as the "Hometown of Giant Pandas" for its esteemed panda captive conservations and research centers (via Travel China Guide). In terms of cuisine, it's famous for spicy chili peppers that flavor dishes like mapo tofu and hot pot.
As is often the case in any dish with international influence and flavors, American kung pao chicken can slightly differ in taste and ingredients. In an article for Food Network, a Taipei-based journalist noted that Sichuan kung pao chicken has a heavy amount of Chinese peppercorns and dried chili peppers, whereas the American version typically has a sweeter undertone. Similarly, American kung pao chicken may include different vegetables, like bell peppers. Still, based on the photo and description, it seems like Panda Express' rendition is fairly authentic as far as American-Chinese cuisine goes. It even has a warning for heat level.
What's in the dish?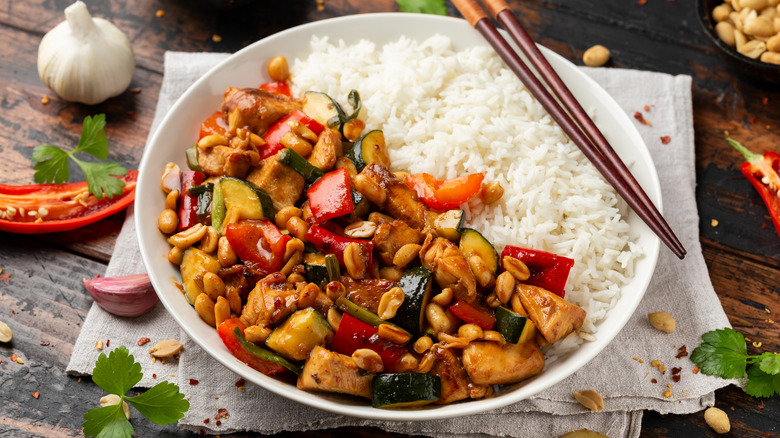 DronG/Shutterstock
According to Food Network, traditional Sichuan kung pao chicken is a combination of boneless chicken pieces, chili peppers, and peanuts, stir-fried in kung pao sauce and topped with scallions. Kung pao sauce is a mixture of soy sauce, rice vinegar, and sugar. Should the sauce need to be thickened, cornstarch can be added. While this dish centers around chicken, the sauce can also be used to flavor vegetarian plates or those made with other types of meat or fish.
The Panda Express kung pao chicken recipe is not public; but based on its description on the chain's website, it closely resembles that of traditional Sichuan cuisine. It has small chunks of chicken, chili peppers, and peanuts glazed in kung pao sauce. However, it also includes zucchini and bell peppers, an Americanized touch. It's served alongside your choice of white or fried rice and/or chow mein. On the contrary, kung pao is typically served with white rice in Sichuan.
How does it taste?
Panda Express' kung pao chicken is not for the faint of heart. Between the dried chili peppers, Chinese peppercorns, and inclusion of peanuts, kung pao chicken has a real spicy and nutty kick. Take it from YouTuber Cindys Home Kitchen, who said you should always have a drink on hand to help dilute the level of spice. "This guy is spicy!" Michaela from Cindys Home Kitchen said in between his first few bites of the dish. Later on in the review, he said the kung pao chicken and white rice plate was "very good," though he believes the dish would taste better without peanuts.
Meanwhile, felow YouTube food reviewer MrMoneyAD Food Reviews gave Panda's kung pao chicken an above-average score of seven out of 10. In terms of spiciness, the taste testers agreed that it's almost comparable to a jalapeno: "This has got some spice, but it's not burning hot or anything like that." Overall, the person who ordered the kung pao chicken said it's a good option if you're looking to try something different, though they'd still recommend getting the grilled teriyaki chicken or orange chicken instead. Thrillist ranked kung pao chicken as the fourth best thing you can order from Panda (after both orange and grilled teriyaki chicken). Mashed, however, ranked the Panda dish in 16th place out of 18 menu items. Overall, if you don't like spiciness or peanuts, you're better off sitting this one out.
How to order it
At Panda Express, kung pao chicken can be ordered a handful of ways. The important thing to know is that the stir fry's ingredients and spiciness level remains the same no matter what portion size you choose. Additionally, you should keep in mind that Panda makes its food ahead of time, so asking for kung pao chicken without peanuts isn't really plausible.
Per its website, Panda Express has three different meal types and sizes: bowl (one side, one entree); plate (one side, two entrees); and bigger plate (one side, three entrees). Depending on how big your appetite is or if you want leftovers, you can order kung pao chicken as an entree option or a la carte. The great thing about Panda's plate entrees is that customers have the option to double up on their entree of choice. Theoretically, if you ordered a plate, you could ask for double kung pao chicken. The same goes for the bigger plate. If you choose to get it on the side, or a la carte, Panda offers small, medium, and large options. At the end of the day, it really just comes down to how much kung pao chicken you're craving.
How much does it cost?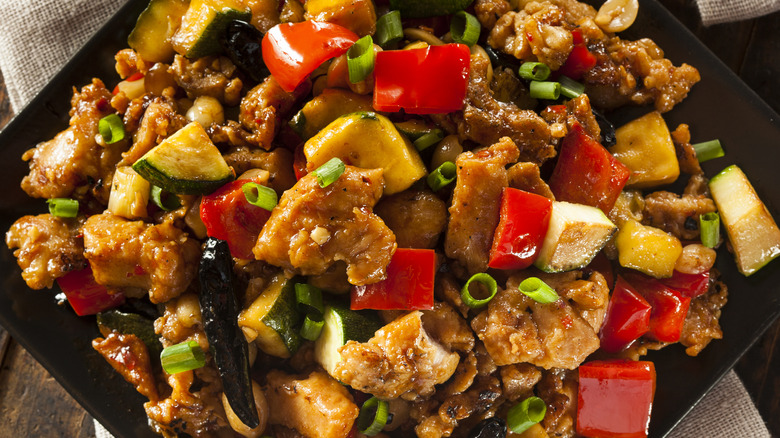 Brent Hofacker/Shutterstock
Similar to other items on the Panda Express menu, the price of kung pao chicken is based on the meal type and size you order. The most accurate way to see how much your meal could potentially cost is to use the website's store locator and browse your local Panda Express' menu. Upon further research, it's evident that there's about a $1 to $2 price difference among Panda Express locations based in the U.S. If you live in New York City, expect to pay $9.50 for a bowl, $11 for a plate, and $12.50 for a bigger plate. A la carte takeout boxes have rates of $5.40 (small), $8.70 (medium), and $11.40 (large).
Based on different states' menus, New York seems to have the highest prices. If you live outside of the Big Apple, you can expect to pay a little less. On Real Menu Prices, the dish ranges from $3.70 to $8.30 depending on the chosen meal type and size. Again, use the record locator to find your nearest Panda Express store, menu, and pricing.
Nutritional information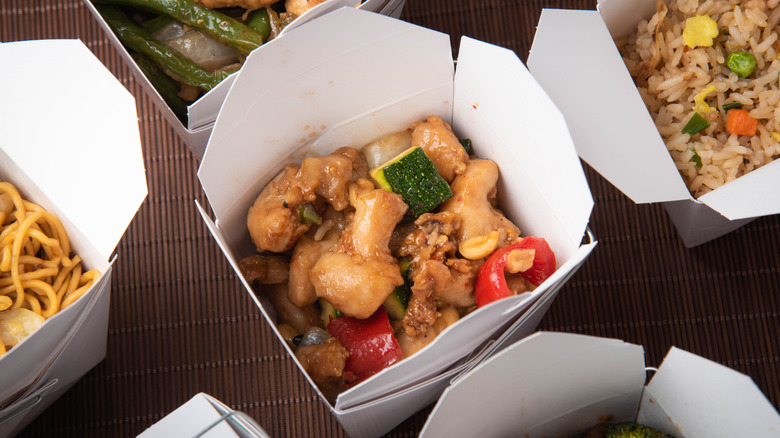 Atsushi Hirao/Shutterstock
According to Panda Express' nutritional information page, a single 5.8-ounce serving size of kung pao chicken has 290 calories, 19 grams of fat (with 3 grams of saturated fat), 50 milligrams of cholesterol, 970 milligrams of sodium, and 14 grams of carbohydrates. To illustrate a comparison, Panda's broccoli beef has 150 calories, 7 grams of fat, 12 milligrams of cholesterol, and 520 milligrams of sodium per serving. The string bean chicken breast and mushroom chicken also have a lighter nutritional profile than the kung pao chicken.
Nevertheless, kung pao chicken has a whopping 16 grams of protein and only 6 grams of sugar, making it more filling and less sugary than the popular orange chicken and honey walnut shrimp. The entree is marked with Panda Express' "Wok Smart" label, which indicates that it has at least 8 grams of protein and fewer than 300 calories per serving. The rest of the nutritional information depends on whether you eat the chicken with white or fried rice, chow mein, or mixed vegetables.