The Adorable Birthday Cake Rachael Ray Made For Her Sister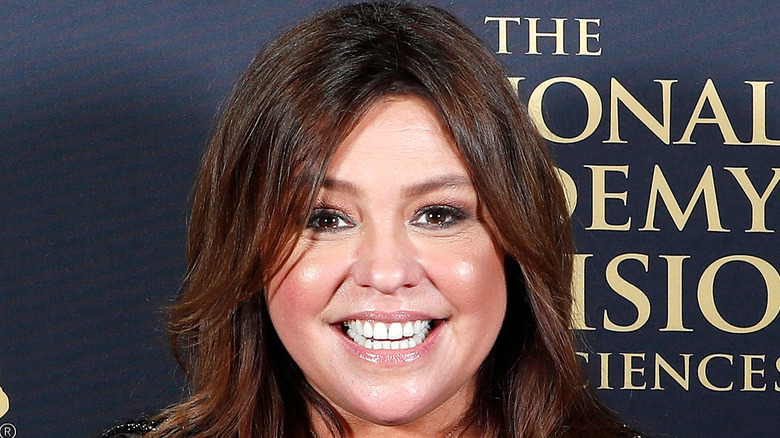 Joe Seer/Shutterstock
Those who watch Rachael Ray's daytime talk show might have seen her sister, Maria, make a few appearances on the show in the past. Ray and her sister seem quite close based on their talk show interactions. In December 2020, when Ray was filming the show from her home, due to the pandemic, her sister jumped on to show off gingerbread cookies that she had baked in the form of Ray's dog, Bella, which Ray appropriately referred to as "gingerBellas," (via YouTube).
Not too much is known about Ray's sister, but based on Maria's recent birthday, we know that she's about nine years older than the Food Network star, who is 53, per Britannica. Though Ray might be the more famous culinary expert between the two of them, Maria is apparently a swell baker. And it turns out that Maria might have taught her sister a thing or two about baking cakes — for Maria's 62nd birthday, Ray prepared a gorgeous cake to celebrate.
Rachael Ray prepared a sweet birthday cake for her sister
In wishing her sister a happy birthday, Ray posted a photo to Instagram showing off the decadent cake. Ray made a playful joke in her caption that read, "62 is the new 26." (We are here for that assessment!) Though Ray didn't reveal the type of cake she made, it appeared to have slivered almonds around the sides and was decorated with colorful and edible flowers, plus white and gold candles.
Fans were in love with the cake, too, and many sent well wishes to Maria, in addition to praising Ray for her work on the piece. "Happy Birthday Maria, your cake looks so yummy! Beautiful picture," one Instagram user wrote. "Happy Birthday! Now that's the way to celebrate a loved one's big day," another fan commented. And yet another commenter asked, "What kind of cake is that?!" Though Ray didn't answer any of the comments, it was clear that her sister was feeling the love on her special day. A few fans even joked about flipping their own ages around, with one adding that "74 is the new 47."