Geoffrey Zakarian Curates For Harry & David And Gambles With Big Restaurant Bet - Exclusive Interview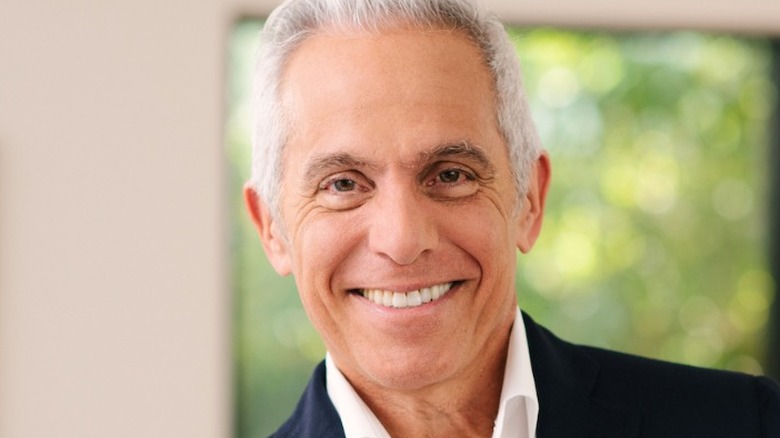 Harry & David
Throughout Geoffrey Zakarian's illustrious career, he has worked in some of the world's most famous kitchens and was invited into many impressive restaurant deals. From his start at Le Cirque to his revamp of The Palm Court in the Plaza Hotel and a multi-restaurant deal with Norwegian Cruises, Zakarian has mastered the luxury corner of the culinary world, and he has even more collaborations ahead. 
Apart from a new Food Network television show that is set to premiere, Zakarian has also partnered with Harry & David, renowned for its gourmet baskets, packages of food gifts, and signature pears. Not only will Zakarian select a number of Harry & David items to create his own collection with the company, but he will also regularly contribute recipes, tips, and techniques to the company's blog, The Table. In an exclusive interview with Mashed, Zakarian spoke about all of the current projects he is working on and gave us a sneak preview of his newest show, "Big Restaurant Bet."
Geoffrey Zakarian on his partnership with Harry & David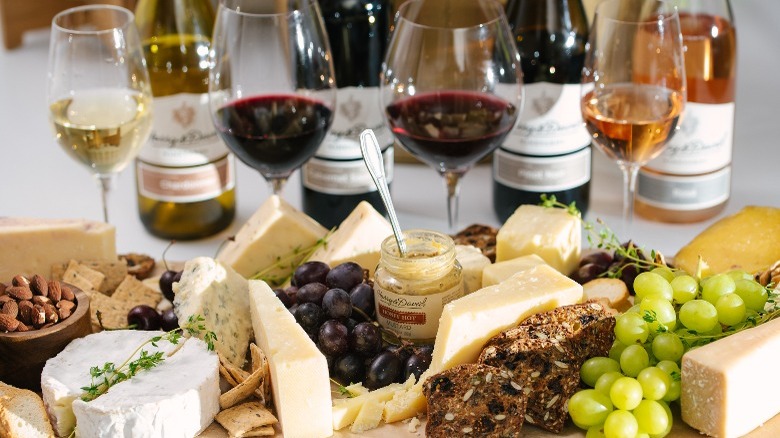 Harry & David
Can you tell us about your partnership with Harry & David?
I am hopeful in working with such a great company. I share visions that make sense and really represent who I am for my 20+ year career. Harry & David, it's perfect. The timing was great. I know their product so well, and a lot of people do. I've a very big relationship [with Harry & David], all my cousins and my uncles and everything used to get tons of Harry & David stuff for Christmas. It was one of those things that you expected. You wanted Santa Claus to come? Harry & David and Santa Claus are going to come.
I think it's a perfect relationship. We're really getting started now. I'm very excited about the whole process. I'm digging in by sampling all their products, which takes a good amount of time, but I'm tasting every single thing. We're going to have a lot of fun and have some great products to curate and put together and really dive right in. So far, it's been great. Very excited.
Can you tell us about how you decide what products to include in your collection?
I'm right now tasting everything. We're working on wines. We're working on cheese. We're working on preserves and condiments and things like that. I'm trying to get my arms around their product line. I've been a big fan of their fruit and some of their other items, especially their salumi and charcuterie and cheese, but there's a lot. I've been tasting diligently the last two months. It's been great.
[According to Harry & David, Geoffrey Zakarian's collection will include products such as Wild Alaskan Halibut, Wild-Caught Chilean Sea Bass, Bone-In Ribeye Steak, Porterhouse Steak, Filet Mignon, Classic Epicurean Charcuterie and Cheese Collection, Charcuterie and Cheese Assortment, Ultimate Charcuterie and Cheese Collection, The Favorite® Royal Riviera® Pears, and Deluxe Organic Fruit Basket. The selection will change seasonally.]
What are you most excited to share with readers of Harry & David's The Table? Do you have any favorite recipes that you're planning to share?
I don't want to give too much away, but we're going to work on some pears because they have a lot of pears fresh. We're going to work with some great prime beef ... they have a stunning array of charcuterie. My middle name is salami. I'm very excited about that. Those are a few that are coming. The process of curating it is, you have to know the products first and then understand how to curate for the person who really wants to use your knowledge.
Zakarian on his new Food Network show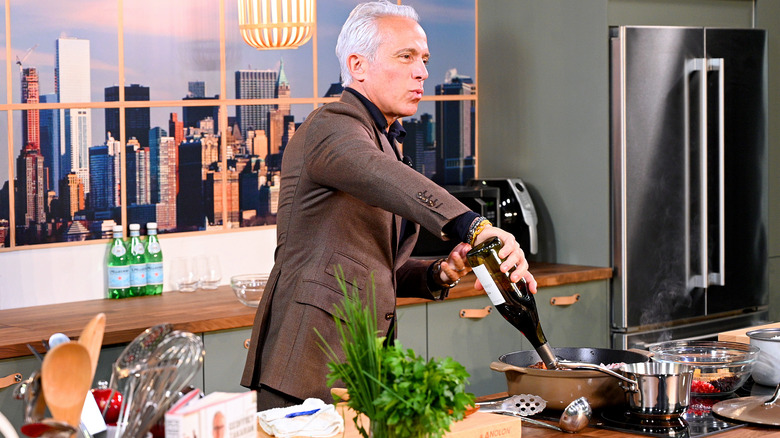 Dave Kotinsky/Getty Images
Can you speak to your new show, Big Restaurant Bet?
Sure, the "Big Restaurant Bet," wow. It's premiering [Tuesday,] April 5th at 10:00 [p.m., Eastern time]. Very excited. Prime time. It's one of those pandemic shows that was just about to film in June of 2020. Then the world shut down, so we're very excited that we got it filmed finally in South Florida. It's incredible. It's great. It's an unusual show in that it's going to give not only competition, it's also going to show what it takes to open a restaurant.
We take eight of the best chefs that we have found. These are serious chefs [who are] looking to open their dream restaurant. It's much more of a big picture of opening a restaurant than just becoming a chef. I'm very excited to dig deep and really give viewers a real sense of what it is to not run a restaurant, but opening one.
Opening is ... When it's great, it's magnificent. When it's not great, it's not magnificent. Either way, it's a stunning amount of work and coordination to do it. I think the viewers are really going to understand things they've never thought of like how hard it is and what it takes just to get a recipe development done.
Once you're open, you're physically exhausted. Then you've just started. It's great. It's a whole other look-see of what it takes to open a restaurant.
Is there a certain component of the show that you are really excited about people seeing like exactly what it takes to start a restaurant or the recipe development? What really stood out?
When we did "The Kitchen," [that was] a great show for the viewers simply because the viewer gets a  seven to ten-minute demo from all of us in our different levels of chef knowledge that they can use instantly that night for dinner. [Big Restaurant Bet"] is not that type of show. These chefs can cook circles around most chefs in the country. They're that good. However, that plays a far smaller portion of importance than it does when you're a chef just cooking.
You need to be a leader. You need to be fastidious. You have to be the one that has all the answers or the practical answers or make up the answers. It really shows leadership and what it takes to dig deep. Remember, if you're the leader and you're the chef and the owner, you have to be on point all the time. If you're having a lousy day, it's too bad because you can't put that on them. You have to be above everything and show [up] because you need every one of those cooks every day at their fullest potential. They're not going to come every day at their fullest potential, but you need to see those holes and you need to fill them. It's a very emotionally difficult thing to do if you're not used to doing it.
Zakarian on his favorite foods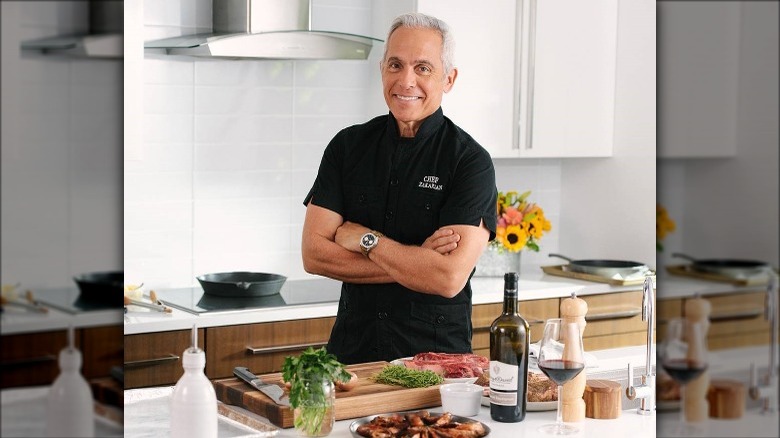 Harry & David
If you could have one other celebrity chef cook for you, who would it be?
That's a hard question because all I have is celebrity chef friends. If I wanted a great French meal, I would go with Alex Guarnaschelli. If I wanted to have a great Mediterranean, Greek meal, Michael Symon. If I wanted to have an Italian extravaganza, Scott Conant. That's three. There's more, but in their world, they cook so pure, so simple, but so devilishly good. Simple is hard. The hardest thing to do is simple stuff. Every one of those names that I mentioned has 20, 30, 40+ years of their craft. Those are the three people that I would love for them to cook for me.
What's one ingredient that you can't live without?
Is rosé an ingredient? I would say chardonnay vinegar.
Assuming you have salt and pepper, all food is a balancing act. You're balancing, like anything else, sweet, sour, bitter, salty, spicy, all those flavors. You need to have acid. Whether it's chardonnay vinegar or lemon juice or other acids, you need acid. I love chardonnay vinegar simply because chardonnay vinegar, it's very juicy. It's [got] a little bit of grape juice in it, so it's a slightly sweet vinegar. I know that sounds odd, but it really brightens up everything. Everything needs acid.
I use that basically in every single dressing I've ever made. I use it to toast things with. I use it when I'm making something that needs to be aigre doux or sweet and sour. It's a very potent item that, when you taste something without it, then you taste it with it, you realize the difference.
What's your go to fast food order and where do you place it?
I don't eat McDonald's, Burger King, [or] any of that stuff. Never have, never will. If I were to say what I like, if I have DoorDash or GrubHub, I'll probably order sushi. I have a couple of places I can order sushi from. That was probably the least fast foodie thing there is, but that doesn't mean there isn't good fast casual. When we order sushi, we order for the family, so it's a ridiculous order because it's mostly everything on the menu. I like nigiri and tuna tartare, tuna tataki. My kids order spicy avocado rolls. Basically, we over order. I don't know what it is about ordering sushi. You get four times what you need.
I'm a big fan of a real good Naples pizza, if you can find it. They're hard to find. A great Neapolitan pizza is a one of a kind experience. I will always drop by to get a pizza, and I'll time it so they make it right in front of me and I take it home. It's always marinara. My son is a big pepperoni junkie. A simple marinara, four cheese, or a pepperoni [pizza] — I sometimes eat half of it in the car.
Follow Harry & David's The Table Blog for Geoffrey Zakarian's posts and collection. "Big Restaurant Bet" premieres on The Food Network Tuesday, April 5 at 10 p.m. ET.