Jack In The Box Just Shaded McDonald's With The 'World's Largest Billboard'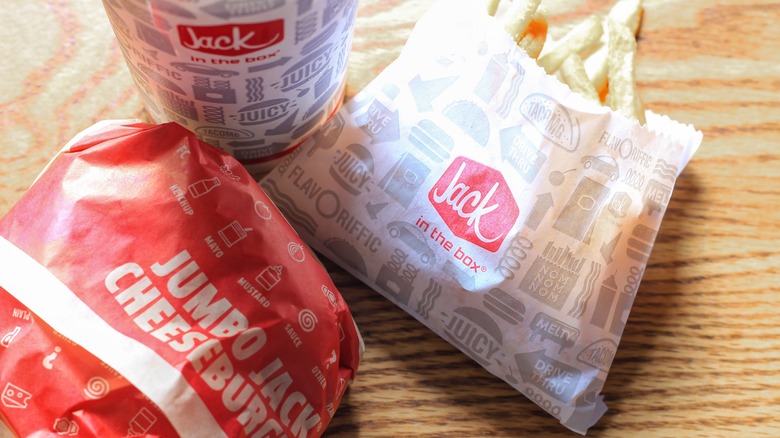 Birch Photographer/Shutterstock
Jack in the Box has been on the warpath as of late. According to Thrillist, the fast food chain set their sites on McDonald's by partnering with a website that tracks which McDonald's locations currently experienced ice cream machine malfunctions. The campaign rolled out around the time when the golden arches released their Shamrock Shake and even came with the snarky tagline of "Don't get McShammed." The interactive map also listed Jack in the Box locations nearby, which just so happened to carry a similar minty milkshake at the time.
Jack in the Box may have just taken their joking efforts against their rival to the next level with a recent Instagram post. The fast food chain shared a video showing off what they claim is the world's biggest billboard, which read, "Don't Get McShammed." The billboard loomed behind a McDonald's location. They captioned the post with text reading, "In case you missed it..." and fans couldn't get enough of the jab.
Jack in the Box fans respond
Followers loved checking out the post and had their fair share of takes. Replies rolled in that ranged from, "That is epic," all the way to, "This deserves several munchies meals to go." Some chimed in with, "Ronald don't want that heat," while a staunch defender of McDonald's jumped in with, "1v1 me jack." One user chimed in with, "Jack you son of a gun you did it!!" but another thought the move looked like overkill, saying, "Jack chill out man we already know ur best."
The billboard did its job well, and got one user hungry, saying, "I tried the mcdonalds milkshake but now i want the jack in the box [one] now." Another thought of the new perfect catchphrase of the milkshake rivalry — "Lol don't get McShammed get McJacked." Another user jumped in with, "Gotta let everyone know who's ice cream machine is never broke," but the concept backfired for another, who said, "I ordered one and they gave me a normal vanilla shake." One way or another, Jack in the Box doesn't look like they'll back down and at this rate, the shake rivalry might just have what it takes to turn into the beginnings of a new fast food chicken war.