Rita's Just Opened A Store In An Unexpected Location
On March 20, a new Rita's Italian Ice and Frozen Custard shop will open in Philadelphia. As the company has its roots in the neighboring city of Bensalem and has a multitude of locations throughout Philadelphia (via Rita's). The unexpected twist? The new location will be inside the Rivers Casino Philadelphia.
Linda Chadwick, the CEO of Rita's, explained the rationale behind opening an ice cream shop in a casino in a press release, "Our expansion across non-traditional spaces is just another way we're able to be a footnote in moments that people will remember for a lifetime — like when they went to see their favorite sports team or 'hit it big' at the casino." By inserting themselves in such unlikely moments, Rita's expects to gain more customers in a city almost synonymous with the brand.
According to the Philadelphia Business Journal, however, the casino had actually reached out to Rita's last year. It will be featured next to Geno's Steaks, another iconic Philadelphia brand that sells cheesesteaks.
Rita's has more plans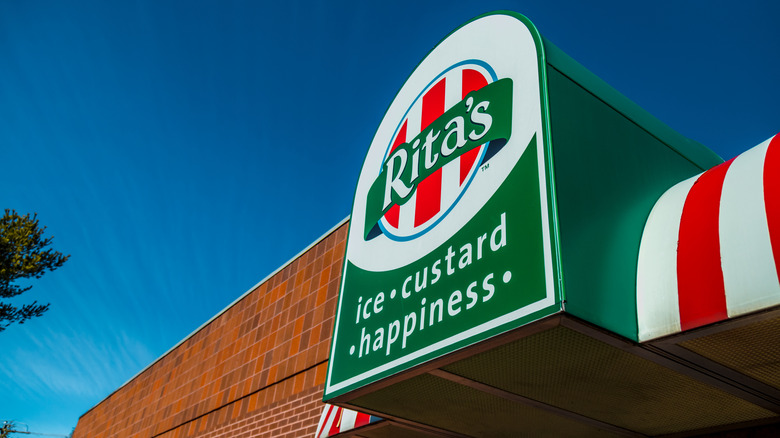 George Sheldon/Shutterstock
The opening of a Rita's within Rivers Casino represents only one prong for Rita's expansion (via PR Newswire). As the Philadelphia Business Journal reports, two more "non-traditional" openings are set to occur later this year. Later this spring, we'll see one open in the Baltimore-Washington International Thurgood Marshall Airport. We'll also see them serving custard and happiness to baseball fans at the Baltimore Orioles games in Camden Yards sometime during the spring.
All of these spaces are, as Rita's senior director of franchise sales Lori Saffron describes, "compact spaces with high volumes." Rita's has largely thrived as a regional chain. While it has expanded westwards, as they did to Washington and Hawaii in 2015, the focus of Rita's and the concentration of their store locations is primarily along the East Coast. The large flow of potential customers from the new non-traditional venues will help with the company's plan to open fifty new locations this year and between 50 and 60 next year.